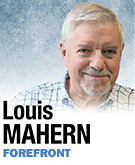 OK, here's your choice: You can reduce the public library book budget by a million dollars or you can recoup a good portion of that savings by deciding we really don't need 72 elected public officials to dispense poor relief in Marion County. You can eliminate IndyGo bus routes or you can decide we will spend no more than 25 cents in administrative costs for every dollar of poor relief that actually goes to paying a poor person's rent, utilities or grocery bill.

Every time we decide to spend on this, we are also deciding to not spend on that. It's called setting priorities. Most of us do it every day with our personal expenditures. Governments do it as well, especially at the local level where operating debt is not permitted. When the City-County Council decides to give police and firefighters a raise, it is deciding not to spend those funds for some other function such as parks or trash collection.

Every four years, the public weighs in directly to judge the job the council and the mayor have done in setting priorities.

Sounds fair.

Except it seriously misjudges the ability of the mayor and the council to make the financial decisions necessary to guide the city.

There are nine townships in Marion County. Each has an elected trustee and a seven-member advisory board, also elected. They set their own budgets and salaries.

Salaries alone for the nine Marion County township trustees and the 63 elected advisory board members total just shy of $1 million. That is how much the library's materials budget was cut for next year.

Because some townships provide fire service and some don't, their budgets vary. Of the nine townships in Marion County, three have fire departments and six do not. In the six townships that only provide poor relief and mow a few abandoned cemeteries, there are 48 elected trustees and advisory board members.

Center Township provides only poor relief. In 2009, Center Township collected a little over $10 million in revenue and dispensed $2.4 million to the indigent. In addition to the $3.9 million in general administrative expense of running the township offices, the administrative cost to provide this $2.4 million in poor relief was an additional $3.7 million. It cost the taxpayers of Center Township $1.85 in direct administrative costs for every $1 actually spent paying bills for the poor. That is an overhead cost of 185 percent. But where did the other $3.9 million in general administrative costs go?

We don't know because, for the past two years, contrary to State Board of Accounts rules, Center Township has refused to list separate expenses.

The United Way expects the administrative cost of the social service agencies they fund to be no more than 25 percent. Were we to bring all nine township poor relief programs into United Way guidelines, we would have an additional $4.6 million to use for bus routes. Or we could restore the 26-percent cut in library hours. We'll let the council decide that one.

In 2007, the last year Center Township filed complete forms with the State Board of Accounts, the township spent more on utilities for the buildings it owns than it did actually paying utility bills for the indigent.

The Legislature should eliminate township government along with its inefficiencies and delegate its functions to the counties. Should the Legislature fail to accomplish that, at the very least it should empower the City-County Council to set the priorities for civil government in Marion County, including township functions.

All of life is about making choices. When it comes to funding local government, the City-County Council is the proper venue for making these choices. Let it make the judgment calls on featherbedding vs. libraries and public transit. The voters will then make the judgment call on the council every four years.•

____________
Mahern has been an assistant to U.S. Rep. Andy Jacobs and U.S. Sen. Birch Bayh and served in the Indiana Senate. Send comments on this column to ibjedit@ibj.com.