Sharing yet another terrific, overstuffed sandwich from Shapiro's (918 S. Range Line Road, Carmel, 573-3354), I can't help but feel like things are about to change for the north-side deli.
Back in 2002, the 86th Street staple moved up here as a pioneer in Mayor Brainard's dream for a bustling downtown for Carmel. Now, that move could pay off, as the Palladium opens and Shapiro's becomes the unofficial cafeteria for the new Center for the Performing Arts.
That's not to say business wasn't bustling to begin with. One taste of Shapiro's mountainous Turkey Sandwich ($7.85) on idyllic rye bread is enough to make anyone a regular—even when it required driving to what was once an out-there region of Carmel. Side it with a cup of Matzo Ball Soup ($2.85—if you aren't a purist, ask for noodles, too) or thick, fried Potato Pancake with applesauce ($2.25) and questions of distance become irrelevant.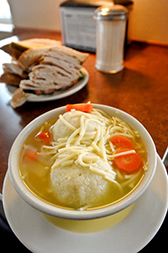 There's plenty to choose from at Shapiro's. By default is a turkey sandwich and matzo ball soup. (IBJ Photo/ Perry Reichanadter)
But now, Shapiro's is the place for a pre- or post-concert nosh.
If you've never been to this Indianapolis institution (the original is downtown), shame on you. Second, prepare to do a little bit of work. The first step is resisting piling your plate with desserts before getting to the main course. As tempting as the Banana and Chocolate Cream Pies (each $3.15) may be, you really should decide on your main course first.
Grab a tray and make your way down the line where you'll find, in addition to the aforementioned, difficult-to-resist Turkey Sandwich, a Reuben ($10.95) that one of my companions declared the best in the state. The Chicken Salad Sandwich ($8.25) is thick and grape-licious. Traditional brunchers may opt for the Lox Plate ($11.75) providing all you need to make a simple bagel into a feast. And that's just a taste. The menu can be a daunting one, particularly with hungry diners lined up behind you.
Speaking of bagels, Shapiro's has plenty to take out—along with breads, desserts and more. The online takeout menu at www.shapiros.com/menu.htm is as easy to use as TurboTax, guiding you from course to course. Again, discipline is important. With so many temptations, you may find yourself clicking a few extra items.
Another plus to ordering ahead? By slowing down, you should still make it to dinner and a show without risking the wrath of Carmel police speed traps. And you'll have extra time for those desserts.•
—Lou Harry
__________
Last in our month-long look at restaurants within easy reach of Carmel's new Palladium.
Please enable JavaScript to view this content.