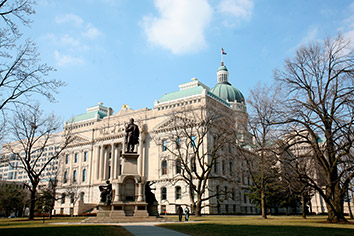 Democratic legislators left most of their desks in Indiana House chamber empty Tuesday morning, blocking the Republican majority from conducting business while hundreds of union members crowded the adjourning hallways in protest of a contentious labor bill.
Only three of the 40 House Democrats were in the chamber when Republican Speaker Brian Bosma tried to begin the session, leaving it short of the needed two-thirds present for a quorum. Rep. Terri Austin of Anderson told Bosma her fellow Democrats were studying proposed legislation and that she couldn't predict when they would return.
Most of the House Democrats apparently weren't at the Statehouse, raising the possibility that they could skip the entire day's floor session and force so-called right-to-work legislation to miss a Tuesday procedural deadline for consideration.
The bill would prohibit union representation fees from being a condition of employment at most private-sector companies. That issue has drawn strong opposition from union groups, who had several hundred members at the Statehouse for a second day after a GOP-led committee voted Monday to send the bill to the full House.
Union members watching from the House gallery and hallway outside cheered as Bosma put off House business until later Tuesday.
Bosma said he hadn't heard from Democratic leader Pat Bauer, D-South Bend, and that he wouldn't negotiate with people not doing their jobs, alluding to the deadlock in Wisconsin over labor legislation that led Senate Democrats there to leave the state.
"He's taken a page out of the Wisconsin Senate playbook apparently and is shirking the job that they were hired to do," Bosma said.
Rep. Charlie Brown of Gary tells The Associated Press he and fellow Democratic Rep. Greg Porter of Indianapolis are on Interstate 74 in Illinois heading west. He won't say where their destination is.
Rep. Peggy Welch of Bloomington also tells the AP that she is traveling" but she won't say where she is. She does say she and fellow House Democrats "feel like we're doing the right thing and standing up for the middle class and for our kids."
Republican Gov. Mitch Daniels said the absence of Democrats on Tuesday was a legitimate move and that he would not use state troopers to compel their attendance.
Anderson's Austin said Republicans have put forth a radical agenda that will hurt families and that Democratic proposals have been rejected out of hand.
"This has become, unfortunately, one of the most partisan sessions I've ever seen in the Statehouse," she said. "We're prepared to take whatever legal steps are necessary to save this state and to save the families and the children."
Please enable JavaScript to view this content.