"Who wants to do the AIDET routine?" Everyone in this training session—having already had the consultant-generated acronym drilled into their heads—knows exactly how to do the routine. But for a couple of awkward moments after the instructor asks her cheery question, all remain silent.

Finally, Chet Trailer dutifully raises his hand and blurts out AIDET like a first-grader reciting his ABCs.

"Acknowledge the patient, introduce yourself, tell the duration of what you're doing, explain what you're doing, thank them," said Trailer, a former emergency medical technician who now helps guide patients through the emergency room at Methodist Hospital, owned by Indiana University Health.
IU Health employees Brittany Dunn (left) and Brittany Dornbach enact an encounter with a hospital patient during a customer service training session in Indianapolis. (IBJ Photo/ Perry Reichanadter)
IU Health is teaching AIDET to most of its 23,000 employees around the state, urging them to use it in every patient encounter. Hospitals around the country have hired the same consultants or tapped other resources to beef up customer service training.

IU Health is, quite consciously, trying to become like Starbucks—working to train and to some degree script its employees in order to give patients a consistently good experience at its 16 hospitals and hundreds of physician offices and outpatient surgery centers.

It's even trying to implement a fairly standard employee dress code across its statewide network.

"When I round at our hospitals, I AIDET," said IU Health CEO Dan Evans. He then proceeded to tick through the Acknowledge, Introduce, Duration, Explain and Thanks of the acronym.

"This is a massive retraining exercise," Evans added. "We don't want doctors standing at 45-degree angles with patients. We don't want staff members who don't introduce themselves."

This is easier said than done. Hospitals are better known for bad food than good service.

They have struggled over the years partly because patients were not their direct customers: Doctors sent the patients and insurers handled the bills.

So hospital employees fell into the habit of

talking in medical jargon and arcane reimbursement codes. And it's easy for doctors and nurses to focus on giving great clinical care without making the patient feel good about it.

"Historically, if you think how health care has been measured, it's been on the quality of clinical care. That is a metric that has been harder for the layperson to assess," said Traci Entel, a vice president in the organization and health care practices of consulting firm Booz & Co. "But they can assess the perception of care. Clinical care is an important part of customer service, an important part of what patients are perceiving, but it's not the only part."

Now both patients and payers are forcing hospitals to acknowledge that truth.

Patients conditioned by the consistently good service at Starbucks and Holiday Inn have been steadily demanding more of health care providers. And with the health care building boom of the past couple of decades, they now have plenty of alternatives if one provider gives shoddy service.

Also, health insurance plans are going to link finances and fine service. Two years ago, the federal Medicare program began requiring hospitals to report patient satisfaction scores so it could publish them on the website hospitalcompare.hhs.gov.

And starting next year, Medicare will use patient satisfaction scores to determine nearly one-third of the performance-based pay hospitals will receive. Initially, only 1 percent of Medicare payments will be performance-based, ranging up to 2 percent in 2017. Private health insurers are now following suit.

So IU Health is trying to train all its employed physicians, as well as nurses and "patient visitor representatives" like Chet Trailer, to empathize with patients and serve them even at their worst.

IU Health Physicians produced a 10-page laminated flip chart with guidance for handling patients in various encounters—particularly difficult ones. For example:

"Verbal softeners." They're like Charmin for a complaining patient. Instead of saying, "That never happens," say, "It's possible" or "It's unlikely."

"Fogging." No reference to repelling mosquitoes, they're phrases of vague agreement to placate angry patients: "You're probably right."

"Nod and hum." Transcendental meditation may be required after some patient encounters, but this is actually a strategy just to make patients feel like they're being listened to. The guide specifically recommends these sounds: "Mmmm hum, Hmmm?" and "Uh huh" and, for the advanced users, "You don't say. Uh huh."

Far-reaching trend

To some extent, IU Health is late to the hospital service party.

Five years ago, Indianapolis-based St. Vincent Health hired a consulting firm to study its hospitals and come up with a plan to improve service.

Along with St. Vincent's parent corporation, St. Louis-based Ascension Health, the hospital system started training its workers to focus on social, emotional and spiritual support.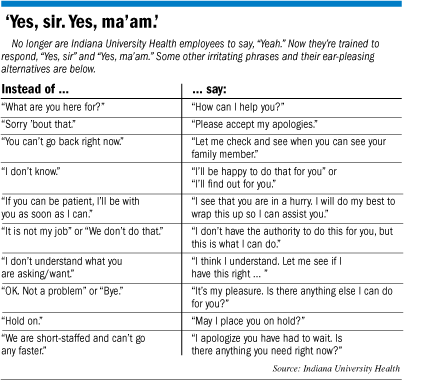 It also pushed some of its outpatient offices to eliminate wait times—or offer gift certificates to patients who do.

"It has to be more personal. People do realize today that they do have choice," said Dr. Jon Rahman, St. Vincent's chief medical officer.

Like St. Vincent, Franciscan St. Francis Health views service as an extension of its Roman Catholic mission to serve patients. Four years ago, the systems hired the same consultants now helping IU Health—Florida-based Studer Group—to train employees on AIDET and other tools.

Franciscan St. Francis also started including patient satisfaction on the performance report cards for its upper-level managers. That's an acknowledgment that better patient experience is both the right thing to do for patients and the right thing to keep attracting their business.

"The more successful we are at keeping our patients happy, the more successful we are," said Sherri Walker, St. Francis' director of service excellence.

Bryan Mills, CEO of Indianapolis-based Community Health Network, has the same insight, which has prompted his chain to zero in on service recently, not only through training, but also by including patient satisfaction scores as a factor in determining pay for nurses and doctors.

"What I've tried to do is that, if we work with anybody in our hospital or physicians' offices, tell them, 'We're being judged on our performance as a network, not just as a location but as a network,'" Mills said.

Indeed, since all Indianapolis hospital systems have been pulling private physician practices under their one brand name—either through acquisitions or affiliation agreements—they also see the need to extend their patient experience efforts throughout their organizations, as IU Health is trying to do.

"The fact that large health care systems are branding, it's much more important," said Dr. Brett Spencer, a physician who is now a consultant at Booz & Co. "Before, if I had a surgeon that was a little bit grumpy, I just said, 'Well, he's just one surgeon, he's a little bit grumpy, I don't employ him, I don't have to worry about him.' Now, you don't have that excuse."

Starbucks model

While Starbucks' standardized service across 17,000 stores provides a good model for hospital leaders, they know their challenge is even more complicated. Because being a customer for health care often brings on fears and feelings that just aren't a factor when ordering a double tall non-fat vanilla latte.

"It's an emotional experience. So you're not just selling coffee," said Evans, who, despite being an attorney, brings the sensibilities of a retailer to the helm of IU Health. He rarely skips a chance to tell a story or give a lesson from his father—Dan Evans Sr.—who was president of the Indianapolis-based L.S. Ayres & Co. department store chain in the 1960s and 1970s.

Evans' point man on the IU Health service push is Ron Stiver, who oversaw the transformation of the Indiana Bureau of Motor Vehicles into a retail-like operation—with staff all wearing matching polo shirts, with average wait times for each branch posted on the Internet, and with speedier service.

Stiver acknowledges some overlap between his BMV work and his new task at IU Health. But his new challenge is much bigger. For one, IU Health has 10 times as many employees as BMV does. Also, they're spread across an incredibly complex organization.

In a conference room at IU Health headquarters overlooking the head of the Central Canal, Stiver stretches out a 25-foot poster depicting all the ways and places a patient can interact with IU Health.

Surveys and focus groups Stiver commissioned showed patients' fear of being "objectified" in hospitals. "I'm a person. I'm not a Ford in for a tuneup," Stiver said.

So in some IU Health training sessions, employees did role-playing to simulate how to engage patients personally.

IU Health trainer Patty Thurgood insisted no employee end an encounter with a patient by saying, "You're welcome" or "No problem." Instead, she made them all say, "It's my pleasure!"

Thurgood, wearing a white brooch that reads "SMILE" in bright red letters, also made all participants raise their right hands and vow, "I will never say, 'It's not my job.'"

Overall, the class was fairly easy to persuade to embrace the pointers—even if they did let loose a snicker here and there. That's because they know firsthand how frustrating hospital service can be.

Pam Brown, who works as a patient visitor representative in the Methodist Hospital lobby, said her father came to Methodist for a surgery that had a chance of halting his pancreatic cancer.

"After surgery and before the anesthetic wore off, the hospital workers told him the surgery was unsuccessful and he would die," Brown recalled during a training session. "I could've slapped 'em."•