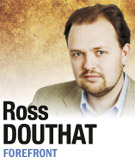 Weeks from now, the contenders for the 2012 Republican nomination were supposed to appear at the Reagan Library in Simi Valley, Calif., for the first of their primary debates. But the list of declared candidates was so pitifully short that it was postponed until September to avoid the embarrassment of a stage potentially populated only by Tim Pawlenty and the pizza magnate Herman Cain.
The stage would be full by autumn, the organizers promised. While "too few have made the commitment thus far for a debate to be worthwhile," the Reagan Foundation's executive director declared, "there will be a long and impressive list of Republican candidates who eventually take the field."
No doubt the list of candidates will lengthen. But Republicans shouldn't feel too confident about the "impressive" part. When it comes to challenging Barack Obama for the presidency, the Party of Lincoln looks increasingly like a party of Mario Cuomos. Its biggest names and brightest lights are mainly competing to offer excuses for why they won't be running in 2012.
Gov. Chris Christie of New Jersey told National Review this year, "I already know I could win." But he's apparently too modest to vindicate his boast: "I've got to believe I'm ready to be president, and I don't."
Mike Huckabee, likewise, will tell anyone who'll listen that he would be the favorite in the primaries and the strongest choice to face Obama. But he'll also say that the campaign trail is exhausting, the debates are a waste of time, he doesn't like to fundraise—and anyway, he and his wife are building their dream house in Florida, so the White House doesn't necessarily fit into their plans.
Then there's Gov. Mitch Daniels of Indiana, who came to Washington in February and delivered the kind of speech that conservative campaigns are built on: a dense and fluent argument for limited government, rooted in the premise that America's fiscal liabilities constitute a "survival level threat." Alas, somebody else may have to ensure the survival of the republic, since Daniels has spent the month backpedaling from the idea of a presidential run.
Paul Ryan, the House Republicans' rising star, shares Daniels' view that the United States faces a pivotal moment in 2012—a historic choice, as he likes to put it, between the American tradition of limited government and a "European-style social welfare state." Naturally, he's already ruled out a run for president.
None of this means that the Republican ballot will be empty come January. We know Mitt Romney is running: In fact, he never really stopped. We know Newt Gingrich is kind-sorta-definitely running. Pawlenty is in, and Gov. Haley Barbour of Mississippi may join the field, as well. There's also a long list of dark horses, potential spoilers and vanity candidates.
But if Romney is the front-runner and Pawlenty the freshest face, the Republican Party will have let both its own constituents and the country down.
Daniels and Ryan are right to see the 2012 campaign as a potential hinge moment in American domestic politics. The unpopularity of Obama's agenda, the obvious unsustainability of blue-state spending habits (evident in budget battles from California to New York) and the looming entitlement crisis have created a remarkable opportunity for conservatives to reimagine government's role.
But the right's opportunity could easily be lost. The public loves to vote for leaner government and then recoil from the reality. Already there's a backlash against conservative governors in states like Wisconsin and Ohio who are perceived to be cutting too much too fast.
Fifteen years ago, in the wake of the 1994 Republican revolution, conservatives were in a similar position—fresh from a midterm victory but politically overextended, struggling to persuade a wary public to embrace limited government in practice as well as theory.
Out of a mediocre primary field, they ended up with Bob Dole as their standard-bearer. Their cause did not soon recover.•
__________
Douthat is a New York Times op-ed columnist. Send comments on this column to ibjedit@ibj.com.
Please enable JavaScript to view this content.