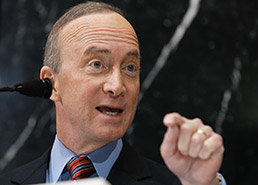 Gov. Mitch Daniels scored a big victory with education this year. (AP Photo)
Gov. Mitch Daniels is on the cusp of signing the most comprehensive package of school reforms that any state has yet passed.

That could give Daniels some bragging rights—particularly among conservatives—if he decided to run for U.S. president.

There's just one problem: Education is typically a dud as a presidential political issue. Not to mention the fact that only a few of the specific ideas Indiana Republicans have pushed this year are original. And none of them have yet proved to make any difference in Indiana's rather mediocre educational performance.

For all those reasons, even if Daniels scores a big victory in Indianapolis, it may do little to help him get to Washington.

"It doesn't make the blood boil," Larry Sabato, director of the Center for Politics at the University of Virginia, said of education as an election issue. "It tends to be a little platform plank in the position paper that he releases. They always say, 'The children are our future, and education is key to our economy," and by that time everyone's asleep."

To be sure, not everyone agrees. Rick Hess, an education scholar at the conservative American Enterprise Institute in Washington, D.C., thinks President Obama will cite education as a big reason his large increases in federal spending were the right policy.

"Republicans will want to counter on that, to argue that they're tougher-minded, focusing on responsible spending," Hess wrote in an e-mail. "So, winning this kind of [education reform package] has the potential to position Daniels to argue in GOP primaries that he can go toe-to-toe with Obama on education, which is the area of 'investment' that Obama is most likely to use to make the case for the stimulus and government spending in 2012."

Through a spokeswoman, Daniels declined to comment for this story.

Education often ranks in the half-dozen issues voters say are most important, according to a sampling of polls by Polling-Report.com. And education reform has gotten a big push recently from President Obama's Race to the Top competition and through star filmmaker Davis Guggenheim's "Waiting for 'Superman.'"

But in polls, education still scores far, far behind the economy, jobs and the federal budget—issues Daniels gravitates toward, anyway. Even some educators think education won't matter much in the 2012 election.

"If the economy continues to be the issue that it is, it is going to dominate the discussion, and everything else is going to pale in comparison," said David Dresslar, a former school superintendent and now executive director of the Center of Excellence in Leadership of Learning at the University of Indianapolis.

Sabato noted that education was a significant issue for George W. Bush's 2000 campaign. Bush advocated a greater federal role in education—a sharp contrast to Republican calls in 1996 to abolish the U.S. Department of Education—in a way that moderated his conservative image, Sabato said.



Daniels would have to, like Bush, make a concerted effort to talk about education. And that might be a bad strategy for a guy who is, Sabato said, "not the most exciting fellow out there."

"Does a discussion about the fine points of education reform help him?" Sabato asked. Not, he continued, "unless he runs as the anti-charisma candidate."

Debate fodder?

In spite of education's sleepy nature as a topic, Sabato does think it could come up more this year as Republicans stage a record number of primary debates—and search for issues not already covered in previous events.

To such a debate, Daniels would bring both strengths and weaknesses from his six years as Indiana's governor.

Data from the 2009 National Assessment of Educational Progress—known as the nation's report card—show Indiana's fourth- and eighth-graders ranking No. 18 in math and as high as No. 21 in reading.

That's good but not great. However, Daniels could tout that Indiana students have moved up several places in the rankings since 2005, the year he took office.

Daniels also could tout that, under his watch, the percentage of students attending full-day kindergarten has soared from less than 40 percent to more than 70 percent. And on April 15, Daniels called for $150 million in unexpected state tax revenue to go toward making full-day kindergarten available for all students.

Daniels' attention in his second term shifted more toward restructuring Indiana's public school system around measuring and rewarding student learning outcomes.

Working with Tony Bennett, Indiana's lightning-rod superintendent of public instruction, Daniels introduced a package of school reforms that would overhaul everything from teacher college curriculum to teacher collective bargaining and tenure to school administration and parental power.

In 2009, Daniels and Bennett pushed changes in teacher licensure requirements through the State Board of Education, calling for teacher colleges to spend far more time on content-area instruction and less on pedagogy.

The state board also deregulated public schools, ending long-standing state requirements of student seat time, use of textbooks and other rules. And this year, the board will implement an A through F grading system for all public schools, based on test scores, graduation rates and other measures of student performance.

After Daniels campaigned aggressively for Republican lawmakers in 2010, his party gained a commanding majority in the House of Representatives and added to its dominance of the Senate.

Through this green light, Daniels and Bennett have been driving the rest of their education reforms. All are moving rapidly as the Indiana Legislature tries to wrap up its session on April 29.

Praise and criticism

However, the only law that is Daniels' original idea is Senate Bill 497, which would create college scholarships for high-schoolers who graduate a year early—using the money the state would have spent on their senior year.

David Shane, an Indianapolis businessman and close education adviser to Daniels, said the potential significance of Indiana's education reforms is not that the ideas originated in Indiana, but that state leaders have unified them, in a way no other state has, around the goal of improving student learning.

"By creating the opportunity to have all elements of the system work synergistically toward that end, it may be unique in the country," said Shane, who is president of LDI Ltd. and sits on the State Board of Education.

Robert Enlow, president of The Foundation for Educational Choice, which advocates nationally for school voucher programs, agreed.

"If this package gets passed, it will set a marker around the country," Enlow said. "You look at '99 with what Jeb Bush did in Florida. You look at what Michelle Rhee did [negotiating performance-based pay for Washington, D.C., teachers]. This would be one of them."

Of course, that kind of compliment sounds horrifying to teachers' unions and others who think the kinds of reforms Daniels has championed are wrong-headed.

Diane Ravitch, a New York University historian of education, has called out Daniels for stripping teachers of bargaining rights and for pushing vouchers in the face of evidence showing poor student outcomes. Both measures, she argues, are just ways to cut costs.

"Voucher schools may not educate kids better, but they can do the job at half the cost. That's powerful, and it reveals what matters most these days: not improving education, not encouraging creativity and innovation, but cutting costs," Ravitch wrote in an April 12 blog post on the website of Education Week, a trade publication.

If Daniels runs for president, whether he talks about education or not, Indiana's package of school reforms is likely to bring him more criticism like that.•