The new curbs and sidewalks along Ohio Street, just west of College Avenue downtown, look like they were poured with a bad batch of concrete.

The texture is that of large-curd cottage cheese. The color is gray, like uncured concrete.

In fact, there's nothing wrong with these structures: They're made of porous concrete. This could be the future of curbs and sidewalks across the city where drainage is a problem.
Built last fall, the Ohio Street stretch is the city's first big rollout of porous—also known as "pervious"—concrete.

Think of it as concrete that drinks water like a sponge. It contains larger aggregate (recycled concrete rubble also can work) and little sand in the mortar. That produces a void space around 20 percent versus about 4 percent for conventional concrete.

Porous pavement is often a feature of green building projects, though the feature leaves one wondering, what's the point? After all, there's a storm drain seemingly on every corner of downtown streets to catch runoff.

Actually, it was poor drainage along Ohio Street, especially between Park and College avenues, that piqued the city's interest in trying porous curbs and sidewalks. Here, rainwater frequently pooled and broke up the asphalt street during freeze-and-thaw cycles.

And that pooling water became a nuisance when staff of The Nature Conservancy gave tours of its rain garden out front of its uber-green new headquarters building. When vehicles sped by, "we got drenched," recalls Adam McLane, director of operations at Nature Conservancy Indianapolis.

But since the porous curbs and sidewalks were installed, the pond-prone stretch of Ohio has been mercifully dry.

The porous curbing and sidewalks, coupled with rain gardens out front of the Nature Conservancy, Buchanan Group and Easley Winery, are likely to remove about 135,000 gallons of storm water from the city's sewers annually, said Allyson Pumphrey, project manager for the city's Office of Sustainability.

"That's about one-fifth the volume of an Olympic-sized swimming pool," she said.

But city officials figure the system is robust enough to keep out 1.3 million gallons if there were enough rain.

Reducing water flow into sewers is a big deal in Indianapolis because, in many places, storm water and sewage occupy the same pipes. Heavy rains can send the combination burbling out into local streams. The city is under a federal consent agreement to eliminate the problem and will spend billions of dollars in the next two decades, including a massive storm water retention tunnel to be burrowed 200 feet below the city, to comply.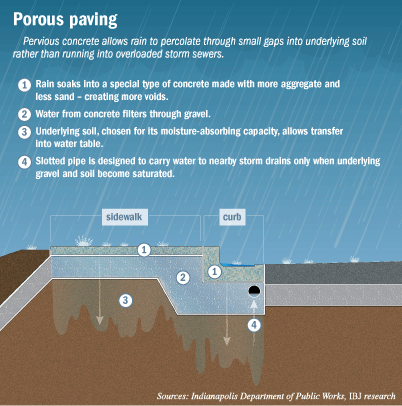 Porous pavement is intended to capture water from running off and to direct it directly beneath the surface, to the water table. It's most suited in areas where the underlying soil can absorb water.

After passing through the porous concrete, water further filters through a bed of gravel before reaching the soil. The Department of Public Works constructed an additional safeguard: a small drainage pipe that ties to a nearby sewer. But the pipe is intended to carry water to sewers only when the subsurface is too saturated to absorb a deluge.

As for the economics, predictably the material costs are higher for the fancy concrete: about $5 a square foot for a 4-inch depth vs. $3.65 for a similar-size splotch of ordinary concrete.

The economics improve, however, when factoring in that the porous curbs and sidewalks also serve a drainage function. If the city used less-expensive, ordinary concrete, it would have to add storm sewer pipes and inlets not needed with porous pavement.

So in that respect, the porous pavement is cheaper—about $37,500 on Ohio Street versus $85,150 for traditional sidewalks and curbs and the added drainage infrastructure required.

Because the Ohio Street project also contains a few rain garden features, at the Buchanan Group and Easley Winery, the project actually cost closer to $44,000 total, but it's still less expensive than traditional construction.

One downside is that there are additional maintenance costs. Every so often, the city dispatches one of its vacuum trucks to suck out debris that accumulates in expansion joints and thus reduces water absorption capacity.

Public Works Director David Sherman said when the project began last year that the city would carefully analyze the performance of the new paving material, so don't look for widespread use of porous pavement just yet. Helping design the city's Ohio Street porous pavement structures was Indianapolis-based Williams Creek Consulting.

Porous pavement takes forms other than the poured-in-place variety.

The Nature Conservancy is using octagonal, porous paving blocks in a portion of its parking lot behind its new Ohio Street headquarters. The blocks are separated by gravel-filled spaces that also absorb water and allow rain to soak into the underlying water table. To reduce costs, most of the parking lot uses traditional paving, but it is sloped to direct water onto the absorbent strip of blocks.•