Charters and vouchers may have sparked the loudest education-related protests before the Legislature this year, but changes to teacher evaluations are likely to have the biggest impact on Indiana's public schools.
Senate Bill 1 and Senate Bill 575 rewrite the rules for how teachers will be judged, paid, promoted and fired. They limit teachers' collective bargaining rights and require, for the first time, that teacher pay and promotions be linked to quantified measures of student performance.
"Those two will change education more than any two bills in education in recent history," said Steve Baker, principal of Bluffton High School near Fort Wayne and president of the Indiana Association of School Principals. "Yeah, it's a game changer."
Supporters predict the new laws will improve existing teachers, get rid of really bad teachers, and help public schools snag more of the top-performing college graduates that now favor more lucrative careers.
Critics think the legislation is a pretext for cutting costs and limiting teacher input, and that it could lead schools back to the pre-union days of arbitrary firings, political favorites and low pay.
Whether these changes improve the academic achievement of Indiana students is unclear. Recent studies of performance-based teacher pay in other states have shown no such benefit. But what is clear is that the bills will transform teaching from a steady-work, modest-pay career into one with higher risks and rewards.
In many ways, the new laws will make Indiana's public schools more like charter schools, where unions have no power and pay raises aren't automatic.
Instead of career-long job security, teachers—no matter how old or how successful—will be two subpar years or a budget cut away from the possibility of dismissal. And instead of regular raises, they could find themselves stuck at the same level for years. On the other hand, classroom stars stand a chance of rising more rapidly in pay, perhaps even earning a bonus.
"I'm very concerned about the future of the profession. I don't know that people will want to teach," said Teresa Meredith, an elementary teacher in Shelbyville who also is vice president of the Indiana State Teachers Association.
Local school districts must implement the new system of evaluations and pay—key parts of which must still be fleshed out by the State Board of Education—in the 2012-2013 school year.
SB 575 limits teachers unions to bargaining only about wages and benefits—but blocks them from negotiating the way the pay is determined.
SB 1, meanwhile, requires that a teacher's annual pay increase be based on a mixture of students' scores and year-to-year growth on tests, in-class observations by a trained evaluator, as well as a teacher's seniority, education and work as a school leader.
Teachers rated as ineffective or needing improvement cannot receive a pay increase.
It's a big change from current law, which said a teacher's pay and wages could be based on only two things: years of experience and amount of graduate schooling. Current law also allowed unions to negotiate hours and working conditions.
Win-loss records
The laws affecting teacher pay and work hours have not applied to Indiana's 62 charter schools, which receive public funds but operate independently of many state and school district rules.
Perhaps as a result, charters employ younger teachers with less experience, spending an average of 23 percent less on salaries, according to data from the Indiana Department of Education.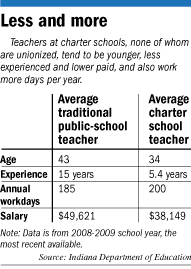 Charter schools also have their teachers work more days and, in some cases, longer days.
Indianapolis Metropolitan High School, a charter school, adopted a year-round calendar last summer that requires its teachers to work 225 days—far more than the 185 averaged by traditional public schools.
It gave its teachers a 10-percent raise this year. Starting pay at Indy Met is $38,500, compared with $34,000 at Indianapolis Public Schools, the traditional public school district that surrounds Indy Met.
Indy Met also instituted a merit pay system this year, setting aside $100,000 from a grant to reward its most effective teachers. Depending on the number of eligible educators, Superintendent Scott Bess said, bonuses could be as high as $10,000.
Teachers' performance will be evaluated based on frequent observations of their classroom work: preparing lesson plans, managing classrooms, differentiating instruction methods for individual students.
But student outcomes—test scores, attendance and retention rates, graduation rates, college enrollment—also will be factored in. While the test scores can be tied to specific teachers, the other measures are schoolwide, thus apply to all teachers.
Bess said teachers should be treated somewhat like basketball coaches, assessed both on how well they prepare players for games and on their win-loss records.
"I believe you need to do both," he said.
Evaluating merit pay
Merit pay draws a range of responses from teachers, even within a charter school like Indy Met.
Chad Miller, a second-year algebra teacher, thinks performance-based evaluations and pay will improve teachers and their prestige.
"It makes teaching more like a profession, and it will be able to attract better talent," he said, sitting in a plastic student's chair after the end of a school day.

Dennis Swender, a family and consumer sciences teacher, fears that if bonuses are too large, teachers might start focusing more on money and less on teaching. But modest bonuses tied to regular and meaningful evaluations would be good, he said.
"I like the challenge. I like the feedback," he said. "I don't think anybody who works here is here because they think they might get a giant bonus."
However, Indy Met English teacher Shanna Bohdan said merit pay is acceptable only for bonuses. She does not like the idea of tying teachers' base pay to student performance.
"It's like judging dentists on the health of their patients' teeth," she said, adding that such an approach is particularly ill-suited for an urban school, where many students struggle with problems outside of school that affect their performance on tests. "I will never agree that it's OK to judge people on that."
Even among teachers open to the idea of performance-based pay, many worry that state regulators will come up with a measurement system that makes unfair comparisons between teachers.
"How can you fairly compare even a chemistry teacher to a PE teacher? That's where I have a problem," said Julius Kish, a chemistry teacher at Morton High School in Hammond.
High schools face particular problems because students take classes from seven or more teachers each year. And the state has developed standardized tests in only three high school subjects: algebra, biology and sophomore English.
That's why state regulators are considering combinations of schoolwide measures and locally developed tests as ways to rate teachers.
Kish takes a hopeful view, even though he knows whatever system the state creates will have problems.
"If it's man-made, it's not perfect," he said. "I think there's going to be unintended consequences."
Some teachers even fear cash-strapped school districts will rate nearly all their teachers as less-than-effective in order to keep salary expenditures from growing.
"It would be a hot day in January if I ever saw any of that money in my pocket," said Beverly Ransdell, a science teacher at the Arsenal Technical Magnet Academy, part of Indianapolis Public Schools.
"This is going to pull money away from teachers in the classroom, and instead we're going to add more top-heavy administration," she said. "I don't see how they're going to fund it."
Improving educators
Indiana Gov. Mitch Daniels and Indiana public schools chief Tony Bennett have insisted these bills aim to improve the quality of teachers.
Data from the 2009 National Assessment of Educational Progress—known as the nation's report card—show Indiana's fourth- and eighth-graders ranking No. 18 in math and as high as No. 21 in reading. Indiana has been improving in both areas since 2005, but it's still a ways from being top-notch.
And folks like Bennett are quick to point out that Hoosier students, if they hope to be economically competitive, need to be educated to a level competitive with students in such countries as Korea, Finland, Singapore and Canada—who currently outpace American students on international tests.
Indiana is one of several states experimenting with performance-based evaluations and pay as a way to reach that goal.
Years of research have demonstrated that having a quality teacher makes a bigger difference on student performance than any other factor at the school, including the size of the class or the level of funding.
Other research has shown that having a really poor teacher three years in a row can put a student so far behind his peers that he will never catch up.
Going even further, Stanford University researcher Eric Hanushek has argued that removing the worst 8 percent of American teachers would boost the performance of American public school students from ranking No. 14 among developed nations to No. 1.
Taking this research to heart, Bennett and his staff at the Indiana Department of Education designed the new evaluation system, in large part, to make it easier to fire teachers for poor performance.
Fewer than 0.62 percent of teachers are dismissed each year for performance reasons, according to data from Bennett's agency.
Hanushek said evaluation systems like SB 1 are helpful, but they will work only if there is also a change in school culture.
"Schools themselves need to do a lot more in terms of developing and using evaluation systems. Right now, many schools are reluctant to fire ineffective teachers even when they know exactly who must be replaced," he wrote in an e-mail response to questions.
The other goal of SB 1 is to motivate teachers to improve their students' performance. But that also has proven to be an elusive goal in other states.
In three rigorous experiments in Chicago, Nashville and New York City—the results of which have been released in the past year—no system of giving "merit pay" to public schoolteachers judged to be the highest performers has led to higher student achievement.
Matthew Springer, one of the authors of the Nashville study, said merit pay has been an idea of education leaders since the 1860s, but no one has yet hit on the right incentives to make it work.
"We know that the current way in which we compensate teachers, in the U.S. K-12 public school system, is incredibly inefficient," said Springer, director of the National Center on Performance Incentives at Vanderbilt University. "The difficulty is, we don't know another way."•
Please enable JavaScript to view this content.