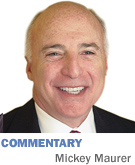 Forget Elvis. I saw Bobby Kennedy last week. I swear. It's true. He re-enacted the speech he delivered in the heart of our community on the evening of April 4, 1968, the date Martin Luther King Jr. died. He reprises this moment regularly at the Indiana Historical Society through revolutionary hologram technology. Like Parkay, you'll think it's really butter.

History wrote a shameful chapter on that April day more than 40 years ago, thrusting Indiana into the swift current of world events. Just after 6 p.m., civil rights leader King was felled by an assassin's bullet. He had won the Nobel Prize for his leadership of the non-violent protests in the civil rights movement. The prize citation praised King as the first person in the Western world to have shown that a struggle can be waged without violence, yet he died a violent death that sparked waves of violence throughout the country.

Robert F. Kennedy, a Democratic presidential candidate, had planned a campaign stop in Indianapolis. After learning of King's death and in spite of the concern that Mayor Richard Lugar expressed for his safety, Kennedy insisted that he keep his appointment and deliver the heartbreaking news to the citizens of Indianapolis at 17th and Broadway streets, an area that had a high crime rate and was a potential sparking point for racial tension.

Kennedy exhorted the predominantly black audience to "replace that violence, that stain of bloodshed that has spread across our land, with an effort to understand, compassion and love." In his brief speech, he lauded King and compared the pain his audience was suffering to that which filled his heart on the assassination of his brother, President John F. Kennedy.

In attendance that evening were Hoosiers who went on to remarkable careers, including Indiana Supreme Court Justice Theodore Boehm, Commissioner for Higher Education Teresa Lubbers, congresswoman Julia Carson, Indianapolis Star reporter and columnist Tom Keating, City-County Councilor Rozelle Boyd and Indiana Rep. William Crawford. Lubbers and Boehm are among 10 Hoosiers represented by actors who might greet you at the museum and help you live and become part of the exhibit experience.

In the aftermath of the assassination, civil unrest affected more than 110 cities throughout the United States. Kennedy's speech, no doubt, had a calming effect on the black community in Indianapolis, but it was also through his efforts later that night that the hostility that plagued the rest of the nation did not erupt in the Indiana capital in the days to come.

After delivering the speech, Kennedy met with 14 black activists at his headquarters at the Marott Hotel and convinced them to respond in a sophisticated, civilized manner.

Lugar also played a pivotal role. He had befriended the black activists shortly after his election and they were predisposed to follow his lead. The day after King's death, Lugar implemented a strategy that he characterized as a street corner/church basement campaign. He met with the pastors of the black churches. He walked the streets with the people, visiting, greeting and reassuring them that peaceful dialogue would prevail. For the next 10 days, he appeared on television every evening.

As the United States was set on fire, Indianapolis was tranquil. The statesmanship evidenced by Lugar in response to this catastrophic event has characterized him throughout his career as one of the most lauded and trusted members of the U.S. Senate.

The Indiana Historical Society, an underappreciated venue, holds its own among the entertaining and educational opportunities for Hoosier children and adults. The "You Are There 1968: Robert F. Kennedy Speaks" exhibit offers a chilling re-enactment of this historical time. It is the first museum exhibit in the country to use advanced hologram technology. You can learn more about the experience on the society's website: www.indianahistory.org, or by contacting Frank Eagan, director of corporate relations (feagan@indianahistory.org).

Give Bobby my best.•

__________

Maurer is a shareholder in IBJ Corp., which owns Indianapolis Business Journal. His column appears every other week. To comment on this column, send e-mail to mmaurer@ibj.com.