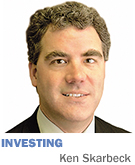 When searching forgreat businesses, a valuable attribute to look for is a "moat."
Think of the moat much like the protective barriers to the castles of the medieval era. The wider and deeper the moat, the more difficult it was for enemies to attack the castle and its inhabitants.
In economic terms, consider a business that has a "sustainable competitive advantage" that serves as a moat against the competition. A business that can stave off the competition is likely to produce attractive profits.
Competition tends to erode profits. If a particular business is enjoying outsized returns, smart competitors will enter the industry. As more capital flows in and businesses compete by lowering prices, profits eventually get squeezed. This is a basic Economics 101 feature of our capitalist system.
In 1980, Harvard Business School professor Michael Porter published "Competitive Strategy," which some consider the definitive work on industry competition. Porter analyzed the attractiveness of a particular industry or market based on a set of competitive characteristics called Porter's Five Forces: the threat of entry of new competitors, the threat of substitute products or services, the bargaining power of customers (buyers), the bargaining power of suppliers, and the intensity of competitive rivalry.
It is not hard to imagine how these forces can exert pressure on a business. If it is easy to enter a particular market, a successful business will soon have to contend with many competitors. A company won't last long if its product can be replaced by a better and cheaper good. If suppliers can raise costs and consumers can chisel away at pricing, profits will deteriorate.
On the other hand, if a company has some competitive advantage, it can stave off the competition and generate attractive returns. For example, patents—such as those pharmaceutical firms possess when they develop a new drug—can limit competition for a period of time.
Apple has been able to crank out a variety of products that are highly desired with consumers willingly paying a higher price. Likewise, low-cost competitors like Walmart and Costco are constantly exerting pricing pressures on their competition.
Another competitive shield is intangible and comes in the form of brand-name recognition. Coke is arguably one of the best known brands in the world. Warren Buffett has famously said, "If you gave me $100 billion and said, 'Take away the soft drink leadership of Coca-Cola in the world,' I'd give it back to you and say, 'It can't be done.'" Starbucks continues to cover the globe with its highly recognized branded strategy.
But even companies with substantial economic moats run into problems. The Holy Grail of competitive advantage is its sustainability, its durability. Few companies have been able to weather the test of time, protected from competition and earning outsized profits. Microsoft's Windows software generates gobs of cash, as does the ad revenue earned by Google's search algorithms. However, both companies struggle to reinvest that cash into other ventures that can generate high returns.
The good news for investors is that, in today's stock market, they can purchase some of these moat-like businesses at pretty reasonable prices.•
__________
Skarbeck is managing partner of Indianapolis-based Aldebaran Capital LLC, a money management firm. His column appears every other week. Viewsexpressed are his own. He can be reached at 818-7827 or ken@aldebarancapital.com.
Please enable JavaScript to view this content.