As the national economy sputters, the Indianapolis area is losing jobs faster than its peers, falling to levels not seen since 2002.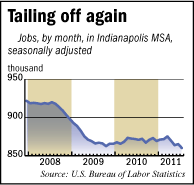 The metro area claimed 860,000 jobs in July, according to the latest figures from the U.S. Bureau of Labor Statistics, marking a new low since the recession began in December 2007.
The Indianapolis area has nearly 62,000 fewer people working now than it did then, with one-quarter of those jobs disappearing since April 1, when the city and the nation's recoveries began to stall.
Indianapolis is by no means alone in losing jobs again this year, but the depth of the loss here outpaced that of other major Midwestern metro areas, such as Milwaukee, St. Louis and Kansas City.
Meanwhile, the nation as a whole has continued adding jobs throughout this year, even though overall confidence has ebbed, the stock market has plunged and the unemployment rate remains stubbornly high.
"We've been lagging other cities for a number of years now, especially when you look at, not only unemployment, but wages, which are always behind," said Kyle Anderson, an economist at the Indiana University Kelley School of Business in Indianapolis, who focuses on the city's economy.
Indeed, average weekly wages for private workers in Indianapolis are 8.6 percent lower now than they were four years ago, according to the Bureau of Labor Statistics. No other major Midwestern city has seen such a sharp decline.
What's ailing Indianapolis is clear, and yet, why it's doing worse than other cities is not.
State and federal government employment has been plunging, as money from the 2009 federal stimulus bill has run out. In addition, Gov. Mitch Daniels has been more aggressive than most governors at slashing state spending in response to recession-depressed tax revenue.
In the year ending in July, the Indianapolis area lost 1,200 federal workers and another 1,500 state workers.
Other cities that are state capitals—such as Columbus, Ohio, and Nashville, Tenn.—have suffered similar declines in federal jobs, but have not suffered as many cuts at the state level.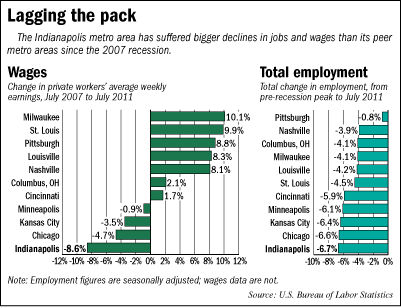 On top of that, Eli Lilly and Co. has cut 1,700 jobs from its Indianapolis work force in the past two years, and WellPoint Inc. has shed 500 local jobs.
"The issue is that our major employers are not expanding rapidly, and our state and local governments are contracting," said Morton Marcus, a retired economist from the Indiana Business Research Center.
He said the Indianapolis area has not received the kind of lift it needs from the sector of small life sciences companies city leaders have spent so much effort nurturing in the past decade.
"That's because 50 jobs here and 50 jobs there does not equal to 1,700 jobs at Lilly," Marcus said.
Indianapolis also has sustained big hits in the last year to its manufacturing and distribution industries. Respectively, those sectors have lost 1,700 and 2,600 jobs in the past 12 months.
Mike Hicks, an economist at Ball State University, blames those losses almost exclusively on the rise in gas prices, which went from a bit more than $3 a gallon at the start of the year to nearly $4 a gallon by May 1, according to the AAA Fuel Gauge Report.
That increase depressed already sluggish auto sales, hurting auto parts makers and all auto-related businesses, Hicks said.
Indianapolis already was losing auto manufacturing jobs, thanks to the shutdown of the General Motors stamping plant in July and the wind-down of the Ford steering-parts plant, which is slated to close at year-end.
But high gas prices also have slowed demand for goods of all kinds as well as raised costs for distributing them, lowering the need for workers in Indianapolis' extensive distribution industry, Hicks said.
"We're a little more transportation focused," Hicks said. "Higher gas prices have been, I think, the primary culprit."
They even could help explain Indianapolis' precipitous loss this year of professional and business services jobs, a category that includes a hodgepodge of lawyers, white-collar workers such as business analysts, secretaries and even the temporary workers hired by manufacturers and warehouses.
That sector lost 7,500 jobs in the past year—a larger hit than nearly any other peer city has sustained. About 500 of those lost jobs have been recorded at temp agencies, which is not a good sign, as many temp hires are later converted to full-time hires.
Temp hiring in the Indianapolis area had been running higher than the previous year until June, when it turned negative for the first time in 18 months.
"People have become more worried about the economy," said Marc Lotter, a spokesman for Indianapolis Mayor Greg Ballard. Lotter tried to emphasize that Indianapolis has suffered lately because of national and international economic woes, not because of local issues.
"There are a number of economists that are now warning of a second recession, so I think you're seeing some of that in the numbers," Lotter said.
Naturally, Ballard's challenger in the November mayoral election sees the situation differently. Democrat Melina Kennedy said Indianapolis' poorer job performance than its peers reflects the fallout from a series of new taxes and fees Ballard has advanced—to bail out the Capital Improvement Board, to privatize downtown parking meter collections, and to fund the city's new Department of Code Enforcement.
"It's become a lot harder to do business in Indianapolis as a small business because of all of his taxes and fees," Kennedy said. "The city has increased over 140 of those in just the last few years, substantially."
Lotter responded that the code enforcement department created a convenient one-stop shop for all permitting requests, and that the fees were created in order to stop funding those services through taxes on the entire city population.
The small business sector typically is critical for growing jobs out of a recession. And according to Bureau of Labor Statistics data, Indianapolis relies more heavily on it than most of its peers.
Regulations that affect small businesses are a problem beyond Marion County.
Chuck Lehman—who started a franchise medical laboratory called Any Lab Test Now in Carmel in July 2010—said thorny regulations and the cost of complying with them are among his biggest challenges.
Before starting the business, Lehman had been out of work nearly two years. He previously was with a commercial construction company.
Any Lab Test Now has built its work force to four, but Lehman isn't yet sure it will make it.
"It's a challenge right now, all the different regulations and finances," said Lehman, who founded his own manufacturing firm in the mid-1970s.
"Before," he said of starting his own business, "I thought it was easy."•
Please enable JavaScript to view this content.