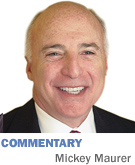 "Mickey is not a stock analyst. His recommendations are dangerous and irresponsible." Anon, circa May 2008.

On three occasions in the last few years, I have touted an Indiana stock. In each case, readers rash enough to disregard the warning posted above have reaped rewards. Those stocks—Finish Line, Steak n Shake and Brightpoint, all purchased well under $10 a share—posted outstanding capital-gain opportunities. Investing in risky, cheap Indiana stocks has been exciting and has paid well. If you are following me so far, skip your mortgage payment and call your stockbroker. (Hardly anyone is making mortgage payments now anyway.)

I learned last week in IBJ that the NASDAQ exchange has threatened to delist the stock of locally based Emmis Communications Corp. This automatic notification was triggered when Emmis stock closed below the exchange minimum of $1 a share for 30 straight business days.

Delisting jeopardy was averted twice in the last two years when, each time, CEO Jeff Smulyan rallied the stock above $1 for the required 10 consecutive business days. He must do it again before Feb. 27 to stay listed. At the close of business on Sept. 14 the stock traded at 67 cents per share, near its low for the year. Even if share prices fall short of the $1 mark, the return still could be in the double digits in less than six months.

Emmis is not the glamour queen of Wall Street. On Sept. 6, 2001, ValuEngine issued a sell recommendation, adding "the company exhibits unattractive momentum and p/e ratio." Radio stocks have not fared well in recent years. Less than a decade ago the market recognized the monopoly these companies shared and rewarded their cash flows with high multiples. The industry is now dealing with satellite radio and a host of competing devices delivering news and tunes mainly to kids and young adults.

On the other hand, Smulyan has practically guaranteed the $1. He said in a prepared statement, "We are optimistic that the performance of our business and our continued efforts to rationalize our balance sheet will enable us to achieve compliance with the minimum bid price rule before Feb. 27." Smulyan is not talking about a reverse stock or similar gimmick. He thinks he can do it on the merits. It is a brash "Joe Namath" guarantee.

I believe him. I know this guy. He is bright and savvy—a forward thinker. IBJ selected him for its Enterprise Award in 1986. Recently, he was honored with the Lifetime Achievement Award by the Indiana Broadcasters Association. That award connotes finality, but this resourceful executive still has the will and pride to steer Emmis through another challenge.

When we met, Smulyan was a lawyer who had never won a case, but he proved to be a whiz at the radio business and still is. We were partners for a time. Later, I was able to apply much of the knowledge gleaned from working with him to a radio transaction of my own in the Indianapolis market. He was a magnificent competitor—tough but honest and fair.

How will he do it? I don't know. Smulyan has recently downsized his company with the sale of three radio stations and the subsequent repayment to bankers of about $120 million, comprising about 38 percent of the outstanding debt. Consider the assertion that the breakup value of Emmis stations after debt repayment exceeds $1 a share.

Because he is leading an Indiana company, we are rooting for Smulyan anyway, but I like to bet on people: Alan Cohen at Finish Line, Bob Laikin at Brightpoint, and Sardar Biglari at Steak n Shake, who I do not know but whose track record predicts success. Smulyan is a good bet.

I may choke on my own ink, but I instructed my broker to purchase Emmis in my IRA. This is not an investment for the faint of heart but perfectly suitable for my retirement plan. I don't plan to retire.•

__________

Maurer is a shareholder in IBJ Corp., which owns Indianapolis Business Journal. His column appears every other week. To comment on this column, send e-mail to mmaurer@ibj.com.