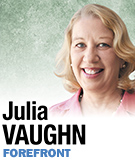 As an Indiana native, I've grown accustomed to our dismal rankings in so many national surveys. From obesity to smoking, the Hoosier state shows up too often in top-10 lists that don't cast the most flattering light.

While we've known for many years that our public health is hurt by large numbers of overweight citizens and smokers, the recently published Indiana Civic Health Index points out that our state's civic health is ailing, too, threatened by non-participation and a lack of public dialogue about problems we face.

The statistics are sobering. According to the Civic Health Index, Indiana ranks 48th for voter turnout and 43rd for voter registration.

A major contributing factor? Hoosiers tend not to talk politics; Indiana ranks 48th for the number of citizens who discuss politics frequently. And, we lag behind other states in the number of citizens who work together to solve problems in the community, with a ranking of 45th.

I wasn't surprised. A number of factors stifle civic participation here and they don't just involve election administration.

For example, foundations in Indiana have traditionally shied from funding projects or organizations that work on civic participation with the attitude that anything involving voting must be political and therefore off-limits in terms of 501(c)(3) support. Those attitudes need to change; groups like the League of Women Voters do a great job at nonpartisan voter education and could do big things with just a little financial support from some home-grown institutional funders.

Likewise, too, many churches and service clubs steer clear of encouraging political discussions among members, which is unfortunate, given that Hoosiers belong to churches and service groups at a higher percentage than other Americans. Perhaps it's our Midwestern tendency to be well-mannered that has trained us to not discuss things like politics in polite company, but we are missing weekly opportunities to engage folks when we take these venues off the table. Surely we can trust our ministers and group leaders to lead civil discussions that seek to solve our problems.

Citizens need access to information they can trust in order to make sound civic decisions, so the media has a huge role to play. For many years, the top source of news for Americans has been television and, over that time, news about politics has been reduced to stories about which candidate is ahead in the latest poll or has raised the most money.

When I worked on a project trying to convince local TV stations to devote more regular nightly newscasts to candidates discussing issues, I was told viewers prefer fluff pieces about the latest celebrity breakup. The problem is that TV stations use the public airwaves and are required to operate in the public interest. The steady diet of junk-food news they've been feeding us has left us full of useless information but starved for facts about things that really affect us. They need to do better.

Of course, the top reason non-voters give for not participating is that they believe their vote just doesn't matter. Citizens understand that the huge contributions from wealthy individuals, corporations, unions and other special interests give them a bigger voice in our government, and too many people just aren't willing to participate in a process they consider futile.

The way to begin to reduce the influence of wealthy campaign contributors is to institute a system of public financing. We also need to encourage small contributions from individuals, so Indiana should re-institute its former policy of giving tax deductions for modest political contributions. Hoosier voters also need more choices than just Republican or Democrat; our restrictive ballot-access laws are to blame and should be loosened.

A significant increase in civic participation is critical if Indiana is to face future challenges. It's time to call a code blue emergency and address this problem with a transfusion of energy and commitment from both institutions and individuals across the state.•

__________

Vaughn is policy director for Common Cause/Indiana, a nonpartisan citizens lobbying organization that works for open, honest and accountable government. Send comments on this column to ibjedit@ibj.com.