While many advertising agencies are struggling to survive, Carmel-based 5MetaCom is growing.

Capitalized billings at 5MetaCom have grown from $27.2 million in 2009 to projections of $35 million plus this year.

The firm with the funny name has grown by focusing solely on clients that produce scientific, technical and highly regulated products and services.
Wirthwein
With such specialization and in an economy that has many Indiana companies cutting back, it would seem logical that 5MetaCom would have to fish for clients nationwide. But the firm's owner, Chris Wirthwein, insists on sticking to Indiana companies.

5MetaCom won't disclose many clients due to confidentiality agreements, but a partial list includes Roche Diagnostics, Ingersoll Rand, Praxair Surface Technologies and Priio.

In an age of conference calls, e-mails and Skype, Wirthwein prefers an up-close and personal approach.

"One hundred percent of our clients are within a two-hour drive," said Wirthwein, a Butler University graduate. "Technology will never replace in-person interaction. It's harder to do business when you can't say, 'Let me run over to your office and chat about this.'"

Wirthwein said that while his clients are all Indiana firms, 40 percent of those firms have global business interests.

5MetaCom's strange name makes perfect sense in the world it operates in, said Wirthwein, who changed the firm's moniker from The Majestic Group in 2002.

Five, he explained, represents the five-step marketing process his firm uses. Meta is the Latin word for beyond, and com stands for communications.

The agency was founded by the late Steve Dickhaus in 1975 as Venus Marketing. Wirthwein, 54, went to work for the firm in 1979 and later became sole owner.

"When I started 30-plus years ago, we had a wide mix of clients," he said. "The sampling of highly technical clients we had were the most difficult projects to work on. We found that's where we had the least competition."

While the biomedical and technology are highly lucrative sectors, they also present the highest barriers of entry, said Bob Gustafson, a Ball State University advertising professor.

"Some agencies will shy away from this work because there are so many laws and regulations about what you can and can't say," he said. "If you get just one thing wrong, federal fines can be very heavy because they're often multiplied by the number of ad runs or the number of potential people that ad can reach."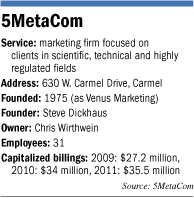 Despite a difficult economy that caused 5MetaCom to dismiss a handful of employees in 2009, Wirthwein never thought about diversifying.

"We decided instead to stay in this arena and get better at it," he said.

The company delved into Web development, social media and other marketing platforms in its niche. The strategy has paid off as capitalized billings—which are generally four to six times higher than an ad agency's revenue—have grown and the staff has grown from 26 to 31 employees this year.

Adding employees isn't always a simple process for a technically oriented marketing firm.

"Only about eight out of 100 people working in [the advertising and marketing field] are interested in working for us," Wirthwein said. "But that's awesome. It assures we get the right people."

5MetaCom hasn't hired someone directly out of college in 20 years, he said. "What we do takes considerable experience."

Larry O'Cull, president of Indianapolis-based Priio, which primarily makes components and systems for medical-device and industrial-monitoring companies, said 5MetaCom's experience was a big reason Priio hired the firm.

"We didn't have to take time to bring them up to speed," O'Cull said.

What 5MetaCom does for its clients isn't so different from what ad firms do for conventional clients.

"We interpret what they do in a way that makes their products and services easier to buy and sell," Wirthwein said.

But instead of advertising in broad mediums like television, radio and general-interest publications, 5MetaCom is more apt to place ads in trade publications and work at trade shows.

The biggest difference is that claims have to be backed up by data.

"It's not like selling chewing gum," Wirthwein explained. "We can't simply have our clients claiming, 'We're the best.' We're not a market research firm, but we do a lot of market research because the markets we work in are very different."

As a result, Wirthwein said, 5MetaCom has "structured processes" it uses in developing marketing campaigns.

"We want to be super-creative," he added, "but with processes in place."•