The Indianapolis Colts won their first game of the 2011 season on Dec. 18—nearly an entire year after they racked up their last victory.
The team slid into a tailspin, losing its first 13 regular-season games, after star quarterback Peyton Manning in September underwent his third neck surgery in 18 months and missed the entire season.
The Colts initially tapped Kerry Collins as quarterback, then moved on to Curtis Painter and Dan Orlovsky. The low point of the season was a 62-7 drubbing at New Orleans Oct. 23 in a game played in prime time on NBC's Sunday Night Football.
The Colts' sudden fall came just two years after the team played in the Super Bowl.
Luckily for the Colts, the team already had sold out the 63,000-seat Lucas Oil Stadium's season tickets long before the extent of Manning's injury was known.
But tickets on the secondary market plunged far below face value to $10 for upper-level seats and $25 for lower-level seats. Colts merchandise retailers said sales were off more than 10 percent.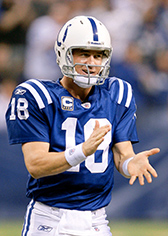 Peyton Manning won't play this season, and his future with the NFL franchise is uncertain. (IBJ File Photo)
As the on-field losses mounted, the Colts appeared to be in line for the No. 1 overall pick in the 2012 draft. Speculation swirled about whether the team would use the pick to select Andrew Luck, Stanford University's widely heralded quarterback.
The Colts are now faced with the difficult decision of what to do with the franchise's best-ever quarterback. If they opt to retain him, they'll have to pay him a $28 million bonus in March. If they don't pay that, Manning will be an unrestricted free agent.
Manning's recovery is continuing. He took part in a post-practice workout this month, but Bill Polian, the team's vice chairman, said there is no chance Manning will play in the final two games of the year.•
Please enable JavaScript to view this content.