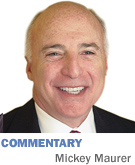 Each January, I reflect on a few of the prior year's columns. I am always curious about the topics and people I have written about over the course of the year. I hope you are, too.

Last year marked extraordinary contributions to Indianapolis institutions. In June, I lauded Sidney Eskenazi and wife Lois for their $40 million gift to the Wishard Hospital project in Indianapolis—probably the largest donation to a municipal hospital. The hospital will bear the family name, and in 2014 the entire Wishard system will be renamed Eskenazi Health.

Later in the year, I applauded the McKinney family gift of $24 million to the IU School of Law—Indianapolis, henceforth the Indiana University Robert H. McKinney School of Law. It is a joy to chronicle extraordinary contributions and I look forward to an opportunity to do so next year.

The state Legislature was a disappointment in 2011, and I let you know that a few times. In March 2011, I expressed outrage over pending human rights legislation with a send-up that began:

"My fellow Tea Party Republicans, I have an idea. Let's enact legislation requiring immigrants and homosexuals to wear purple hats. If we are going to treat them differently, we have to know who they are—on sight. Then we can confront someone wearing a purple hat and if he doesn't speak English, boom, back to Mexico. Likewise homosexuals. We do not want them here, either."

I stated that the Indiana Legislature had unleashed the serpent of prejudice and hatred that may send Indiana reeling economically, socially and morally and I implored that we take the time to overcome our ignorance and learn that those who would wear purple hats are more similar to us than we like to think.

Though some have problems with our language or have a different sexual orientation, we may learn that they have ambitions, goals and ideals—that they are human beings who love our country and the state. I spent two days answering mail on this column, including a note from a reader who thought I was serious about the purple hats.

I followed up with a column in May, lambasting the failure to enact a comprehensive smoking bill, thus callously denying the right of a smoke-free workplace to countless Hoosiers and perpetuating the death march of those workers from cancer, emphysema and heart disease. With the governor's full weight behind this initiative Indiana should finally "clear the air" this year.

In May, I lamented that the decision of Mitch Daniels to withdraw from the race for president of the United States sent him from front-runner to footnote and washed out my hope of a presidential appointment as ambassador to a scuba diving country. I maintain (in jest) that I am an innocent victim of the ebbing of cruel political tides. In spite of many exhortations from friends and colleagues locally and nationally, Daniels has remained steadfast. That's a shame. In a later column, I reviewed his book, "Keeping the Republic," an instructive read. The Republican Party has not chosen its candidate. It ain't over yet.

In May, I marked the passing of Bill Cook, Indiana's richest man but so much more. It was my privilege to work with Hall of Fame sportswriter Bob Hammel on a chapter about Bill Cook in my book "19 Stars of Indiana." I ended the chapter with:

"Every year, Forbes magazine duly chronicles achievement based upon accumulated wealth. If Forbes would have included in its criteria an analysis of the impact on the health of our nation and the humanitarian deployment of wealth, the rank of Hoosier Bill Cook visionary, inventor, industrialist, philanthropist, preservationist and billionaire, would be even higher."

Thank you for reading my columns last year and for responding. I have enjoyed our dialogue. Best of luck to all of us for a healthy and prosperous 2012.•

__________

Maurer is a shareholder in IBJ Corp., which owns Indianapolis Business Journal. His column appears every other week. To comment on this column, send e-mail to mmaurer@ibj.com.