The New York Giants and New England Patriots are about to battle for football supremacy, but Indianapolis is angling for a much bigger prize.
It's not just the $200 million visitors are expected to spend here Super Bowl week.
"The direct visitor spending is nice, but you don't do a Super Bowl for the direct visitor spending alone," said Indianapolis Convention and Visitors Association CEO Leonard Hoops. "The real benefit is what you get after Feb. 5."
What the city could get is hundreds of millions of dollars from convention and leisure travelers over the next decade. To maximize the payoff, however, Indianapolis must use the big game to build what remains a so-so brand.
A recent study on Indianapolis by San Diego-based Competitive Edge Research & Communication found that 67 percent of people surveyed have "no impression" of the city.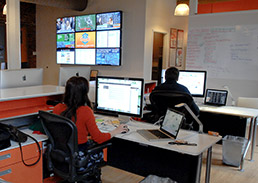 The local host committee has launched the first ever Super Bowl social media command center to monitor and respond to what people are saying about the event. (IBJ Photo/ Perry Reichanadter)
"For all Indianapolis has accomplished in terms of becoming a major-league city, it still has a relatively low profile in some circles," said Darin David, account director for The Marketing Arm, a Dallas-based marketing research firm.
It's a problem the Super Bowl could go a long way toward solving.
"When a city has all the features of a major-league city, but not the notoriety of a major-league city," David said, "they're poised to use a platform like the Super Bowl—by far and away the No. 1 sports property in America—to really take off."
Sports marketers agree the game offers more upside potential for a city like Indianapolis than for better-known cities like Miami or New Orleans.
It's an opportunity not lost on the ICVA or the Super Bowl Host Committee. They are launching an all-out marketing blitz aimed at raising the city's profile by seizing the attention of the media, visitors and those watching the nation's most watched one-day sporting event on television.
More than a dozen full-time staffers and 150 volunteers are being deployed to carry the city's message. They'll staff information and promotion booths at the media center inside the JW Marriott and in the Super Bowl Village along Georgia Street, and hand out tens of thousands of post-card-size marketing pieces to media members and visitors.
Ads promoting the city have been plastered on four high-profile billboards and on downtown news racks. A website, XLVI faces.com, has been launched featuring vignettes of local residents that are meant to showcase the city's diverse amenities.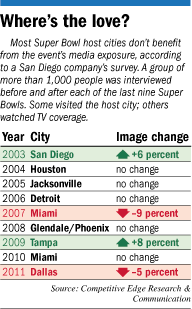 The work doesn't stop with getting the message out; the city's promoters will also get immediate feedback on how the message is being received. At Morrison Opera Place at Maryland and Meridian streets, the first-ever Super Bowl social media command center is monitoring and reacting to what people are saying on outlets such as Twitter and Facebook.
"We're leaving no stone unturned," said Joshua Hollingsworth, a partner in the local law office of Barnes and Thornburg and co-chairman of the Host Committee's Brand Management Committee.
Decision-makers
The biggest payoff could come from a select group being hosted by the ICVA: 29 meeting planners whose conventions represent $1.5 billion in annual economic impact.
Hoops is hopeful the Super Bowl experience in Indianapolis will spur at least two of those organizations to sign deals in the next two years to move their conventions here.
"There's a major medical association based in Washington, D.C., and one other group I can't name right now that together represent a nine-figure economic impact—easily," Hoops said.
Already, he said, the Super Bowl has helped the city book one big convention—the Seventh-Day Adventist Church, which signed a deal in October to bring its 100,000-delegate convention back to Indianapolis in 2020. The city also hosted the group in 1990.
"The Seventh-Day Adventists don't care about sports," Hoops said. "You don't have to be a football fan to realize if a city hosts a Super Bowl, someone must think you're upper echelon."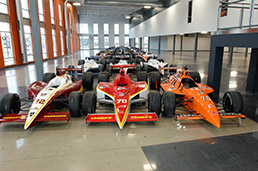 Thirty-three NFL-themed IndyCar race cars will be on display at a party for the more than 5,000 media members in town to cover the Super Bowl. (IBJ Photo/ Perry Reichanadter)
The ICVA will spend $400,000 to fly in, house, feed and entertain the convention planners—who will get to bring one guest each. Hoops said the ICVA has spent four years saving money for the effort.
The group will have access to a 35-person suite at the game and some of the swankiest parties in the week leading up to Super Bowl Sunday. The goal isn't just to sell the meeting planners, but to convince them they'll be able to sell Indianapolis to their constituents.
"One of the primary concerns of convention planners is their ability to attract convention attendees to their event," Hoops said. "The Super Bowl is a tremendous variable in getting people to realize they can sell this place. After all, Indianapolis sold the NFL. The NFL is not going to choose you as a Super Bowl city if they don't think you have a complete package to keep people entertained."
Tourism isn't the only target. The Host Committee is also working with Develop Indy, the city's economic development arm, and the Indianapolis Chamber of Commerce to woo visiting corporate executives.
"Sixty-five percent of people coming to the Super Bowl are corporate executives or decision-makers. They're the type of people who have influence over where a company locates its events and operations, and that's a significant audience to make sure we're paying attention to," said Host Committee CEO Allison Melangton.
"This is going to be a unique opportunity for us, probably a once-in-a-generation opportunity for our city to capitalize on," said Indianapolis Chamber President Scott Miller. Numerous networking activities and tours are on tap for visiting executives and corporate site selectors, he said.
Minding the media
No group will have a bigger impact on the city's brand-making efforts than the 5,000 credentialed media members covering the game and its buildup. They hold the key to how Indianapolis will be portrayed to the 110 million who will watch the Super Bowl on television and millions more who will read about it.
"The TV coverage has the potential to have the biggest impact on the city's image, simply due to the size of the audience," Hoops said.
The ICVA and host committee are working especially closely with NBC, the network broadcasting the game, to manage the message. ESPN, which will air broadcasts the week leading up to the game from Pan Am Plaza, also is getting lots of attention from local officials.
"We're going to do everything we can to make sure they convey a positive message about our city, but at the end of the day, you can't control what comes out of somebody's mouth," Hoops said. "Broadcasters are going to say whatever they feel like at the time."
John Nienstedt, CEO of Competitive Edge Research & Communication, agreed.
"In 2003, John Madden went on and on about how wonderful San Diego was when they hosted the Super Bowl and their image got a nice boost," said Nienstedt, whose company for the last decade has studied the impact of the Super Bowl on its host city. "In 2009, the network showed some really nice night shots and entertainment in Tampa and that city got a nice boost."
But there are no guarantees.
Five of the last nine host cities have seen no image boost, Competitive Edge's studies concluded. Even more troubling, Miami in 2007 saw a 9-percent decrease in its image after heavy rains plagued the week and Dallas saw a 5-percent decrease after winter weather and a seating snafu bedeviled the event.
"The research shows the Super Bowl can be great," Nienstedt said. "Moving the needle on image even a few percent isn't easy to do. But if things don't go well, it can have a pretty significant negative impact. You can only prepare for so much, so, to some extent, you're rolling the dice."
Good start
Already, Indianapolis seems to be on its way to moving the needle in the right direction.
Sports Illustrated wrote a Jan. 17 story on the merits of Indianapolis as a Super Bowl host city. On Jan. 20, USA Today did a full-page article on how Indianapolis is "ready to prove it belongs in the big leagues" and on Jan. 27 ran a story featuring the Super Bowl host city's top 10 attractions according to basketball great and native Hoosier Larry Bird.
American Airlines and AirTran Airways are running cover articles this month in their in-flight magazines about Indianapolis as the Super Bowl host. On Jan. 24, CNBC sports business reporter Darren Rovell said, "Indianapolis is the best Super Bowl city I've ever seen."
After the ICVA sent him a care package, NBC late-night talk-show host Jimmy Fallon waxed poetic about Indianapolis. He will host a live show here during Super Bowl week.
On top of all that, the NFL has designated two pages in its Super Bowl program for a feature on Indianapolis.
All the media and marketing preparation local officials have done over the last two years has already earned the city more than $10 million in media coverage, Hoops said.
"I think this city's experience with things like the Indianapolis 500, Final Fours and all the events the Indiana Sports Corp. has hosted has really helped," said Dianna Boyce, spokeswoman for Indianapolis' Super Bowl Host Committee. "We may be rookies when it comes to hosting the Super Bowl, but we're seasoned vets when it comes to hosting these types of events."•
Please enable JavaScript to view this content.