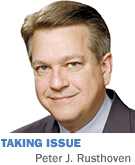 Before Mitt Romney crushed Newt Gingrich in Florida, Sarah Palin urged voters to back Gingrich and "rage against the machine." Afterward, Gingrich also echoed 1960s leftist street chants, saying "people power" would conquer "money power." One fears "Off the pigs!" now waits in Gingrich's rhetorical queue.
Palin's call to "rage" fits with Gingrich's "narrative" (to use politico-speak) as someone vilified by a GOP "establishment" threatened by his principled conservatism. The theme is as silly as Palin's comment.
Supposed "establishment" sorts opposing Gingrich include Ann Coulter, a right-wing rhetorical bomb thrower; Glenn Beck, right up there (and out there) with Coulter; and former Texas Rep. Tom Delay, majority whip under Speaker Gingrich. Delay's thumbnail of him: "Erratic, undisciplined, not really a conservative." Delay is one of numerous GOP congressmen who served with Gingrich and want him nowhere near the White House.
Others opposing Gingrich are George Will and Peggy Noonan, who calls him "a human hand grenade who walks around with his hand on the pin, saying, 'Watch this!'" Hoosiers for Romney include Dan Quayle. Who on this list is not "really" a conservative?
National Review—the Bill Buckley journal that sparked the conservative resurgence that led to the Reagan presidency—has incisively targeted Gingrich. The ammo is supplied by Gingrich, who (as conservative John Podhoretz notes) "blamed American liberalism for the Columbine massacres and said that a woman's murder of her own children in 1993 was a call to the country to vote Republican."
To Gingrich, of course, all opposition is unfair. In the 1980s, he criticized Reagan's policy toward the Soviets, saying it would fail. When Reagan Assistant Secretary of State Elliott Abrams, an unquestioned conservative, recently wrote a column quoting Gingrich's speeches, Gingrich called it an "orchestrated Romney supporter attack once again painting a falsehood."
Similarly, Gingrich calls Coulter (of all people) part of the "old order," who know that "if I come back as president, that I will be for very dramatic, very bold change and they are terrified."
Stop it. Please. No conservative opposing Gingrich is "terrified" by any conservative principle or policy he purports to favor. Yes, we oppose some Newtonian brainstorms (colonizing the moon, letting it apply for statehood), but that's not because they're "conservative" or "anti-establishment." It's because they're wacky.
But the main reason for opposition is that Gingrich is a horrid conservative standard-bearer. First, he'll lose. As of Jan. 30, Gallup reports that in 12 key "swing states" carried by Obama in 2008—accounting for 151 of the 270 electoral votes needed to win—the president trounces Gingrich by 14 points. Romney leads by one. Nationally, Gingrich trails by 12. Romney is tied.
In a mid-January CNN poll, Gingrich's favorable-unfavorable ratings were 28-58, Romney's 45-42. The mid-January Fox News poll numbers were Gingrich 27-56, Romney 45-38.
More important, Gingrich cannot simply be portrayed as unsuitable for the presidency. He is unsuitable. Those of us who worked for Reagan know Gingrich is nothing like the president whose mantle he claims. As Noonan says, "Reagan was a constructive figure, not destructive. He wasn't driven by need, and anger wasn't his fuel. He was equable, even-tempered, personally content."
Where Reagan was principled, "Newt senses the lay of the land. If a new and modern strain of Rockefeller Republicanism looked like it was about to take hold, he'd see the virtues in that. Right now, the growth area looks like it's in opposition to elites and establishments. So that's where he is."
Reagan knew it wasn't about him. For Gingrich, it's all about Newt. He is temperamental, self-absorbed, grandiose. He needs to get off-stage. Now.•
__________
Rusthoven, an Indianapolis attorney and graduate of Harvard College and Harvard Law School, was associate counsel to President Reagan. Send comments on this column to ibjedit@ibj.com.
Please enable JavaScript to view this content.