This year's Indianapolis International Film Festival gets rolling later this usual, with a bump to summer precipitated
in part by the moving on of its founder to the Nashville Film Festival and in part by the move of most of the fest (minus
parties) to the Indianapolis Museum of Art.
The new venue should provide a comfortable place to hang out between
flicks and compare notes.
Of course, we at IBJ couldn't wait to get to the festival. Instead, we've
spent the last few weeks reviewing most of the features in competition. Here are our thoughts. You can include your own reviews
on Lou Harry's A&E blog at www.ibj.com/arts.
Recommended
"Best Worst Movie." In the 18 years since "Troll II"
was released, the film has earned a reputation as a cinematic fiasco on the level of classic howlers
like "Plan 9 from Outer Space" and "Robot Monster." The surprise here is that
there's actually something fun and engaging to say about that film besides, "It sucked." In
this documentary, a child "star" of "Troll II" tries to make sense of the original movie's cult
status and, in the process, takes us into the lives of, among others, a jovial dentist, a reclusive would-be actress and a
foreign director with mixed feelings about his masterpiece's newfound "worst film" status. After the screening
of this documentary, gluttons for punishment can stick around for an outdoor screening of, yes, "Troll II."—Lou
Harry
"Daytime Drinking." A slow-paced and quiet South Korean road-trip movie,
"Daytime Drinking" chronicles the fallout of a young man's decision to literally run away from a bad breakup
with his girlfriend. Once on the road, he tries to befriend a couple of deceptive hustlers, a deviant trucker and one really
bad poet. Life kicks him when he's down again and again, but don't expect him to respond in a hope-inspiring way.
The film effectively explores how the respectful and courteous traditions of Korean culture render people ill-equipped to
deal with the betrayal, indifference and cruelty that lies just beneath the surface.—Pete M. Smith, special to IBJ

"Garbage Dreams." The three teenage trash collectors at
the center of this Cairo-set documentary are members of an underclass known as the "Zaballeen" who have formed
an entire culture around garbage and make their living from recycling an amazing 80 percent of it. The fixed camera shots
create an intentional and distinctly jarring effect, lending a frozen effect to the film even though the teens are living
through a time of rapid change as foreign companies decimate their livelihood and futures. This one is for anyone who thinks
globalization and free trade are beneficial for Third World countries. It's worth it just to watch the teens get dressed
up to collect garbage and then drool over all the trash they see on a trip to the United Kingdom.—P.M.S.
"Here and There." The art house version of "The Proposal," "Green
Card," or any other gotta-get-married-for-citizenship, this double fish-out-of-water film concerns a depressive New
Yorker who accepts a deal to go to Serbia and marry a woman so she can come to the United States while her true partner struggles
to get by until she gets there. It's low-key—don't look for wacky comedy misunderstandings—but the
unfamiliar faces and refreshing matter-of-factness help this one rise above its Hollywood brethren. —L.H.
"HomeGrown." A divorced father and his three grown children manage to create three
tons of produce every year from only 1/5 of an acre of land near a busy interstate exchange in Pasadena, Calif. The Dervaes
family proves eccentric–-but likable–-as they discuss how they reduce their "eco-footprint" by their
choices of energy sources, such as solar panels and biodiesel made from used vegetable oil from restaurants. May inspire viewers
to buy non-electric mixers from an Amish catalog.—Rebecca Berfanger, special to IBJ
"Prince
of Broadway." "Three Men and a Baby" this isn't. In this gritty story, a fed-up mom hands
off her child into the unwilling hands of the possible father, a hustler of knock-off goods on the streets of New York. The
film meanders and repeats itself, but the sense of burden and reluctant acceptance of responsibility is palpable.—L.H.
 "A Ripple of Hope." Two months before his own untimely end, Robert Kennedy likely
saved our city from riots similar to those in other urban areas following the assassination of Martin Luther King Jr. on April
4, 1968. Kennedy's approach to the tragedy—mentioning his brother's assassination for the first time in
public and quoting Greek philosopher Aeschylus—soothed the crowd, including those who were armed and ready for a fight.
Told by those who were there, this documentary offers an emotional ride through a near-disaster that was averted by words
of calm and peace from one civil rights leader about another.—R.B.
"The Rock-Afire
Explosion." Ten minutes into this off-kilter documentary, I thought I knew all I needed to about the subject.
But this proves more than just another "wacky obsessives" exercise. With a real appreciation of the power of nostalgia
and an interest in how absurd cultural touchstones evolve, the filmmakers explore the world of the fictional critter band
that once took the stage daily at Showbiz Pizza Place.—L.H.
"Shoot First And Pray
You Live (Because Luck Has Nothing To Do With It)." This gritty revenge-Western tells the story of an orphan
raised to fight. Once trained, Red Pierre goes off in search of the men who raped his mother and killed a man claiming to
be his father. In case you couldn't tell from the film's title, this movie is full of bad dialogue and mildly
absurd story lines. But if you have ever wondered what kind of movie would arise if you melded "Kill Bill," "A
Fistful of Dollars" and "The Outlaw Josie Wales," this movie is for you. And, yes, that's Indiana
comedian Jim Gaffigan in the cast.—P.M.S.
"Sita Sings the Blues."
Marvelously fun in parts and redundant and tiring in others, this animated take on the Indian story of Ramayana is sparked
by debating narrators, a joyful use of 1920s jazz songs, a fresh visual style, and a pair of well-woven narratives. I promise
you haven't seen anything like it before.—L.H.

"The Tiger Next Door."
The film's balanced take on the subject of why private citizens should or shouldn't be allowed to keep wild animals
in cages left me unsure whom I should root for: the main subject, a likable ex-con who breeds tigers and other exotic animals
at his home in Flat Rock, Ind., or those trying to stop him, like the founder and director of the Exotic Feline Rescue Center
in Crown Point. In the end, that balance made it worthwhile. Other pluses: local ties, captivating footage and a thought-provoking
topic. —R.B.
"The Way We Get By." The trio of seniors we meet in
this documentary have a range of feelings about the war in Iraq, but they steadfastly refuse to let a single soldier arrive
at the Bangor, Maine, airport without being personally greeted and thanked. The film seems to stray in its midsection, but
remains powerful nonetheless. Bring tissues. —L.H.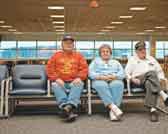 In "The Way We Get By," seniors share their feelings
about the Iraq war.
"Zift." This overstuffed, sadistic, scatological and wildly
fun thriller tells of an ex-con (picture a Bulgarian Vin Diesel) who has a very rough time of it after being released from
prison. Unfolding in one torturous day, it's shot in striking black and white and contains a can-you-top-this cast of
oddball supporting characters. The perfect fest film to take the action-film-loving uninitiated film-fester to. —L.H.
If you've got time
"Autistic-Like."
Often, the label of autism is used as a diagnosis in order to secure services—even if the diagnosis
isn't quite correct. This film explores the issue through the story of one family in which a child
was diagnosed as having "autistic-like" behavior that, in reality, was a sensory disorder.
Disjointed in parts, but informative and interesting, it will, like many medical documentaries, hit home
with its subject population. —Cindy Harry, special to IBJ

"Beyond Our Differences."
If one already believes that peace, love and understanding can make the world a better place, this film
will reinforce those ideas and possibly inspire action. If not, this will still encourage some thought.
Speakers include spiritual leaders Emeritus Archbishop of Cape Town Desmond Tutu, the Dalai Lama, an Irish priest
who runs a clinic for AIDS patients in South Africa, mind-body expert Deepak Chopra, and "Alchemist" author Paulo
Coelho, among others. —R.B.

"Official Rejection." Navel-gazing, perhaps.
But this look at film-festival politics has enough interesting anecdotes and info to maintain interest in anyone curious about
how the independent movie biz works. It concerns a pair of filmmakers and their efforts to land their film in the right fests.
While the process is interesting, the characters aren't. The unfortunate result is a film where you don't want
the leading men to succeed. —L.H.

"The Other Side of the Lens." When
a jaded Salt Lake City television news reporter's own 4-year-old boy dies in a backyard accident, he discovers the difference
between exploiting and enduring heartache. To soothe his loss, he travels to Kenya and builds a school in his son's
name, but soon a violent outbreak of ethnic cleansing expands his understanding of devastation. The premise is any parent's
worst nightmare, but the film ignores opportunities to explore the exploitative nature of journalism, instead concentrating
too exclusively on Cowan's personal journey. —Peter Schnitzler
"Playground."
A well-made documentary on the American underground child sex trade, watching "Playground" is recommended only
for people with strong enough stomachs to handle 90 minutes of film on the worst crimes this country produces, or anyone who
hasn't watched an episode of "Dateline" in the past decade. "Playground" ranks nowhere near
"Gardens of the Night" or "Little Children," but it will reward you with some surprising insights
into the minds of predators and the children they destroy. —P.M.S.
"Poundcake."
A family — including three adult children — deal with parental divorce in this comedy drama set in the '80s.
One of the more mainstream entries in the fest, it gives familiar faces Kathleen Quinlan and Jay O. Sanders the kind of substantial
roles that come along too rarely for movie actors. Unfortunately, the film they're in isn't funny enough, dramatic
enough or anything else enough to make it a must-see. Still, it's watchable and features many moments that ring true.
Plus, in Deshja Driggs-Hall, you could be discovering a breakout actress early in her career. —L.H.
"Route 30." This would-be charmer would be in the "Skip" category if it weren't
for winning performances by Dana Delany, "Revenge of the Nerds" alumnus Curtis Armstrong and the she-looks-familiar
Christine Elise (I'll save you the trip to IMDB.com — she was Brandon's girlfriend in an episode arc of
the original "Beverly Hills 90210.") They're featured in a trio of interconnected tales about life in a
small town along the titular Pennsylvania road. The first, involving a pair of deer hunters and their spouses (one wants to
start an online porn site, the other is obsessed with a civilian casualty of the battle of Gettysburg), is the strongest.
—L.H.

"Salud." Imagine "Leaving Las Vegas" minus the
hooker and most of the drama. In this fiction film, we watch Carlos, a Guatemalan deadbeat, drink himself to death in front
of his 7-year-old son, despite the little boy's efforts to convince him to stay sober, e.g., "Please stop drinking,
Dad. I don't want you to die." Heartbreaking, but not terribly eloquent. —Gabrielle Poshadlo
"Throw It Down." Every festival needs a competition documentary in which a group of
[fill in the blank] compete to be the world champion [fill in the blank]. In this case, it's a Drum and Bugle Corps
squad and, while the determination and talent is admirable, the film keeps playing the same notes. And unlike, say, a spelling
bee, there's little drama in the climax because we can't see each full routine nor do we have the tools to clearly
see who is best. —L.H.

"The Vanished Empire." It's a pleasure
to watch a movie about Russians that doesn't involve politics or demonization. This nostalgic story about college kids
being college kids in 1970s Moscow will feel similar to most American coming-of-age stories but may bore audiences in this
country if they forget the social context of the times. It shows how much we took for granted, but more important, just how
sweet forbidden fruit can be. —P.S.

Skip
"Beket." Two middle-age men travel through arid terrain, repeat
short bursts of bad dialogue and occasionally interact with flying buses, a peasant guitar hero, a be-thonged
beach goddess and other random characters. "Beket" seems a caricature of the worst of art
house cinema. If it's isn't meant as parody, "Beket" is probably one of the worst
films I've ever seen distributed for public consumption. —P.M.S.
"Lo."
A man tries to talk a demon into rescuing his love from hell, but don't look for even Dante's first circle.
The entire budget seems spent on creature makeup and a talking hand wound. That wouldn't be that big of a problem if
what was on screen weren't trying so desperately to be a cult film. So how low can "Lo" go? I'd suggest
that this horror romance is "What Dreams May Come" meets "The Evil Dead," but that implies a watchable
dreck instead of yawn-inducing dreck. —L.H.

"My Dear Enemy." If Woody
Allen decided to direct a movie set in South Korea about a street hustler trying to repay a debt to his ex-lover, it would
probably look exactly like this. It's missing only a neurotic writer; otherwise it has the dialogue, characters and
jazz down perfectly. It's a pretty romance movie, but it's also kind of like receiving a cubic zirconia ring.
—P.M.S.
"Off Off Broadway." Mockumentaries are a lot harder than
they seem (even the genre's widely acknowledged master, Christopher Guest, screws up once in a while. See "For
Your Consideration"). In this case, the filmmakers set their pseudo-doc sights on pretentious fringe theater—and
not only is the satiric air stale, but the material just isn't funny. Winning characters might have redeemed it but,
alas, they're absent as well, making sitting through this one even more difficult than sitting through the stuff it
scorns. —L.H.

"Tre Lire." Like its characters, the narrative film
is confused and lacks direction. Three young, irresponsible male nurses take a 93-year-old ex-merry-go-round operator for
one last, well, go-round of his life and times. This would be sweet had they not been motivated by the promise of a very valuable
stamp, the Tre Lire, at the end of the journey. Of course, the nurses all come to love the old man, but none of them actually
learns anything. Frustrating. —G.P.
———
This column appears
weekly. Send information on upcoming events to [email protected] Visit ibj.com/arts for additional reviews,
previews and arts discussion.
 
Please enable JavaScript to view this content.