Quantity often matters. But bigger isn't always better.

Take, for instance, the Tomato Bread Soup ($7) at Lorenzo's Ristorante (15 E. Maryland St., 635-3096). Its pillowy chunks of soaked bread effectively monopolized the tomato/garlic/sage, olive oil/chicken broth it bathed in. And the initial spoonfuls made us glad we ordered it.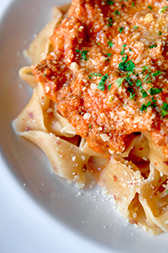 Lorenzo's Red Pepper Pappardella Bolognese is a hearty mound of old-world comfort. (IBJ Photo/ Perry Reichanadter)
But a few digs in, it was clear the soup was far too large (and pricy) to be an opening act for an entree. The problem is that it's all or nothing. The soup was only available as a full bowl, not as a cup.

Similarly, if you want a salad before your lunch at Lorenzo's, you're going to have to go for a full portion ($8-$9) or go without. A shame, because I would have considered the Spinach Salad or the Mista Salad if I didn't have to order a full version. Especially not with a pasta entrée on the way.

That entrée, Red Pepper Pappardella Bolognese ($13) proved to be just what I had hoped—a hearty mound of old-world comfort mixing diced pork, beef and veal with thick noodles in a tomato garlic cream sauce flecked with peppers. It's the dish Hamburger Helper dreams it could grow up to be.

My dining companion opted for the Chicken Marsala ($15), which was covered with mushrooms in a smooth sauce with a peppery flavor followed by the mellow finish of the wine. A side of green beans complemented nicely.

Both were more satisfying than the Shrimp Ilene ($10), a quintet of sautéed-and-slightly-overcooked shrimp parked in liquid butter and garlic that we had sampled as an appetizer.

Lorenzo's also has a quartet of sandwiches on the menu (including a vegetarian Caprese Sandwich) and a Caciucco featuring scallops, shrimp, mussels, calamari and salmon. Just try a full bowl of soup before conquering that.

Neither we, nor our waitress, asked about dessert.•

—Lou Harry

__________

Last in a month-long series of reviews of Italian-themed restaurants.