The city's public radio and television stations are more than holding their own, even as their commercial brethren continue to suffer from a now-5-year-old economic swoon.

Loyal listeners willing to donate and corporate underwriters eager to reach public radio and television's highly educated and affluent audience are responsible for solid revenue increases at Indianapolis-based WFYI, which operates WFYI-FM 90.1 and WFYI-TV Channel 20.

Indianapolis' commercial TV stations, on the other hand, have seen their cumulative annual revenue plummet since 2006—from near $205 million to about $155 million, according to BIA Financial Network, a Virginia-based research firm.

Commercial radio stations haven't fared any better, with combined annual revenue for the Indianapolis market's top 15 stations dropping from $90 million a year to $75 million since 2006.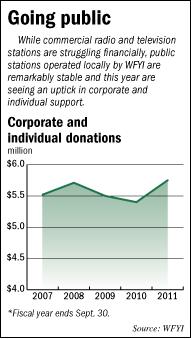 During the same turbulent time frame, WFYI has seen its annual revenue from individual member contributions and corporate underwriting grow from $5.5 million to nearly $5.8 million.

WFYI officials are hopeful they'll bring in about $6 million this year, thanks to growth in corporate and individual giving through March 31, which marks the halfway point of its fiscal year.

Its revenue from corporate underwriting in the first half was up 15 percent. Individual gifts grew about 4 percent.

Those aren't the broadcaster's only revenue streams, but they are by far the biggest. In 2011, individual giving and corporate underwriting accounted for 59 percent of WFYI's $9.45 million in revenue, according to its annual report.

It isn't as though WFYI hasn't felt some economic hardship. Money from corporate underwriting of its radio and TV programs was down 13 percent in 2009 and another 6 percent in 2010. In the fall of 2008, WFYI officials recast the organization's budget to match diminishing income projections.

But WFYI has increased corporate underwriting revenue in five of the last seven years, while most commercial stations have seen consistent year-over-year losses in advertising revenue.

Individual giving has increased at WFYI for four consecutive years and station officials expect the trend to continue in 2012.

"The public stations' swoon hasn't been as deep as their commercial counterparts and their recovery seems to be coming along faster," said Bob Gustafson, a Ball State University advertising professor. "Public TV and radio clearly has something people find worth supporting even when times are tough."

Why public stations thrive

Scott Uecker, communications instructor at the University of Indianapolis and general manager of public station WICR-FM 88.7, said stations like his enjoy some advantages over their commercial peers.

"First of all, consumers of public radio and TV are very loyal," Uecker said. "If people give money to public broadcasting, they tend to find great value in what public broadcasting is doing. They realize public broadcasters are doing something that no one else is doing."

Uecker said that loyalty not only keeps private donations flowing in, but it also makes a very attractive audience for corporate interests to target.

"You know when they're that loyal, to the point of giving money during a financial downturn, that public broadcasters have that audience's attention on a consistent basis," Uecker said. "You combine that with a demographic which tends to be better educated and more affluent than that of commercial stations, and you have a very attractive audience to reach."

Public radio and TV audiences are 50 percent more likely to have a graduate degree and twice as likely to be community or business leaders as the population as a whole, according to Edison Media Research, a New Jersey-based research firm. The firm also found that almost one-third of public broadcasting consumers come from households that earn more than $100,000 annually.

When the economy tightens, higher-income earners typically tend to keep spending. That causes advertisers—or underwriters in public-station parlance—to target them, Gustafson said.

"There are times during a bad economy that putting your logo or message on a public station is more attractive than during the boom times when you might have more options to reach people with expendable income," Gustafson said.

WISH-TV Channel 8 General Manager Jeff White isn't surprised about WFYI's success.

"I actually think they're doing better financially than many other public broadcasters across the country," White said. "Their success is a reflection of the good work they do, and also it's a reflection of the supportive nature of central Indiana's business community."

White said advertising revenue is slowly bouncing back at the local CBS affiliate and other commercial broadcasters.

"It's not like it was a number of years ago, but we're seeing that advertisers are more confident in TV than they were even a year ago," he said.

Different sales approach

Unlike for-profit stations that beat the bushes for advertisers, WFYI largely relies on referrals from existing corporate and individual donors to drum up new support, said Barbara Duke Sams, WFYI's director of corporate development.

"Our members are our best fundraisers," Sams said. "They understand we're looking for people who connect to our mission."

The perception of that mission varies, but it's colored by the underwriters themselves and the organizations that show up in programming—institutions like the Indianapolis Museum of Art and The Children's Museum of Indianapolis.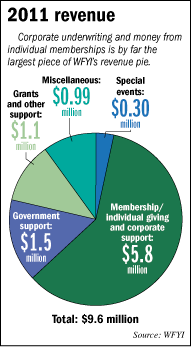 Underwriters find value in associating with the broadcaster's mission.

"It's not a call to action or a hard sell with public television," Gustafson said. "It's a branding message."

Whatever it is, sponsoring programs on WFYI works for Indianapolis-based Goelzer Investment Management, said CEO Greg Goelzer.

"WFYI has been a part of our media mix for 12 years and not a week goes by that someone doesn't mention to us they heard our company's name on the station," he said. "It's been a wonderful way for us to communicate our brand, announce events, promote staff and identify certain philanthropic causes we support—and all this to an audience that's hard to reach."

Goelzer said he was attracted to WFYI because its listeners are composed of a "high concentration of local business leaders and community activists."

Community connection key

Not all public stations are flourishing, said Perry Metz, executive director of Indiana University Radio and Television Services and general manager of public stations WFIU-FM 103.7 and WTIU-TV in Bloomington.

"Public broadcasters in the bigger markets like New York and L.A. have taken a bigger hit," Metz said. "But by and large, the public stations in the midsize and small markets have done well."

Predictably, there are a lot of professional services firms—such as accountants and law firms—seeking business-to-business exposure through public broadcasting. But various other corporate interests—retailers, restaurants, health care companies and educational associations, for example—also are attracted to the medium, according to public broadcasters.

The success for these stations is coming at a time of unparalleled competition, Ball State's Gustafson said, pointing out that outlets such as the History Channel, Animal Planet, National Geographic Channel, and Home and Garden Television all compete with traditional public broadcasting fare.

"There are five different history channels alone," Gustafson said. "And a lot of the cable channels' news and political programs really eat into what public broadcasting has become known for."

But there's a need local public broadcasters fulfill that cable monoliths do not, Metz said: "People still want programming that speaks to their community, and public broadcasters have uniquely filled that niche for years."•