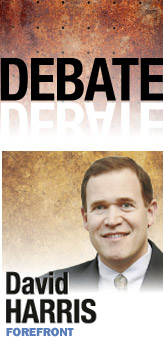 QUESTION: How do you grade the results of charter schools operating in Indiana?

ANSWER: Indiana's charter schools should receive high marks for their strong performance. But they have potential to accomplish even more if the state's charter school authorizers close the handful of schools that are failing to meet high performance standards.

Charter schools can achieve extraordinary results because they allow talented school leadership teams to make important decisions about how their schools run. Charter schools in Indianapolis and across the state provide evidence of the charter model's effectiveness.

Data shows that in Indianapolis and Indiana, nearly all charter schools produce results that are as good or better than traditional district schools. On average last year, 58 percent of students at Indianapolis' mayor-sponsored charter schools passed both English and math portions of state standardized tests, compared with 45 percent of Indianapolis Public Schools students. In addition, the average pass rate across mayor-sponsored charter schools increased more than five percentage points from 2010 to 2011, while it dropped across IPS and Marion County.

A 2011 statewide study by Stanford University's Center for Research on Education Outcomes showed 98 percent of charter schools grew students' scores on state reading tests as much or more than traditional public schools, and 100 percent showed the same or stronger growth on state math tests.

But there are exceptions to these great results.

Three of the four Indiana schools run by Imagine Schools—two of which are in Indianapolis—perform among the worst in the state. At two of those schools, only about a third of students pass both the math and English portions of state tests, while only 23 percent of students pass at the other. Similarly, at The Project School in Indianapolis, only 29 percent of students pass both math and English sections of state tests, and they show disappointing growth in test-pass rates.

The autonomy charter schools receive comes with the condition that they meet high standards or face closure. Authorizers of these failing schools should take quick action to close them.

I understand why authorizers don't close more schools. It's hard. I was Mayor Bart Peterson's charter schools director when he courageously closed a school. I lost 10 pounds during the process. Ballard has also boldly stepped up to close schools, and his newly appointed deputy mayor of education, Jason Kloth, highlighted the importance of charter school accountability at his first press conference.

It is not surprising that Indianapolis' mayors have been more vigilant about closing schools than other authorizers. Because mayors are directly accountable to the communities served by their schools, they are not going to let bad schools continue to operate. But there is a need for greater vigilance on the part of all the state's authorizers.
That's also a need across the nation. U.S. Secretary of Education Arne Duncan has highlighted this, saying in 2009, "The charter movement is putting itself at risk by allowing too many second–rate and third-rate schools to exist. … Charter authorizers need to do a better job of holding schools accountable."

When authorizers are vigilant, charters produce remarkable outcomes. New Orleans, which is a predominantly charter district, has made a concerted effort to close failing schools and has made extraordinary improvements to its school system since Hurricane Katrina. The achievement gap between New Orleans and Louisiana students has decreased by more than half since 2005, and the percentage of students meeting state standards in New Orleans has doubled in the past four years.

Indiana's charter schools also have potential to produce those dramatic outcomes, and they are on the right track with their performance. But charters' best results will be possible only if authorizers keep their end of the bargain and close underperforming schools.•

• Harris is CEO of The Mind Trust, a not-for-profit supporting entrepreneurial education initiatives. Send comments on this column to ibjedit@ibj.com.