A marketing firm that hoped to land half a million dollars in corporate sponsorships for the city of Indianapolis has received a four-year contract extension to bring home red meat.
"There isn't a single thing about these programs that's a quick hit," Third Street Partners President Sean Smith said.
That's what Third Street and city officials have learned since embarking on the program in July 2009 with hopes of eventually landing deals worth $1 million or more.

Sean Smith is president of Third Street Partners.
The only deals in the bag so far are $5,000 in new fire extinguishers provided by KFC, and a five-year agreement with Cargill under which the company provides salt and Ford F-250 pickup trucks. Under that $250,000 deal, which was reached in January, the trucks are labeled "Indy Snow Force Powered by Cargill."
The number of cities attempting to find sponsors has grown over the past 10 years, so that "municipal marketing" is a specialty for some marketing firms, said Larry DeGaris, associate professor of sports marketing at the University of Indianapolis. Few, if any, firms worked with local governments when he studied sponsorship opportunities for the city of Houston in 2001.
"I wouldn't say at this point there are standard procedures, but there's a whole lot of precedent," he said.
DeGaris was not surprised that Indianapolis has netted few deals so far. The sales cycle for any sponsorship is 12 to 18 months, he said. "And it's a tight market."
Third Street, which has offices in Chicago and Indianapolis, spent the better part of two years to bring in Cargill, which in the end decided to make Indianapolis the pilot city for its "Safe and Smart" program. The fact the deal was a first for Cargill's de-icing division in Cleveland added time to the process, Smith said.
The 125 tons of salt and five new pickup trucks, supplied over five years, will supplement the city's existing operation, which uses an average 50,000 tons of salt and a dedicated fleet of 73 snow-removal trucks. The city will use the extra salt and trucks to clear parking lots for charter schools and possibly libraries, which have been on their own in the past.
"We've started having internal conversations about how to make the next four years count," said David Rosenberg, the city's director of enterprise development.
In December, the city renewed Third Street's contract through 2015. The firm is paid on commission, and in the event that a deal doesn't generate new cash, Rosenberg said he will look to have the sponsor pay Third Street's 15-percent commission.
That term isn't spelled out in the contract, but Rosenberg said he was able to work out such an arrangement with Cargill. The company will pay Third Street $24,000 over four years. (The city's original contract with Third Street called for a lower commission.)
Third Street is taking its second swing at landing corporate sponsors as Ballard's office confronts a multimillion-dollar budget gap for 2013.
The city is projecting a $47 million shortfall next year in the $570 million general fund, Controller Jeff Spalding said. That's largely because of ongoing public-safety expenses, which were covered this year through a one-time transfer of funds from the downtown tax-increment-financing district. The total city-county budget is $945 million.
Finding creative ways to save money remains a high priority for Ballard, Rosenberg said, but the role of enterprise development director has shifted from reviewing outside contracts to working internally with city departments.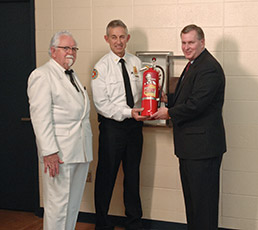 In 2010, Mayor Greg Ballard and the Indianapolis Fire Department promoted Kentucky Fried Chicken's $5,000 sponsorship of fire extinguishers for city recreation centers. (IBJ file photo)
Rosenberg said he's helping departments find "big dollar" savings in their budgets, while Manuel Mendez, director of the Office of Audit and Performance, works on smaller, everyday savings.
Lining up municipal sponsors takes considerable time and effort, and it's fraught with potential public relations pitfalls, DeGaris said.
"If you look at the city budget, there's lots of bigger fish to fry," he said.
It's important to avoid giving the impression that a corporation is taking over public assets, DeGaris said. He questioned the public benefit of seeing KFC's logos on fire extinguishers, but said the Cargill deal seems more on-target.
"They're providing a very specific service," he said. "That's a very clear benefit."
Marketers also run into conflict with existing philanthropic efforts, DeGaris said.
That could be the case in Indianapolis. Rosenberg said a lot of companies seem interested in being associated with beautification. That happens to be the specialty of the not-for-profit Keep Indianapolis Beautiful, which works closely with Eli Lilly and Co. on its annual day of service.
One way to avoid the conflict is to focus on companies that don't have a physical presence or headquarters here, DeGaris said.
Smith said Third Street has been careful to avoid duplicating local fundraising efforts.
"Our focus has been to pursue major national brands for whom Indianapolis is a marketplace," he said.
Companies use sponsorships to reach the business-to-business market as much as the general public, DeGaris said.
He said Minneapolis-based Cargill, which was already the city's salt supplier, could land more clients in the Indianapolis area as a result of its sponsorship.
Rosenberg and Smith wouldn't say much about which programs or properties they'll try to market over the next four years. When the city launched the program under Michael Huber, now deputy mayor for economic development, there was talk of landing an official wireless provider and a provider of tires for city vehicles.
"Partnerships such as those and others are very much in the works," Smith said.
Cities in California have a long history of using corporate sponsors. San Diego started its corporate partnership program in 1999 and generated $16 million in cash and in-kind services over the next decade, according to a report from city council member Carl DeMaio, who's now a mayoral candidate. (His report, which reviewed practices in Long Beach and other cities, argued that San Diego was missing out on revenue because it was too restrictive about sponsors' signs.)
California cities have the advantage of a procurement law that allows them to solicit sponsors through larger bid packages, Rosenberg said.
Third Street was a newly formed firm when the city chose it over 14 others in 2009. It has since grown from three to six people, Smith said, but that's thanks to traditional corporate clients.
While other firms around the country have turned municipal marketing into a specialty, Smith said he and his partners are still focused on doing the job for Indianapolis.
"It remains to be seen if this is a direction Third Street would want to take," he said.•
Please enable JavaScript to view this content.