The Mayor's Office and local mass transit leaders have reached consensus on a site for a $30 million downtown transit center.

The preferred location is a half-block, city-owned surface parking lot along Washington Street sandwiched between the City-County Building and Marion County Jail, government and real estate sources said.

Deputy Mayor Michael Huber says a transit center is a top priority.
The decision brings to the fore a vision that has languished for years: a downtown transit hub for IndyGo buses and future transit offerings. The center would include retail and restaurants, parking and a comfortable spot where riders can wait for transfers.

The project is seen as a centerpiece of an overhaul of the city's mass transit offerings and a potential catalyst for new development downtown, including of the former home of Market Square Arena.

The project is not a done deal: Officials are polishing a working design for the transit center before seeking bids on development, and IndyGo must win site approval from the Federal Transit Administration, which controls the 8-year-old $30 million grant that would fund much of the project.

Mayor Greg Ballard gave his deputies and IndyGo officials a deadline of this summer to select a site, said Deputy Mayor Michael Huber.

Huber acknowledged a working group had come to a consensus, but he declined to identify the site since he wanted to share the decision with other "stakeholders" first.

"It's a high priority," he said of the transit center. "We've been working on this process for some time."

The goal is to begin construction next year.

There was some concern at IndyGo and in the Mayor's Office that the city could lose the federal grant if it didn't move quickly.

It's been eight years since the late U.S. Rep. Julia Carson secured about $30 million in federal earmarks (since converted into a grant) for the project, and six years since IndyGo announced plans to build the center on a South Street parcel occupied by the U.S. Postal Service.

That deal fell apart after the post office opted to renew its lease, and the transit center idea was moved to the back burner as a series of studies considered sites ranging from Union Station to parking lots at IUPUI.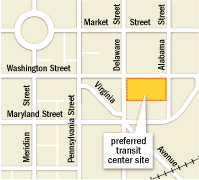 "What's at risk here is federal funding we've had available for quite a long time," said IndyGo President Michael Terry. "The Congress and Federal Transit Administration look very closely at whether a project is moving."

The next step for IndyGo is to amend the federal grant to reflect a new proposed location for the transit center, replacing the post office site, Terry said.

If the feds approve, he said, IndyGo will request proposals from developers to address feasibility and "tighten up" the plans before they are put out to bid for construction.

Terry would not confirm that city leaders have selected the Washington Street site, citing sensitivities around the discussions, but he did offer a strong endorsement.

He described the Washington Street corridor as ideal for a transit center since it's the "largest east-west corridor we have" and adding high-frequency service along the road is a top priority for IndyGo. The proposed site at Delaware and Washington streets also is well-located as a transfer point for the bus routes that currently circulate between Ohio, Capitol and Delaware streets.

The site would allow for future expansions of transit in the city ranging from more frequent bus routes to rail. Another advantage: It's owned by the city, allowing IndyGo to move faster.

"It's time to start investing in our transit system," Terry said. "[The transit center should] elevate the dignity of using transit, have public space, ties to services like food and retail, parking—a nice city amenity."

Terry
The location makes sense based on its Washington Street address and proximity to destinations like the City-County Building and City Market, said Chris Corr, an editor for the planning and design blog UrbanIndy.com. The site also could help pull more pedestrian activity—and retail and restaurant users—east from Pennsylvania Street.

A side benefit: It would block views of the jail for visitors arriving via Washington Street.

"It looks like a great location with a lot of future development possibility around it," Corr said. "It's ideal."

Much of the undeveloped land near the site is owned by the city, including a triangle-shaped parcel just east of the property, and the former home of Market Square Arena. City officials expect to seek a new round of bids for development of the Market Square Arena site soon.

One project under way nearby is the redevelopment of the former Bank One Operations Center at the northwest corner of Washington and East streets. The owner, locally based Milhaus Development, has begun demolition work and plans to begin a retrofit of the two-story building this summer to accommodate apartments and first-floor office or retail space.

Milhaus Principal David Leazenby said he hadn't heard about the transit center plans but would welcome such a use nearby. The center would provide an amenity for residents of the project, dubbed 451 Market.

"We're big fans of mass transit," Leazenby said. "We always prefer to have transit in close proximity to our developments."•