Chip Ganassi Racing this month signed a ground-breaking deal to have two of its IndyCar Series drivers and its NASCAR driver grace the front of boxes of Kellogg's cereals, Rice Krispies Treats and Pop Tarts.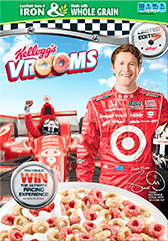 Kellogg's sought a deal with Ganassi Racing drivers, including Scott Dixon, because they were Indy 500 winners. (Photo courtesy of Kellogg's)
Kellogg's also has agreed to launch a racing-themed cereal called Vrooms that will come in three separate boxes—one each featuring IndyCar drivers Dario Franchitti and Scott Dixon and a third featuring Ganassi's NASCAR driver, Juan Pablo Montoya.
Financial terms of the deal were not disclosed.
The Kellogg's deal comes at a critical time for the IndyCar Series as it struggles with static attendance and tepid television ratings. On average, aside from the Indianapolis 500, fewer than 1 million TV viewers nationwide are watching IndyCar Series races this season.
Kellogg's, a major sponsor of the Olympic Games and other top sporting events, could considerably lift the open-wheel series' image, sports marketers said.
"This is a huge deal for IndyCar and Ganassi," said David Morton, president of Sunrise Sports Group, an Indianapolis-based sports marketing firm. "Any time you can take your brand to the masses by leveraging a sponsorship, that's a great thing. And a partner like Kellogg's has some serious marketing muscle."
Kellogg's joined Ganassi Racing two years ago as an associate sponsor, and company officials said the expanded deal was enticing in part because all three of Ganassi's drivers who will be featured on product boxes have won the Indianapolis 500.
"This deal was about leveraging our brands to the fullest," said Rick Simington, Kellogg's senior national account executive. Kellogg's Ganassi and Target "have very strong brands together that can create awareness in the marketplace."
The Indianapolis Motor Speedway also will get significant exposure from the deal.
As part of the pact, Kellogg's will run a sweepstakes that offers a grand prize trip to the Indianapolis 500 or Brickyard 400. The sweepstakes winner will get a trip to the Indianapolis Motor Speedway race of their choice, $1,000 to spend during the race weekend, breakfast with the Ganassi drivers, pit passes and other behind-the-scenes access. Smaller IndyCar- and Indianapolis Motor Speedway-themed prizes will be awarded to other sweepstakes entrants.
The newly packaged Kellogg's products are being distributed nationwide at special displays through Target stores starting Aug. 19. The products will also be promoted through Target circulars. The sweepstakes will be promoted at the special in-store sales displays and on Kellogg's racing-themed product boxes.
"Getting on the cover of a major brand of cereal is a very big deal, so we're excited about this and think it's going to be very good for the team, drivers and series," said Ganassi Racing President Steve Lauletta. "We think this is just a fantastic opportunity for all of us. This type of exposure is priceless."
The deal to put the drivers on Kellogg's product boxes runs through the end of the year, but Lauletta said, "We'd love to build on this relationship after this year."
Ganassi has had similar past deals with Unilever soap, Gillette and Energizer, but sports marketers said the one with Kellogg's is its highest-profile deal yet.
Target has been Ganassi's primary open-wheel sponsor since 1990 and joined the team's NASCAR effort when it launched in 2001.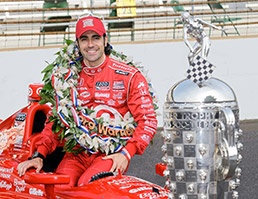 Three-time Indy 500 winner Dario Franchitti could get the biggest image bounce from Ganassi Racing's deal with Kellogg's. He is featured on boxes of Frosted Flakes. (AP Photo)
Franchitti, a three-time Indy 500 winner, should get the biggest marketing bounce from the Kellogg's deal, said sports marketers, because he will be featured on boxes of Frosted Flakes next to the cereal's iconic mascot, Tony the Tiger.
Dixon will be featured on boxes of brown-sugar-cinnamon-flavored Pop Tarts. Montoya, who had a successful IndyCar career before leaving for Formula One and then NASCAR, will be featured on Rice Krispies Treats and strawberry-flavored Pop Tarts.
This type of direct-to-consumer marketing is what lifted NASCAR and its drivers into the mainstream starting in the late 1990s, Morton said.
"So much of what IndyCar has been has been business-to-business," Morton said. "In order to grow IndyCar, they need to grow their reach to consumers. I think this deal shows the increased marketability of this series and its drivers."
The deal is also important for what it says to other potential sponsors, he said.
"Kellogg's is a major marketer, not only in sports, but in general, so when a company like that gets involved in your sport, that speaks volumes," Morton said. "Other blue chip companies will notice."•
Please enable JavaScript to view this content.