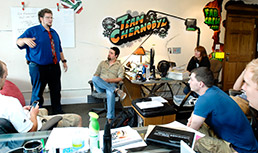 FatAtom Marketing President Chris Hoyt, left, says the easiest way to get fired at the Carmel ad firm is by only doing what you are told to do. (IBJ Photo/ Perry Reichanadter)
Nothing looks especially unusual about the street-level door along Carmel's Main Street leading into FatAtom Marketing.
But inside FatAtom's war room, it becomes clear this isn't an ordinary ad shop.
While advertising agencies in general are known for having creative work places, most employ people who are college graduates and groomed for the profession. Not so at FatAtom, where some have had no formal education. The collection of eclectic (and youthful) characters there look like they reside on Sesame Street rather than Madison Avenue—or even downtown Indianapolis.
The firm's 43-year-old founder, proprietor and CEO, Todd Muffley, affectionately calls the second-floor work area "The Land of Misfit Toys."

Muffley
Clients recognize the difference.
"The staff reminds me of my daughter's craft box: full of glue, glitter and pipe cleaners of every color," said Tim Barnett, vice president of business development for Wilhelm Construction, a FatAtom customer. "It has all these different elements, and the diversity of the staff is really what supercharges the effort. It really is inspiring to sit in with this group that is 20 years my junior."
Muffley has his own odd story. After graduating high school in Bremen, he joined the Army in 1988 and was trained as a Morse code operator and interceptor.
He later studied political science at Franklin College and said of his short stint there, "I hated it. I hated the structure."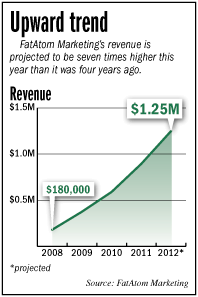 After his failed attempt at college, he sold everything from vinyl fencing to chemicals and insurance. Along the way he took a job with the local marketing firm MediaSauce.
Muffley entered the entrepreneurial scene in, of all things, urinal advertising. He and his wife started Creative Indoor Advertising in 1999, making a living selling ads above restroom urinals in a number of restaurants and retail outlets.
He sold that firm in 2005, when he started Plan B Marketing; that morphed into FatAtom in late 2007.
The Brain
Given his unusual resume, Muffley didn't hesitate to hire Chris Hoyt, a Zionsville High School graduate with no college education and little advertising experience, as his chief lieutenant.
Hoyt, 30, claims to have been educated by reading nearly the entire collection at the local Barnes & Noble bookstore, where he said he spent at least 14 hours a week growing up.
"I had an unusual childhood," said Hoyt, who developed his first website at age 7 and is known around FatAtom as "The Brain."
Everything about Hoyt is alternative. He claims he couldn't find enough books to read in libraries because their collections aren't updated often enough "to keep up with modern thought." And his main mode of transportation is a bicycle that resembles an urban assault vehicle.
"I have a lot of faith in Chris," Muffley says without hesitation. "A lot of this company's success is owed to him."
And succeed FatAtom has. In a time when many local, regional and national ad firms have been forced to downsize, FatAtom has seen its revenue increase from $180,000 in 2008 to a projected $1.25 million this year, Muffley said, adding that the company's profits are growing, too.
FatAtom has 28 employees, and Muffley said four to six more will be needed to reach his goal of $3.5 million in annual revenue within three years.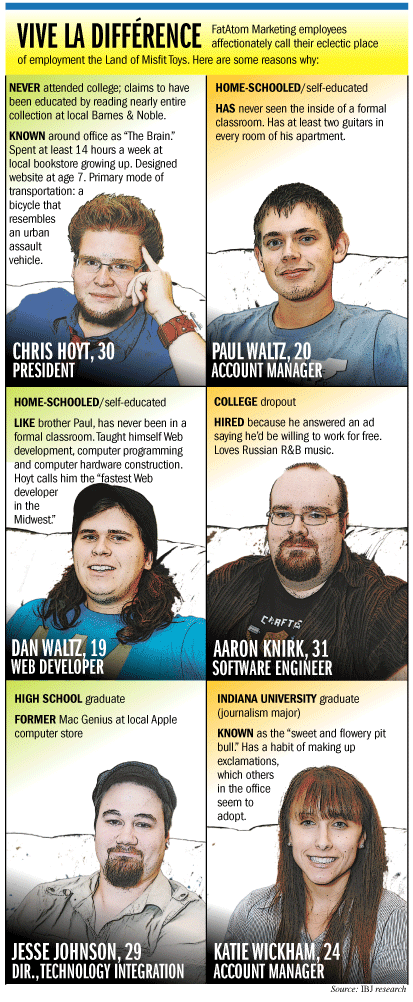 A diversified client base has been key to FatAtom's growth, Muffley said.
FatAtom's biggest clients include locally-based Wilhelm Construction, Tilson HR, Reis Nichols jewelers, Williams Comfort Air, G3 Technology Partners and Uvalux, a Canadian distributor of Australian Gold sun cream and lotion products.
Muffley says central to the company's success is an unusual internal structure that reduces bureaucracy and a philosophy that calls for driving much of a client's marketing through the Internet.
Measuring success
One reason the Internet is so important is that marketing efforts there are measurable like no other medium. FatAtom officials spend hours developing computer programs to customize ad campaigns and measure their effectiveness.
"We're a full service ad agency, but our philosophy is the Web should live at the center of an advertisers' strategy," Hoyt said.
FatAtom requires that prospective clients undergo an analysis—at an average cost of $7,500—before signing with the agency. Muffley said there's no obligation after the analysis is done. Requiring such a review is not a widely used practice in the ad world, but more agencies are moving toward it.
"Quite frankly, the analysis is part of our cockiness," Hoyt said. "We show them what needs to be done. We do it, and then we show them the data [from the Web] to back up the results."
Hoyt says FatAtom's measurement programs are easier for clients to use and more detailed than commonly used programs such as Google Analytics.
Wilhelm Construction's Barnett said his firm found the analysis to be "priceless."
"Not only did it show us what we were doing right and wrong, but it was also a top-to-bottom analysis of what our competitors were doing," Barnett said.
FatAtom insists on working with clients on a month-to-month basis.
"We feel we can demonstrate our results each and every month," Muffley said. "If you don't like us, fire us."
FatAtom charges its clients, on average, $8,000 per month—a little less than $100,000 annually.
"We tell people when you get to the point of needing an advertising director, you can pay us about what you'd have to pay a good advertising director, and for that, you get an entire team," Muffley said. "And we're a lot easier to fire than an in-house employee."
Strangest of the strange
FatAtom only has one dedicated salesperson. Muffley and Hoyt help close the deals. Hoyt admits that part of the sale is convincing prospective clients FatAtom's oddball crew can handle the job. FatAtom outsources nothing.
Hoyt often takes the lead in selling the staff. After all, he does much of the hiring and the lion's share of the training. He makes no apologies about signing on the strangest of the strange.
The staff is divided into four five-person teams that work under monikers such as Team Chernobyl and Team Three Mile. Those teams consist of a creative director, marketing director, account manager and two Web developers/programmers.
"There's no top-down hierarchy," Hoyt said. "Each team is responsible for itself."
"You don't have that constant friction between the creative and sales sides," Muffley added.
Tilson HR CEO Brent Tilson said FatAtom's internal structure was one of the reasons he hired the firm.
"They're small and entrepreneurial, and that's what we needed," Tilson said. "It's refreshing to work with a generation of people that is mashing a lot of different and new ideas."
The structure of the firm is much easier to sell than the employees that staff it, Hoyt admits.
One of his hires is a 20-year-old account manager who has never seen the inside of an actual classroom. Paul Waltz was home schooled and never attended college.
"I tell people to work with him for a week. I challenge you to find a 40-year-old who could manage a project better," Hoyt says with his typical confidence.
Waltz' 19-year-old brother, Dan, is a FatAtom Web developer.
"I promise you, he's the fastest Web developer in the Midwest," Hoyt said, adding that he can design and launch a website with a mobile interface in one day.
No education required
There's almost no FatAtom employee without some kind of unique story. One is a high school graduate who is a former Mac genius at the local Apple computer store. Another was hired because he answered an ad saying he'd be willing to work for free, and one of the graphic artists was hired when her 14-year-old brother-in-law-to-be met Muffley on an airplane and randomly asked if he'd interview her for a job.
Hoyt and Muffley said they pay almost no attention to a person's educational background when hiring. In many cases, Hoyt said, the less education the person has, the easier he is to train.
"Half the time I'm training and coaching people, the other half the time I'm just convincing them they can do the job," Hoyt said.
While Muffley says he encourages his eclectic staff to be different and at times to cut loose, he insists its focus is "all business."
Wilhelm Construction's Barnett agrees.
"What this company does has its roots in good business," Barnett said. "Despite what their appearances might be, everyone at FatAtom has deep business intelligence."•
Please enable JavaScript to view this content.