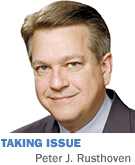 One of the left's conceits is believing its own caricature of conservatives. Hence, the reflexive liberal reaction is that a conservative who belies the caricature must be lying.
A Hoosier example is John Gregg's gubernatorial campaign, which portrays Republican Mike Pence as a hard-right ideologue concerned only about "social" issues (though Democratic Senate candidate Joe Donnelly was on the same side as Pence in the congressional votes Gregg cites).
In Gregg's view, Pence's positive focus on jobs and economic issues must be deceptive, "hiding" the right-wing extremist lurking behind the façade. This bit of self-deception by Gregg is one reason his ads are ineffective, and he is losing badly.
A national example is President Obama's response to his debate drubbing by Mitt Romney. Obama does not entertain the notion that this could involve his performance in office or on stage. No, the "real" reason, as Obama's new ads proclaim, is that Romney is lying about what he stands for.
The key supposed lie is Romney's rejection of the charge that his tax reforms will cut revenue $5 trillion, which (quoth Obama) requires massive middle-class tax hikes.
Obama's claim rests on a study by the left-leaning Tax Policy Center, which estimated Romney's reforms would cost $480 billion in tax revenue by 2015. Obama uses that number to "project" losses of $5 trillion over a decade. (This $200 billion rounding-up shows what is now a rounding error in the world of Obama deficits.) Obama asserts as gospel that Romney must raise middle-class taxes to cover this.
This passes for "QED" in Obama World. Challenge it, and you're a liar.
Let's risk the name-calling and look at the facts. The Weekly Standard noted the three key wrong assumptions of TPC's estimate, identified by the American Enterprise Institute's Alex Brill.
(1) The TPC treats revenue loss from repealing Obamacare tax hikes as a "cost" of Romney's tax reform—ignoring that repeal of Obamacare spending will handle that just fine, thank you. (2) The TPC assumes, with zero basis in fact, that eliminating certain deductions would be off the table for Romney. (3) The TPC assumes tax-rate reductions have zero impact on economic growth.
The last assumption in particular is nonsense, repeatedly disproved in the real world—including the Kennedy tax cuts in the 1960s and the Reagan cuts in the 1980s. The economic growth spurred by the latter yielded far more tax revenue under the Reagan rates than under the significantly higher Jimmy Carter rates.
As to Romney's rate reductions, growth-generated increases in tax revenue eliminate more than 60 percent of the supposed "revenue losses" under the TPC study. Indeed, one author of the TPC study admits that, absent the incorrect assumptions, the Romney plan "would be revenue neutral."
The Obama camp also justifies its "liar" charge by saying Princeton economist Harvey Rosen found "paying for Romney's tax cuts would require large tax increases on families making between $100,000 and $200,000."
Really? Rosen told The Weekly Standard he "can't tell exactly how the Obama campaign reached that characterization of my work." Rosen's study in fact stated that "under plausible assumptions," a proposal like Romney's "can both be revenue neutral and keep the net tax burden on high-income individuals about the same."
In short, the Obama campaign's "Liar, Liar" theme is itself a lie, feeding off the campaign's self-deceptions about the caliber and integrity of its opponent—and of its own candidate. Increasingly, Americans are no longer buying the myths about either man.•
__________
Rusthoven, an Indianapolis attorney and graduate of Harvard College and Harvard Law School, was associate counsel to President Reagan. Send comments on this column to ibjedit@ibj.com.
Please enable JavaScript to view this content.