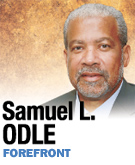 Americans seem to be full of contradictions. Perhaps that is why we are so admired, and yet so hated, by the rest of the world.
One of the biggest contradictions I observe is our relationship with, and ideas regarding, voting. Going back to the founding of our country, voting has been restricted by many acts. Dating as far back as the Civil War, we have died by the thousands to expand or restrict rights of others here in America.
The right to vote was originally restricted predominantly to white males who owned property or sufficient wealth for taxation. This right was expanded around the time of the Civil War to include a broader group of males, but still denied to women and racial minorities.
However, the struggle that began in earnest continues today.
There came a point when the reality was clear that Americans—of both genders and all colors and backgrounds—would not live without the right to vote. Women's suffrage was running fierce across the globe and even more so on U.S. soil. White males had to accept that the power of the vote could no longer be denied to a broader population. Voting rights eventually changed, but much of this was done begrudgingly.
The 1900s began with a large part of the American population still not able to exercise the right to vote, namely African-Americans, women and Native Americans. The long struggle for the black vote, much like the Civil War, divided America and left scars that still permeate our culture.
Our history of restricting voting seems so contradictory to our current fight to bring freedom and democracy to the rest of the world. We spend billions of dollars, energy and effort, and sacrifice lives, so other nations have the right to vote, while at home we work to restrict the right for people to vote.
If you think this is a thing of the past, think again. We argue over what can be used as ID for voting, making it difficult for people to exercise their right to vote. We manipulate the number and location of polling places to try to benefit one party over the other. We even limit the ability of people to vote early in local and national elections.
It's no wonder the statistics for voter turnout are so abysmal.
There has been much talk recently about billboards in Cleveland that bellow, "Voter fraud is a felony! Up to 3-1/2 years in prison & $10,000 fine." It's enough of a struggle to get ex-offenders to the polls, and this type of intimidation will just further suppress voting. Even people who have never been convicted can be intimidated into worrying that the slightest error can send them to jail, so many may deem it easier to not even risk it.
On the positive side, political parties, churches and other social organizations work to make it as easy as possible for members to vote—for example, taking buses and vans to voting polls after Sunday services.
Despite the negative efforts, some good indications are being seen. Even without satellite voting sites, early voting in Marion County is projected to be up 20 percent over 2008—a considerable increase.
We have had thousands die during the Civil War, women's suffrage and the civil rights movement, largely to secure the right for all Americans to vote. Yet we Americans seem almost laissez faire when it comes to the value we place on this fundamental right.
I saw a billboard near Lafayette last week that caught my eye. It read, "Vote. It's Your Responsibility." Maybe we've forgotten that with rights come responsibility.•
• Odle is the former chief operating officer of Indiana University Health and CEO of Methodist and University hospitals. Send comments to ibjedit@ibj.com.
Please enable JavaScript to view this content.