A proposed IndyGo transit hub could become a signature building for the city and an international architectural landmark.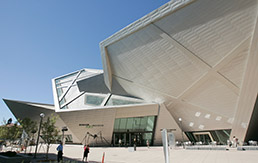 Libeskind buildings tend to make a statement, including an expansion of the Denver Art Museum, which features vaulting titanium walls. (AP photo)
The winning bid to handle design and engineering for the more than $30 million project is a team led by London-based powerhouse Arup, best known for its work on the Sydney Opera House and more recently the Bird's Nest Stadium for the 2008 Olympics in Beijing.

The design architect is Daniel Libeskind, whose credits include the Jewish Museum in Berlin, an expansion of the Denver Art Museum, and the redevelopment of the World Trade Center site in New York City.

"Having a name architect will bring prestige to the project and to Indianapolis," said Michel A. Mounayar, associate dean and professor of architecture at Ball State University's College of Architecture and Planning. "Libeskind has a portfolio that's fully recognizable wherever you are."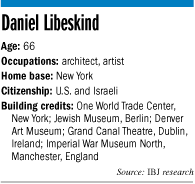 The project is planned for a city-owned surface parking lot along Washington Street between the City-County Building and Marion County Jail. It would serve as a hub for IndyGo buses and future transit offerings, and include retail space and parking. Federal transportation grants would cover about 80 percent of the cost, with local matching funds covering the rest.

IndyGo's board made the selection official at a Nov. 15 meeting, authorizing CEO Michael Terry to negotiate a contract with Arup for architectural and engineering services, said IndyGo spokesman Bryan Luellen. The company did not submit a conceptual rendering.

Daniel Libeskind's projects include redevelopment of the World Trade Center site.
Arup has worked on several similar Federal Transit Administration projects, including a $13 million regional transit hub in Massachusetts with green features that make it a net-zero energy user, and an $888 million transit center in Lower Manhattan connecting 12 subway lines.

An eight-member selection committee including city and local transit officials reviewed 14 submissions of qualifications; the other five finalists in order of score were New York-based URS Corp., locally based Ratio Architects, locally based CSO Architects and Columbus, Ohio-based Burgess & Niple Inc.

Once a design is finalized, IndyGo will solicit bids for development and construction. The goal is to break ground next year.

"I think this project is going to become a face of transit in Indianapolis," said Adam Thies, director of the city's Department of Metropolitan Development and a selection-committee member. "We are talking about someone [Libeskind] who's definitely in the top of his field both nationally and internationally. I think it lends a potential signature to this project that could be significant on many levels."

Bringing on Libeskind, 66, is an "unusual choice" for Indianapolis, which has shied away from hiring brand-name architects to design significant downtown structures, said urban development consultant Aaron Renn, who writes the Urbanophile blog.

An exception is Indianapolis native Michael Graves, whose local design credits include the Indianapolis Art Center, NCAA Hall of Champions and the former Thomson headquarters in Carmel. The nearest Libeskind project to Indianapolis is The Ascent at Roebling's Bridge, a dramatically curved $50 million residential tower across the Ohio River from Cincinnati in Covington, Ky.

"It certainly sounds like a positive," Renn said of the transit-center selection. "I don't want to suggest hiring an out-of-town architect is always the way to go—most of the city's bland skyscrapers were designed by out-of-towners. The key is good design regardless of who does it."

Renn expects Libeskind will have a hands-on role in the transit-center design.

"The guy is not going to rent his name to some project he doesn't have some design control over," he said. "You can assume he will design it, but will have local architects help him with local requirements and prepare the plans."

There's no question Libeskind will put "his stamp" on the project, said Mounayar, the Ball State dean.

He called the project an "exciting challenge" and the involvement of high-profile architects and designers working alongside local talent fitting given the critical need for transportation infrastructure. He hopes the city will push the team, creatively.

"There is a stylistic feel to his work," Mounayar said of Libeskind. "I don't believe this would be any different."

The Arup team also includes several local firms, including the newly formed design firm Anderson+Bohlander, Domain Architecture, environmental consultant Keramida Inc., development consultants Greenstreet Ltd. and historic preservation consultant Weintraut & Associates.

Anderson+Bohlander principals Joshua Anderson and Jon Bohlander declined to discuss the deal, citing ongoing negotiations. Officials with Arup and Libeskind's studio could not be reached by press time.

Before they started the new firm, Anderson and Bohlander worked with Thies at Eden Collaborative. Thies, who took over at DMD in September, said he has since shut down Eden and has no financial ties to Anderson+Bohlander.

The transit center could spark renewed development interest in the area. Much of the undeveloped land near the site is owned by the city, including a triangle-shaped parcel just east of the property, and the former home of Market Square Arena.

City officials expect to seek a new round of bids for development of the Market Square Arena site in the next few years.

Terry, the IndyGo CEO, was not available for an interview. In July, he described the Washington Street corridor as ideal for a transit center since it's the "largest east-west corridor we have" and ideally suited for additional high-frequency bus service.•