More
Stories
Mel Simon estate battle settled
A bitter battle over the $2 billion estate of the late shopping mall tycoon Melvin Simon has ended with a confidential settlement.
Hamilton Superior Court Judge William J. Hughes signed off on the agreement following a Dec. 12 hearing attended by sisters Deborah Simon and Cynthia Simon-Skjodt. They had objected to changes to their father's will that gave stepmother Bren Simon a larger chunk of the estate after Melvin died in 2009.
Cynthia Simon-Skjodt declined to discuss the agreement but said she's "glad it's over" as she stepped onto a courthouse elevator with Deborah Simon, the plaintiff in the case. After the elevator doors closed, one of them let out a loud, "Yeah!"
Manufacturing employment stalls
Manufacturing—an industry that tore its way back to recovery after bleeding tens of thousands of Hoosier jobs in 2008 and 2009—hit a hiring wall in 2012.
Slowing sales in previously explosive markets, such as China, led companies as large as Columbus-based diesel-engine maker Cummins Inc. to announce layoffs.
Employment in manufacturing has vacillated between 484,000 and 489,000 since April, following a spurt that recovered about half the jobs lost since the Great Recession began in 2008. About five years ago, the sector employed nearly 550,000.
Automotive manufacturers and their suppliers—which account for about 20 percent of all Indiana manufacturing jobs—remain bright spots for the state as those companies continue to invest and hire.
Allison Transmission goes public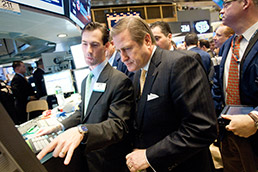 Allison CEO Lawrence Dewey was at the New York Stock Exchange for his company's IPO. (Bloomberg file photo)
Allison Transmission Holdings Inc. splashed onto the New York Stock Exchange following its March initial public offering. But slack global demand for its commercial transmissions later in the year took a little life out of the party.
As economic conditions dimmed, Allison's shares sagged. The stock now trades for around $20 a share, well below its $23 IPO price and its all-time high of $25.22 reached in July.
The 2,800-employee automotive supplier, which makes transmissions for mid- and heavy-duty commercial vehicles, has seen sales slow in emerging markets and Europe.
Indiana Grand getting new owner
Indianapolis-based Centaur Holdings LLC is in line to control both racinos in the state.
Centaur, which owns Hoosier Park in Anderson, submitted the winning bid for Indiana Grand in Shelbyville, and a bankruptcy court judge in Delaware approved the sale this fall.
Centaur will pay $500 million, plus one dollar, and assume Indiana Grand's liabilities, according to the sale agreement. The transaction still must clear state and federal regulators.
Judge Brendan Shannon approved the sale over objections from South Bend businessman Ross Mangano, a shareholder in the current owner, Indianapolis Downs LLC, who expressed an interest in acquiring the property.
Indiana Grand has been in bankruptcy since April 2011. Centaur emerged as the only qualified bidder.
Tea Party knocks out Lugar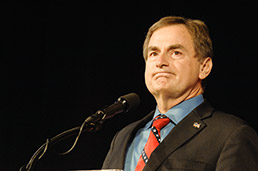 Mourdock whipped Lugar in the primary, but lost in November. (IBJ file photo)
Tea Party favorite Richard Mourdock defeated veteran U.S. Sen. Richard Lugar in the primary election, only to lose a neck-and-neck contest Nov. 6 to Democrat Joe Donnelly.
Mourdock, the state treasurer, and Donnelly, a three-term U.S. congressman, engaged in an unprecedented level of negative campaigning as they competed for one of Republicans' must-win races to gain control of the Senate.
Mourdock defeated Lugar by 20 percentage points after making an issue of his residency in Washington, D.C., and his support of legislation backed by President Obama.
Lugar declined to campaign for Mourdock, who then had to defend Donnelly's attacks on his uncompromising views.
Further imperiling his candidacy, Mourdock said in a debate with Donnelly two weeks before the election that "even when life begins in that horrible situation of rape, that it is something God intended to happen."
Housing market on upswing
At long last, a consensus was reached in 2012 that the single-family housing market had turned a corner.
Sales of existing homes and permits for new homes jumped, though both measures still lagged boom-time highs.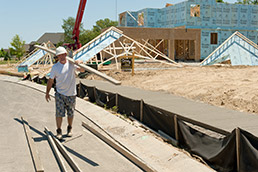 Homebuilders pulled 3,907 permits in the first 11 months of the year, up 16 percent from the same period a year earlier. (IBJ file photo)
Home-sale agreements for the nine-county Indianapolis area rose for a 19th straight month in November, compared to the same period a year earlier. Overall, such agreements were up almost 17 percent for the year through November.
Average selling prices gained 2.1 percent, to $155,742, according to data from F.C. Tucker Co. And the inventory continued to fall, providing additional support to prices.
On the new-construction front, builders pulled 3,907 permits through November, an equally impressive 16-percent increase from the same period in 2011. It's just the second yearly increase in area home construction since 2005.
Broadbent gets out of a pickle
One of the city's best-known retail developers appeared to bounce back in 2012 after a harrowing real estate downturn and protracted legal battle with two lenders.
The Broadbent Co., a 40-year-old privately held developer, managed as the year wound down to settle lawsuits with two former lenders, retain control of its downtown headquarters, and close on a deal to refinance 10 well-positioned properties totaling almost 800,000 square feet in a $60.5 million deal.
The moves suggest Broadbent might yet survive a historic real estate downturn that appeared likely to lead to its demise. The company struggled during the recession and faced a barrage of lawsuits as it attempted to retain control of several of its properties by reorganizing them under bankruptcy protection.
The moves—including co-founder George P. Broadbent's sale of the company to his wife as lenders circled—irked bank officials who saw the company's maneuvering as an attempt to escape paying its bills.
Star plots exit from longtime HQ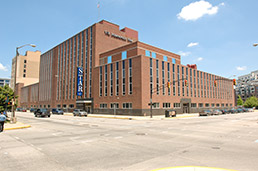 The newspaper plans to move to leased downtown space. (IBJ file photo)
The Indianapolis Star, which has called the brick-faced offices at 307 N. Pennsylvania St. home since 1907, announced in August it was putting the property up for sale.
Local real estate developers and brokers expected it would be tricky finding a reuse for the Star's 190,000-square-foot labyrinth of buildings combined over the years with multiple floor levels, narrow hallways and a basement built to house printing presses.
Listing agents in the local office of CBRE planned to run an RFP process, seeking buyers interested in developing the four-acre property as apartments, office space, a corporate headquarters or some as-yet-undetermined reuse.
Their charge is to unload the property for its highest and best use (read highest price) and find the Star's 350-employee staff a smaller, leased space downtown more suited for a media property that has shed hundreds of employees as it adapts to the digital age. There's no asking price.•
Please enable JavaScript to view this content.