More
Stories
The 2012 Super Bowl in Indianapolis was universally acclaimed as one of the best-hosted championship games the National Football League has held.
More than 1.1 million people poured into downtown Indianapolis for Super Bowl festivities in the 10 days leading up to the big game, held Feb. 5 at Lucas Oil Stadium.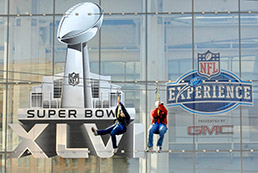 Unusually mild temperatures helped draw huge crowds downtown. (IBJ file photo)
The game and surrounding festivities produced a direct economic impact of $176 million, according to a Rockport Analytics study commissioned by the Indianapolis Super Bowl Host Committee.
"The reaction we received from the league itself and its owners was glowing," said 2012 Super Bowl Host Committee Mark Miles. "By every measure I know about, subjective or objective, Super Bowl XLVI was an enormous success."
Indianapolis Colts owner Jim Irsay said NFL owners "unanimously raved about the job Indianapolis did as a host committee."
"We've been encouraged to bid for the Super Bowl again, and bid soon," Irsay added.
Unseasonable temperatures in the 50s and 60s in the days leading up to the game bolstered crowd sizes at events from Monument Circle to Super Bowl Village along Georgia Street.
Attendance at the NFL Experience inside the Indiana Convention Center smashed the Super Bowl NFL Experience record by 30 percent, topping 265,000. More than 10,400 people rode the wildly popular zip line along Capitol Avenue, which translated to about 100 an hour.
Hollywood stars and top professional athletes filled downtown hotels and restaurants in the week leading up to the game. NBC's "Late Night With Jimmy Fallone" show broadcast from Hilbert Circle Theatre, and ESPN's popular news and talk shows aired live from Pan Am Plaza.
The only complaints from the NFL were that Indianapolis didn't have enough downtown hotel rooms for league sponsors and other dignitaries, and that the 63,000-seat Lucas Oil Stadium was smaller than most other Super Bowl host sites.
Emboldened by the success, city officials announced in July that they will bid for the 2018 Super Bowl. Allison Melangton, CEO of the 2012 Super Bowl Host Committee, will be in charge of the attempt to win the game again.
The local Super Bowl Host Committee raised more than $25 million from private businesses and individuals to offset most of the cost of planning for and hosting the big game.
The Capital Improvement Board of Marion County incurred $8 million in Super Bowl expenses and earned revenue of nearly $7.2 million, leaving a loss of $810,000.•
Please enable JavaScript to view this content.