More
Stories
Negotiations over musicians' contracts hit a crescendo in September with a month-long lockout that ended when performers agreed to a shorter schedule to save money at the cash-strapped Indianapolis Symphony Orchestra.
More than 70 orchestra members agreed to reduce starting salaries 32 percent—from $78,000 to $53,000—in the first year of a five-year contract. The symphony gradually will restore pay to $70,000 by the end of the collective bargaining agreement.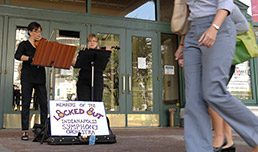 Members of the Indianapolis Symphony Orchestra staged regular performances in front of Hilbert Circle Theatre during their month-long lockout. (IBJ file photo)
The pay cuts were accomplished by reducing the number of shows musicians play each year.
Previous contracts called for musicians to perform 45-1/2 weeks a year. They will play 38 to 42 weeks a year under the new deal, with outside performers filling the gaps.
The orchestra, which has 72 members, also will shed some unfilled positions. A contract signed in 2009 called for 87 total positions. The 2012 agreement includes 74 musicians.
Still, the agreement could all be for naught if the ISO does not hit an ambitious fundraising goal.
The group began operating on a bridge contract in October. A long-term agreement with the same provisions will be executed only if the ISO reels in $5 million in donations by Feb. 3.
If that doesn't happen, ISO management and the musicians' union leaders must reopen negotiations.
If the three-month fundraising spree is successful, the symphony would net almost as much in donations as the group now brings in through an entire year.
ISO executives told board members during an annual meeting Dec. 3 that the symphony had pulled in $2.2 million so far. On Dec. 18, Indianapolis Colts owner Jim Irsay and Indiana Pacers owner Herb Simon pledged $750,000 each.
The aggressive fundraising effort is an attempt to lessen the symphony's reliance on its endowment. Last year, ISO tapped the endowment for $11.4 million, a 13-percent draw—almost triple the common target of 5 percent.
It still wasn't enough to keep the group in the black. ISO finished the 2011-2012 fiscal year with a $900,000 deficit after spending $27 million on operating costs.
The symphony has a $20.6 million budget for the 2012-2013 fiscal year. ISO aims to raise $12.6 million a year by 2017.•
Please enable JavaScript to view this content.