More
Stories


Newsmakers
After becoming a celebrity in national education reform for spearheading sweeping changes in Indiana's schools, Tony Bennett was bounced out of office by strong opposition from teachers, parents and their friends.
But with Republicans in firmer control than ever of the rest of state government, it is likely Bennett's reforms will live on even after he is replaced by Democrat Glenda Ritz.

Bennett landed on his feet. He was appointed commissioner of education in Florida little more than a month after his election loss. His new gig will pay him as much as $275,000 a year—nearly $200,000 more than what Bennett has been making as Indiana's superintendent of public instruction.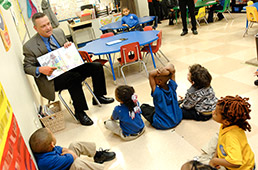 Tony Bennett's aggressive overhaul of Indiana's K-12 education system generated national attention. But pushback from teachers and parents cost him his job.(IBJ file photo)
And he squeezed in one more reform before walking out the door. On Dec. 5, the State Board of Education—which Bennett chairs—passed a new system of teacher licensing that will allow more on-the-job pedagogical training versus formal training at schools of education.

The proposal was denounced by most teachers, including Ritz, a veteran librarian and reading instructor at Crooked Creek Elementary School in Indianapolis.

Ritz wants to de-emphasize the system's reliance on standardized testing by redoing the A-F grading system for schools that Bennett built. She has also spoken against private school vouchers and the expansion of charter schools—both causes that Bennett championed.

But Ritz will have little formal ability to roll back Bennett's reforms. They were approved by either the Republican-dominated Legislature or by the State Board of Education. Its members are appointed by the governor, and incoming Gov. Mike Pence, a Republican, has indicated little difference in education policy from his predecessor, Republican Mitch Daniels.

That dynamic has private schools that accept vouchers and privately run charter schools cautiously optimistic that Indiana will remain friendly to them.

"We're just keeping our eyes on it and are optimistic that a lot of the work Mr. Bennett and others have done doesn't get undone," said Kristoffer Haines, vice president of national development for Rocketship Education, a California-based charter school network that plans to open eight charter schools in the Indianapolis area beginning in 2015.

What Ritz can do—if she wants—is to make it more difficult administratively for charter schools and private schools.•