More
Stories
When John D. Clark was hired as CEO of the Indianapolis Airport Authority in 2009, he was hailed by then-airport board president Randall Tobias as "an all-star."
The former head of Jacksonville, Fla.'s airport authority, Clark was seen as a visionary on best practices for growing non-airline revenue, such as retail sales.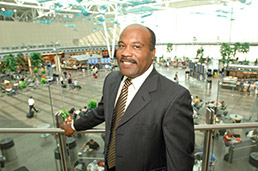 Frequent overseas travel generated controversy for former airport CEO John Clark. (IBJ file photo)
Never mind that Jacksonville's media ran accounts of Clark making enemies among city council members and airport police and of frequent jaunts to international destinations, including Shanghai, Brussels, Frankfort, Paris, London and Buenos Aires.
Tobias defended such trips, saying they were part of Clark's distinguished role as chairman of the board of Airports Council International North America. Clark was well-traveled enough to see what worked at other airports around the world.
But last March, the authority let Clark go, saying little about why.
It appears Mayor Greg Ballard was unhappy with the pace of economic development at the airport, where the old terminal complex still sits covered in weeds after four years. The general pace of development at the airport is nothing to brag about.
"I think that's been slow, much slower than I would have expected," Ballard told IBJ's news-gathering partner, WXIN-TV Channel 59.
Clark, 51, also became a lightning rod for local media scrutiny that became embarrassing to the mayor, scrutiny invited by Clark's penchant for travel.
IBJ found that, in 2011 alone, Clark and two key Indianapolis airport officers spent more than $67,000 on travel that included extended trips to Brazil, Denmark, Greece, Morocco and Switzerland.
The trips were not on the taxpayers' dime, Clark said, noting that the itinerary included meetings with European firms that later expanded cargo operations in Indianapolis. Some of the travel was for executive training at industry conferences.
In the end, Clark received $270,000 in severance pay plus unearned vacation pay. New airport board President Michael Wells put the kibosh on international travel and began to realign management ranks at the airport. He replaced Clark with retired Indianapolis airport executive Robert Duncan.
Today, Clark operates Atlanta-based aviation consultancy JClark Aviation Group.
Clark's contributions while at Indianapolis include land-use planning in cooperation with surrounding cities and towns to maximize the airport's role as an economic development engine benefiting the broader region.•
 
Please enable JavaScript to view this content.