In the crazy new world order of book publishing, it's a small miracle when original fiction gets published. Sure, anyone can foot the bill and self-publish, but getting a traditional publisher to invest in your words—especially when your name isn't Nicholas Sparks, Nora Roberts or James Patterson—is becoming rarer and rarer.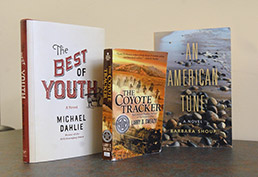 (IBJ Photo/ Perry Reichanadter)
Recently, I dug into the books of three Indiana writers who beat the odds. The first, Michael Dahlie, comes to Indianapolis by way of a writer-in-residence teaching position at Butler University. His second novel, "The Best of Youth" (W.W. Norton), isn't exactly his second novel. He's written other works under pseudonyms, primarily for the young adult market.

Touting his academic credits—combined with the book cover that says little except that Dahlie is a winner of the PEN/Faulkner Award—may mislead potential readers into thinking this is a work of academic fiction. The reality is that "The Best of Youth" is a very readable, very funny, literature-lite tale. Bring it to a book club tired of ponderous "serious" books and you'll be hailed a hero. Your club members might actually read it cover to cover.

"The Best of Youth" concerns Henry, who lost his parents but inherited millions. His misadventures involve investing in a pretentious literary magazine and becoming a ghostwriter for a semi-star. Along the way, there's a farm full of heirloom goats,

unrequited love with a distant relative, an inadvertent weapons violation, and a lot more.

At times, it seems like an anecdote pileup rather than a solid novel—and the turning of an interesting character into a clichéd villain hurts the second half—but in a world saturated with horror novels, thrillers and romances, I'll take page-turning, playfully smart contemporary fiction any day.

Barbara Shoup's "An American Tune" (Indiana University Press) also carries an academic air, which might scare off vacation readers.

But Shoup's book is more likely to appeal to mass-market readers than to those looking for the esoteric. Her tale concerns Nora, for whom dropping her daughter off at IU sparks memories of time spent there in the 1960s. I wish Shoup had avoided some clichés in the first half (tragedy strikes at home while young Nora is off having a sexual rendezvous), but clichés are hard to avoid when it comes to writing about that turbulent era.

Halfway through the book, we're back to the 2000s, but the past is still a presence. "She loved her life…," writes Shoup. "What she regretted and, increasingly, feared was the secret at its center, which had lain dormant for so long that she had foolishly come to believe it had lost its power to harm her or anyone she loved."

There's no confusing Larry D. Sweazy's "The Coyote Tracker" (Berkley Publishing) with literary publishing. That's not to downplay the writing: Sweazy clearly knows how to craft characters and adventures. But the paperback—yes, there are still standard paperbacks out there—is a genre novel clearly marketed to fans of the Western. It's also part of a series, although there's enough background given that you can jump into it without having read the previous Josiah Wolfe Texas Ranger novels.

I honestly can't recall the last time I read a traditional Western, if ever. Cormac McCarthy doesn't count, so I don't have much besides the movies to compare it to.

After a slightly confusing flashback prologue, we're plucked down in the center of Austin, Texas, with Wolfe, furloughed from the Rangers for questionable activities chronicled in a previous novel. Soon, he's unofficially investigating the murder of a prostitute, a crime pinned on a friend.

As is true with many a genre novel, the atmosphere and characters win out over plot. Sweazy's plot may be familiar, but the details—Wolfe's confused feelings about his single parenthood, his stumbling courtship, his loyalty and his loneliness, the conditions of the prostitutes and the social mores that are broken at great risk—all come through.
__________

As much as I respect the artistry of good scenic designers for musicals, I'll trade sets any day for a full on-stage band the size and strength of the Indianapolis Symphony Orchestra. With about three times the number of musicians as the Broadway company—and not a synthesizer to be had—the Indianapolis Symphony Orchestra's "Hairspray in Concert" would have sounded great even without the top talent that fronted the band.

Add in those actors, though, give them some inspired choreography, let John Waters fill in the gaps, and the result is musical theater heaven.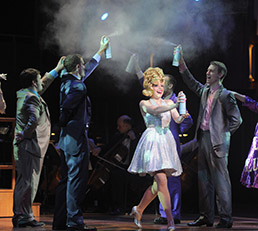 ISO's "Hairspray in Concert," was musical theater heaven, looking and sounding great. (Photo courtesy of Tom Russo)
The Marc Shaiman/Scott Wittman gem of a score for "Hairspray"—one of the brightest and catchiest in years—has been reorchestrated for the symphony, sounding as innocent, brassy and confident as the show's lead character.

I've seen "Hairspray" work even with a less-than-ideal Tracy. But here, it had a near-ideal one. Marissa Perry never forgot the energy, warmth and spirit at the core of her character. She needs to be a person whose feet can't help but move to the beat, whether anyone else can hear it or not.

Paul Vogt, as Edna, knew how to get laughs from just picking up the phone—and seemed to fully understand that this big mamma's developing acceptance of herself is one of the show's charms. NaTasha Yvette Williams had both the vocal chops and the gravitas to deliver the powerful "I Know Where I've Been." And Beth Leavel turned the one-note evil TV producer and her Miss Baltimore Crabs number into a show highlight.

I was a little concerned going in about Waters serving as narrator for the show. But the writer/director of the original film was used judiciously (and given a hilarious mid-act entrance during "I Can Hear the Bells"). His insight into the real-life people and places that inspired his Baltimore fantasy—and his acknowledgment of the harsher reality of the era—gave the production an added perspective without diminishing its pleasures.•

__________

This column appears weekly. Send information on upcoming arts and entertainment events to lharry@ibj.com.