The campaign to expand public transit in the region has generated a busload of money for some media and marketing outlets.
The city's Metropolitan Planning Organization received $500,000 in federal grants in each of the last two years toward the cost of telling how expanding bus service and a possible rail line could benefit residents.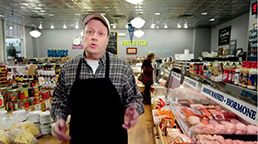 "Transit for all of us" television ad includes store manager who wants transit for employees to get to work. (Photo courtesy of Indy Connect)
Such an amount is relatively minuscule compared with the millions of dollars spent on political ads before last November's election.
But there are a number of firms out there that are happy to grab even a morsel of transit messaging contracts.
"When you start spreading that $500,000 around, it means a lot for a smaller firm," said Sean White, CEO of Aloft Strategies, project manager for the Indy Connect transit outreach campaign. "Business in this economy is always needed."
"We are certainly grateful. We hired a lot of free-lance crew people," said Greg Malone, owner of Road Pictures. The five-employee Indianapolis firm subcontracted with two other firms to put together Indy Connect television commercials.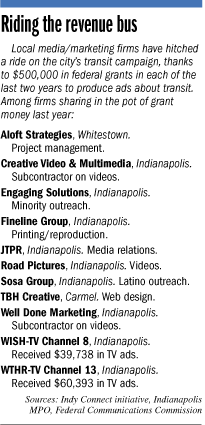 "This was one of those situations when I felt as a producer I was doing something for the public good, as well," Malone said.
Those commercials aired over 21 days in January and February, earning WTHR-TV Channel 13 $60,393 and WISH-TV Channel 8 $39,739, according to records the stations filed with the Federal Communications Commission.
Such amounts are comparatively puny, "but they were glad to have it," said Bill Perkins, principal of Perkins Nichols Media, which handled the ad contracts for Indianapolis MPO. The MPO is a federally mandated agency that oversees transportation planning in the area.
Much of Indy Connect's public outreach money went to smaller firms with a handful of employees. Many of the firms were started in recent years as talent left or was laid off from big local ad agencies, White said.
These firms generally do not have high operating costs, so taxpayers are getting a better bang for the buck, he added.
"This is bringing federal money back to Indiana," said Jen Schmits Thomas, principal of JTPR Inc., a public relations firm that's contracted with the transit initiative in recent years.
Much of the public outreach was in advance of a series of nine public meetings in the metro area by Indy Connect. The last of the meetings wraps up this month.
Traditionally, Indianapolis MPO, one of the partners in the initiative, might have simply placed newspaper ads alerting the public about upcoming meetings through the middle of this month, said Anna Tyszkiewicz, executive director of the agency.
"We're really trying to go above and beyond that with Indy Connect," she said.
Asked whether MPO will spend more money this year in messaging, such as commercials, Tyszkiewicz said, "I think we're going to evaluate it."
She noted that another round of transit meetings will be held in July.
Tyszkiewicz estimated that a total of $100,000 was spent on TV, radio and other media outlets in the recent period.
The "Transit for all of us" commercials and ads generally started out with the question: "Why do we need more transit options?"
Then a panoply of local residents and business and civic leaders gave answers, which ranged from saving gasoline to more independence for senior citizens.
"To attract more jobs," former Central Indiana Corporate Partnership head Mark Miles answered in one commercial.
Indianapolis MPO landed the federal air-quality grants in conjunction with its multimodal transportation planning efforts.
The first rapid-transit lines being contemplated include a so-called Red Line running north and south through downtown, from Carmel to Greenwood.
The Blue Line would be an east-west route on or near Washington Street from Cumberland to Indianapolis International Airport.
The Green Line would connect downtown and Noblesville.
Bus rapid transit would likely be used in the first two routes, but officials have been contemplating a light-rail line for the former Nickel Plate rail corridor to Noblesville.
The higher capital cost of trains has drawn frowns from some state legislators, who are contemplating legislation that would allow residents of Marion and Hamilton counties to vote in a ballot referendum whether they'd be willing to pay higher taxes for an expanded transit system.
A proposed income tax hike of 0.3 percent would amount to about $10 a month for a family of four making $50,000 a year.
Indy Connect, which also includes IndyGo and Central Indiana Regional Transportation Authority, estimates that a transit system could cost $1.3 billion to build over 10 years.
But opponents of the plan point out that the system is estimated to cost $136 million a year to operate and maintain by 2021.
Taxpayers, rather than fare-box revenue, typically foot the largest share of transit system costs.•
Please enable JavaScript to view this content.