On the morning of Aug. 6, 2012, when the doors of Thomas Carr Howe Community High School swung open to welcome students back from summer break, it was a different school.

Again.

No more than half the students who had been at Howe the year before were back. And some of the new students were there simply because they had been expelled from one of the Indianapolis Public Schools district schools—and now had a shot to attend Howe because it had been taken over by state authorities.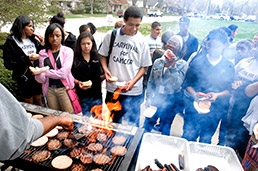 Howe High held a cancer fundraiser on April 12, one of the school's efforts to reconnect with its neighborhood. (IBJ photo/Perry Reichanadter)
This was not the first time Howe had changed overnight. It happened in 1973 when, by court order, IPS began busing black students to its predominantly white schools. And again with a literal closing of the school in 1996—and subsequent reopening in 2000.

But this "closure" and "reopening" of Howe may be the hardest one to survive.

That's because, ironically, the same push by education reformers that prompted the state Department of Education to take control of Howe has, over the past decade, spawned a slew of new competitors for the school.

Indianapolis, including the relatively prosperous east-side neighborhoods surrounding Howe, is teeming with charter schools, well-established Catholic schools that now can receive state-funded vouchers, and IPS magnet schools that offer special programs—all of them competing citywide for students.

Jon Hage
Not only that, most school districts no longer charge extra tuition to students from outside their district boundaries, forcing urban schools like Howe to compete for students even with suburban districts.

Howe is one of four Indianapolis schools seized by the state and handed over last year to charter school operators. Three of them, including Howe, are run by Florida-based Charter Schools USA, which operates schools in five states. The fourth, Arlington High School, is run by Indianapolis-based EdPower, parent of the Charles A. Tindley charter schools.

Of all those schools, it would seem that Howe's location adjacent to the resurgent Irvington neighborhood would put it in the best position for a turnaround. But in fact, Howe has been Charter Schools' biggest challenge.

The depth of Howe's problems make it the most significant test yet for whether education reformers can not only launch successful schools in troubled areas, but also turn the most troubled schools into desired destinations—even for middle-class families with lots of choices.

"It was deeper and darker than you might imagine in many ways," Charter Schools CEO Jon Hage said of Howe. "We are taking a big risk. We are willing to take on your hardest problems."

Sherry Hage
'I loved that school'

Residents of Irvington and adjacent neighborhoods describe Howe as a beloved old relative now estranged.

"I don't know anybody who sent their kids to Howe except for one person," said Irvington resident Amy Friedly, about her decision on where to enroll her daughter last year after she finished middle school in the IPS system. "We didn't even look at Howe."

Friedly graduated from Howe in 1983 and has nothing but fond memories.
"I can't tell you how much I loved that school," she said. "I LOOOOVED it!"

But the closure of Howe left a bad taste in Friedly's mouth, and its poor performance after its reopening drove her and other families she knows to look for other options.

Friedly's daughter is a freshman at Scecina, a Catholic high school on Indianapolis' east side. Some of Friedly's Irvington friends also send their kids to a Catholic high school. Far more, looking for free tuition, send their kids to Herron High School, a charter school downtown, or IPS' new Gambold High School, which caters to high-ability students.

In addition, Friedly said, "tons" of Irvington families carpool 25 miles each way daily to North Central High School in Washington Township.

Howe's enrollment also suffered because IPS worked hard the previous year to get Howe students to transfer to another IPS school. IPS spokesman John Althardt declined to comment or make former Howe administrators available for this story.

Michael Hendon, 17, was counseled last year by IPS staff that he should look at IPS' Arsenal Technical High School. Hendon, a wrestler and baseball player, is also a standout student, with a 4.1 GPA.

There were good reasons for Hendon to go to Tech. His wrestling coach was leaving Howe before Charter Schools took over—as the entire teaching staff did—and moving to Tech. In addition, Hendon was accepted into the math and science magnet program at Tech.

"I thought that would be best for me," Hendon said of the switch.

But pretty quickly, he knew it wasn't. His classes were larger at Tech than at Howe, making his relationships with teachers more distant. When he asked his AP literature teacher for help, he said, "she blew me off."

So in October, Hendon came back to Howe. He acknowledged Howe is still struggling, but he said he preferred its "calmer" and friendlier atmosphere.

"Of course, Rome wasn't built in one day and this school isn't going to be in one year," he said.

Losing money

Charter Schools needs far more students to follow Hendon back to Howe. The school's enrollment fell from 1,028 in September 2011 to just 639 in September 2012.

That 40-percent decline means Charter Schools is losing money on Howe—although Hage wouldn't disclose how much.

Charter Schools has ample cushion to absorb those costs for now. According to Florida Trend magazine, the for-profit organization derives $285 million in annual revenue from its 48 charter schools.

Charter Schools made money on Howe in the first half of the year because the State Board of Education paid Howe based on the previous year's enrollment—and at the same time withheld funds from IPS. A court later struck down that decision, and the Indiana General Assembly budgeted funds to pay IPS back.

Hage believes Charter Schools eventually will make money on Howe. But to do that, he knows his team needs to re-establish Howe's connection with its surrounding neighborhoods.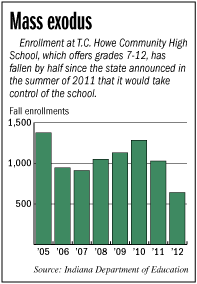 "Not only do we have to do better with the students we have," Hage said, "we have to convince parents to come back to Howe."

Charter Schools has involved the Howe alumni association, along with other neighborhood groups, in monthly meetings at Howe to plan how the school can be more engaged with the community. And Howe played host in April to a school and neighborhood walk to raise money for cancer research.

That's good, said Justin Cohen, president of the school turnaround group at Mass Insight, a Boston-based consulting group.

"In a choice-rich environment, the best-laid plans can go awry without the concrete communicating and selling, frankly, to the local community," he said.

Howe still has a long way to go in that department, according to Margaret Lawrence-Banning, executive director of the Irvington Development Organization.

"The alumni, which are mostly gray hairs, talk about the glory days," said Lawrence-Banning. But, she added, "The high school that people in the community talk more about is the Irvington Community School [a charter school]. I just don't ever hear about anybody's kids going to Howe."

Advantageous assets

The vibrancy of Irvington could be an asset for Howe—if it can renew a connection with the neighborhood.

Median household incomes in the Census tracts around Howe are about 18 percent higher than those throughout the IPS boundaries. And in Irvington, which is immediately east of the school, incomes approach $50,000 per household—about 50 percent higher than the average in all of IPS.

Not only that, Howe's building and campus are gorgeous, with a clock tower that dates from its founding in 1937. And unlike charter schools, Howe receives extra state funds to provide busing and cover building costs.

Howe was once one of the highest-quality schools in Indianapolis, and it boasts such prominent alumni as Gary Loveman, a former Harvard Business School professor who is now CEO of Caesars Entertainment Corp.; Dr. Rick Gunderman, a professor at the Indiana University School of Medicine; and Bill Owensby, head of the Indianapolis Fraternal Order of Police.

But right now, it appears that Howe has the furthest to climb out of the four schools in Indianapolis taken over by the state.

Of Howe students who in December took the state standardized exam for Algebra I, just 11.3 percent passed. Of those who took the state standardized exam for sophomore English, just 26 percent passed.

The previous year, the pass rates at Howe on those same tests were nearly 26 percent and 45 percent, respectively.

Sherry Hage, chief academic officer of Charter Schools, admitted those results aren't good. However, Hage, wife of CEO Jon Hage, noted that, compared with the prior year, scores on the English test improved 19 points, and math results were the same.

And of those who took the tests both years, she added, 85 percent showed improvement.

"That's progress in a short time," she said, crediting Howe's 75-person staff for after-school tutoring and Saturday programs to catch kids up.

Indianapolis Mayor Greg Ballard's staff is on the cusp of signing a memorandum of understanding with the state Department of Education to oversee Howe and the three other schools taken over by the state.

Ballard's deputy for education, Jason Kloth, wants to see Howe's perennial F grades on the state's grading scale improve to C's and wants at least 70 percent of students to show growth on standardized tests after two years at Howe. Charter Schools will have about four years to achieve those goals or show that it is on the way toward achieving them.

"Anytime you engage in this, it's going to be difficult," Kloth said. "Schools need time to see it through."

Piecing a puzzle together

One of Charter Schools' biggest challenges at Howe was that it placed scores of students in the wrong classes. That was partly because IPS delayed giving Charter Schools the transcripts of Howe's students and partly because students just showed up for school without ever registering.

"They put me in Algebra I. I was supposed to be in Pre-Calculus," said Carolina Bishop, 18, a senior at Howe. "I just kind of grit my teeth and dealt with it."

The school year opened with so many fights and misplaced students at Howe that it sparked stories in local newspapers and on television stations. In September, a group of parents gathered on a Saturday at Howe to air their grievances.

The violence at school prompted Chris Giles to start applying to Scecina for his daughter Dayanera. But before he made the change, he spent a day in October at Howe to see for himself.

"It was just a normal school. The students were being silly and talking loud, but it was nothing unusual for a public school," said Giles, who is a Howe alumnus.

There were other fights later that year—one at a football game and one during a winter basketball game—that made Giles say of Charter Schools, "What are you guys doing?"

The ups and downs at Howe this year have caused Giles and his daughter to look again at other schools, but they're leaning toward staying at Howe.

Charter Schools found ways to deal with its early problems. Howe's entirely new crop of young teachers improvised to get students the instruction and help they needed.

Hendon, the student who came back to Howe from Tech High School, said his English teacher helped him with calculus. Bishop, the senior, said her teacher in Algebra I—the class she wasn't supposed to be in—gave her pre-calculus work until her schedule was fixed.

"It was like trying to put a puzzle together with some of the pieces missing," Bishop said.

The most elusive piece Charter Schools is trying to bring to Howe is a new culture. It has made the hallways orderly with student resource officers, has sponsored numerous field trips to colleges, and has encouraged teachers and student resource officers to frequently talk to students about how they're doing emotionally.

"Howe is a great school," Sherry Hage said, "and it will be great again."•