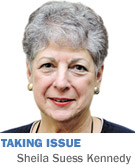 When it comes to the culture-war politics of same-sex marriage, our governor and legislators would be well advised to listen to Indiana's business and corporate leadership and forgo their pious pandering to the shrinking number of Hoosiers spooked by social change.

There are sound reasons that companies like Cummins, Eli Lilly, Emmis and many others oppose renewed efforts to pass a constitutional amendment that would double down on Indiana's current ban on same-sex marriage. It's not just bad policy; it's also bad for business.

Economists tell us that discrimination is toxic to profit margins. Every year, thanks to discriminatory employment practices, businesses waste billions of dollars by forcing otherwise qualified individuals out of the workplace and suppressing overall job performance. Increasingly, those practices also generate expensive lawsuits, bad publicity and—in extreme cases—consumer boycotts.

It was recognition of the costs of discrimination against gay and lesbian employees that led hundreds of companies, including Google, Apple, Verizon, Walt Disney, Viacom, Nike, Morgan Stanley and Microsoft, to file amicus briefs in the two marriage cases handed down by the Supreme Court last month. Those briefs argued that laws like the Defense of Marriage Act and Proposition Eight interfered with their need to recruit and retain productive workers, and with the ability of their GLBT workers to focus on their jobs without the distractions of family problems caused by stigma and inequality.

DOMA is gone, and GLBT people in California can marry once again, but states remain free to define civil marriage. The result is a patchwork of state laws posing real headaches for employers doing business in several jurisdictions. Just one example: A gay man who lives in Massachusetts with his husband is highly unlikely to accept a transfer to an office in Indiana where his marriage isn't recognized.

Indeed, that considerable recruiting disadvantage will affect more than businesses in states like Indiana; a June 27 column in The Chronicle of Higher Education by Marian Moser Jones predicted a brain drain from colleges and universities in non-equality states.

As Jones noted, "It's not just an issue of fairness. It's an issue of practicality. Because of the Supreme Court's ruling, my wife and I will not have to disentangle our very-entangled finances in order to file federal taxes. We will be able to sign up for joint health benefits at our university, like any other married couple, without paying federal income taxes on those benefits."

The writer noted that in Virginia, just 26 minutes from her house, a state constitutional amendment (similar to the one proposed for Indiana) prevents far more than recognition of same-sex marriages; it prevents GLBT couples from being able to sign enforceable joint advance medical directives and other binding contracts.

Chances are pretty slim that such academic couples, or that IT talent you want to recruit from Iowa, will be willing to move to Indiana.

John Taft, CEO of RBC Wealth Management-U.S. is one of many who argue that businesses benefit from recognition of same-sex marriage.

"Companies who create an environment where employees are free to be authentically and completely who they are have more engaged employees and that translates into client and customer satisfaction. I can tell you that if you do not extend benefits to same-sex partnerships, you are not competitive in the business world right now."

If Indiana really were pro business, we wouldn't be debating passage of a constitutional amendment. We'd be repealing the statute that restricts civil marriage to heterosexuals, and adding sexual orientation to the state's civil rights law.•

__________

Kennedy is a professor of law and public policy at the School of Public and Environmental Affairs at IUPUI. She blogs regularly at www.sheilakennedy.net. She can be reached at skennedy@ibj.com. Send comments on this column to ibjedit@ibj.com.