Dallara is preparing to install a $5 million automobile simulator in its Speedway plant—a move that could fuel the company's plan to dramatically grow its local operation.
The Italian company opened in April last year in a state-of-the-art facility along Main Street in Speedway primarily to serve the IndyCar Series after winning a contract to provide a new chassis that debuted in 2012.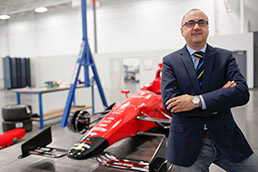 Dallara USA CEO Stefano DePonti thinks the company best known for making IndyCar chassis could add hundreds of jobs at its Speedway facility. (IBJ Photo/Aaron P. Bernstein)
Dallara has produced about 70 IndyCar chassis and continues to crank out about a dozen annually for new teams or as replacements for crashed cars.
But now, the company is seeking to replicate its diversification in Europe, where it not only works on a variety of race cars, but also does engineering and design consulting for some of the world's best-known automakers and other companies. If the effort gains traction, Dallara's Speedway operation eventually could add hundreds of employees.
For starters, Dallara executives have begun to consider developing prototypes for the United Sports Car Racing series, a new series formed by the merger of the American Le Mans Series and the Grand-Am Series.
"With our facility in Speedway, we are actively exploring all opportunities in racing and auto markets," said Dallara USA CEO Stefano DePonti.
Dallara wouldn't likely be able to jump into the USCR series, which debuts next year, until 2015. Design and engineering for a new sports car chassis would take nine to 12 months and carry a multi-million dollar price tag, DePonti explained.
Racing industry experts said the move into the USCR could double the local work force of 17, and that may be just the beginning.
"Given that [the merged] sports car series is backed by NASCAR, I'd say there are significant gains to be had by becoming a supplier to it," said Tim Frost, president of Frost Motorsports, a Chicago-based motorsports business consultancy. "It could be huge for Dallara's U.S. presence and perhaps a springboard to even bigger things."
Playing a role in the new sports-car series would give Dallara exposure to myriad U.S. automakers and parts suppliers, which might become clients themselves down the road, Frost said.
Limitless growth?
Dallara officials see no reason why the U.S. division can't some day be as big as its primary plant in Italy, which employs more than 250.
"I don't put any limits on our growth here," DePonti said. Can our Speedway operation be as big as we are in Italy? Why not."
The privately held company, founded by Gian Paolo Dallara in 1972, saw its revenue swell from $46 million in 2011 to about $80 million last year as it ramped up production of the new chassis for IndyCar and the GP3 Series, a primary F1 feeder circuit.
Since a new IndyCar Series chassis likely won't be introduced for at least three more years, Dallara is looking to capitalize on its assets here and bolster revenue through other ventures.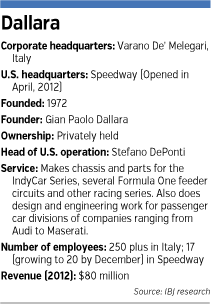 A move into the newly merged United Sports Car Racing series wouldn't be Dallara's first foray into the American sports-car scene. In the 1970s, Dallara was involved in the CanAm series. A strong return to the U.S. sports car racing scene would boost the company's North American profile.
Beyond motorsports
Involvement in a number of racing circuits overseas has helped the company diversify beyond motorsports, and Dallara hopes to do the same in North America.
Due to confidentiality agreements, DePonti declined to divulge Dallara's European automaker clients. But auto industry experts said the company has worked for at least a dozen European and Asian automakers including Audi, Bugatti, Fiat, Ferrari and Maserati.
"A lot of Dallara's work is sitting under the logos of other big, well-known automakers," said Bruce Ashmore, who came to Indianapolis from England 20 years ago to engineer and design race cars. "They're very strong in aerodynamics and engineering principles. That's why their work is so good and they are so well respected within the auto industry. You see their work all the time. Most people just don't know it."
Dallara doesn't work with American automakers, but DePonti said the company is talking with prospects. "I think we will be soon," he said.
If that comes to fruition, that could mean dozens more jobs here, said Ashmore, president of Indianapolis-based Ashmore Designs.
"With their new facility, they're well positioned to go after that market," Ashmore said.
Including the simulator, which will be completed and installed in April, Dallara has sunk $20 million into its Speedway facility, its only plant outside Italy. The simulator is designed to mimic almost any land vehicle, DePonti said, and can be used "to train and teach drivers and engineers."
Indy's strengths
The equipment at the local plant is not the only asset, DePonti said.
"Everything is right here. We are in the central part of the U.S. with great highway access," he said. "We have access to a great work force and talented people with our proximity to Purdue, IU, Rose Hulman and IUPUI. And we have a good working relationship with the mayor and the governor. We have a much closer relationship with the bureaucrats here than we do in Europe, and that's very helpful for our growth plans."
DePonti is confident Dallara can grow in sectors even beyond automotives.
"I think our capabilities can be applied to aerospace, defense and green technology," DePonti said.
Dallara's work in the IndyCar Series adds another skill important to mainstream automakers and other potential clients.
"Because of the strict cost constraints enforced by IndyCar, Dallara has learned to be high-tech while keeping costs down," Frost said. "That's an important element for any manufacturer, certainly for carmakers."
Dallara's expertise in aerodynamics also gives it unique insight into fuel efficiency, Ashmore said, "and you know that's a high priority for automakers and a lot of other transportation-related companies."
But there may be one major challenge to Dallara's U.S. growth plans, said Zak Brown, president of Just Marketing International, a Zionsville-based motorsports marketing consulting firm that works with some of the biggest racing sponsors globally.
"Dallara has an excellent reputation in racing," Brown said. "I don't think their awareness in America outside motor sports is very high."
Dallara is well known throughout Europe and Japan, Frost said, thanks to "its massive success" in several series in those markets, including primary feeder circuits to Formula One, the biggest and richest auto racing circuit in the world, and in the Super Formula series, the top level of auto racing in Japan.
"If they can come anywhere near replicating that model here, I think they will have great success in growing their U.S. business," Ashmore said.•
Please enable JavaScript to view this content.