A years-long fight between Marion County and mall developer Simon Property Group Inc. has moved to the Indiana Tax Court as a judge weighs vastly different estimates of the values of Lafayette Square Mall and Washington Square Mall.
The Marion County Assessor contends that the assessed values for property-tax purposes on the two struggling malls should be millions of dollars higher than Simon's estimates. Last year, the Indiana Board of Tax Review sided with Simon, leading to the assessor's current appeals in tax court.
The court heard arguments in individual cases for the two properties in recent weeks and is weighing a decision.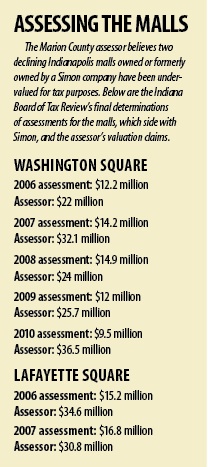 The battle focuses on Washington Square's appraised value between 2006 and 2010, and Lafayette Square's appraisals for 2006 and 2007. Marion County had valued Lafayette Square at $35 million in 2006, for example, while Simon argued it was worth $15 million.
Likewise, the county's appraiser valued Washington Square at $22 million for 2006, while Simon's appraiser pegged it at $12 million.
Located in older Marion County suburbs, the malls have about four decades behind them. Lafayette Square opened in 1968 at Lafayette Road and West 38th Street, and Washington Square opened in 1974 at 10202 E. Washington St.
Simon didn't build either mall, but acquired them in 1996 through its $1.6 billion purchase of Ohio-based DeBartolo Realty.
Household spending power in both areas has declined, especially around Lafayette Square. Simon took its name off the mall in 2005 and sold it in 2007 to New York-based Ashkenazy Acquisition Corp. for $18 million. Simon still owns Washington Square.
The Marion County assessor has argued that the cases represent far more than just determining whether the assessments of Washington Square and Lafayette Square were low-balled.
Assessor's office attorney John C. Slatten pointed out that while the tax board sided with Simon's appraisers last year on the Washington Square appraisal, it wrote that the methods used to arrive at the value "were not supported by evidence" and "seemed designed to value property at the lowest possible rate."
"It would be a novel finding then in Indiana that a totally flawed appraisal can support a reduction of value," Slatten argued to Tax Court Judge Martha Blood Wentworth in the Washington Square case.
"If the court upholds this case, these are bad appraisals, and that's the takeaway," Slatten argued.
Ice Miller LLP attorney Paul M. Jones Jr. represented Simon in both cases. He said the board justified its findings, that it found fault in all the appraisals before it and didn't abuse its discretion.
"This is a simple case that can be decided quickly," Jones argued. He disputed that the flaws in the Washington Square appraisal were serious and said the board exercised its right to determine which appraisal was most persuasive.
Wentworth noted that the board also explained its rationale, and she challenged Slatten's suggestion that the findings were "flawed in every approach."
"You can't look in isolation and say the board just completely eviscerated the probative value [of appraisals]," Wentworth said. But Slatten said that when presented with defective assessments, the tax review panel should have deferred to the assessments affirmed by the Marion County Property Tax Assessment Board of Appeals.
That board determined Washington Square's total assessment for the 2010 tax year, for instance, was more than $36.5 million. But the Indiana Tax Review Board reduced that assessment to $9.5 million.
"This particular property is struggling," Jones said, noting that Simon's appraiser addressed issues from a high rate of tenant vacancy to structural problems, such as a bad roof. "I think it's not surprising why the board found that evidence was more persuasive."
"For this court to overturn the Indiana board decision in this case, it would have to get into the business of reweighing the evidence," he told Wentworth.
Jones said Simon also presented evidence that the shopping center wouldn't attract the interest of real estate investment trust giants similar to Simon as potential buyers.
Wentworth challenged Jones on whether that should have been a factor in the assessment.
"Even though in reality an entrepreneurial investor with a new focus might be the only buyer you would get, you still have to meet the market value in use definition," she said. Jones replied that while sale prospects were considered, the property was valued in Simon's assessment as a regional mall.
Sale prices also factored into Slatten's arguments. Simon sold Lafayette Square for $18 million to Ashkenazy Acquisition Corp. in 2007 after a tax appeal began on that property. He argued that Washington Square is considered a much more valuable property, which makes the $9.5 million assessment for 2010 questionable.
"Lafayette Square sold for twice as much, so you know the value's low," he said. "We need to value [Washington Square] as the value that it has to the owner."
Slatten told The Indiana Lawyer that it's unusual for the assessor's office to push a case to tax court, and typically such disputes are resolved before a third-level appeal.
"It's a continuing problem we have with them," he said of some Simon properties, "appraisals that just don't make any sense."
Regarding the Lafayette Square case, Jones argued that the tax court should affirm valuations of $15.2 million and $16.4 million for the 2006 and 2007 years, which represent assessments that employed a trending analysis based on the sale price.
That's a more logical approach than the assessor's proposed valuations that in one year was more than twice as high. "Or is it logical the alternative the assessor would suggest, that this same publicly traded group, the world's largest … would sell a property for a 30-percent or a 50-percent discount?" Jones argued.
"It's outrageous that the assessor's value–$36 million and $30 million–represent the market value in use when the property sold for $18 million," he said.
Portions of this story previously appeared in The Indiana Lawyer.
 
Please enable JavaScript to view this content.