There's not a hint of Charlie and/or Barney, the chili-making bar-and-grillers, on East Ohio Street, where the unassuming duo used to reside in their namesake eatery. Instead, the site has been transformed into Bangkok Restaurant & Jazz Bar (225 E. Ohio St., 632-9000) and, after two visits, I have only one real concern.

Let's get that out of the way first: It's the use of the word "jazz" in its name.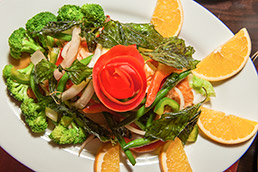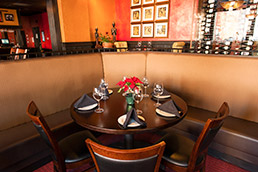 Asparagus Delight, top, is among the pleasures at Bangkok Restaurant and Jazz Bar, where lunchtime diners can order off an extensive menu or graze a range of Thai staples from a buffet. (IBJ Photos/ Eric Learned)
Now, I've got nothing against jazz. And the idea of a jazz bar downtown is an exciting one. The problem, for now, is the only jazz you'll hear at the tastefully appointed Bangkok is recorded music. There are plans to include live music in the future—and it would fit in well with the sleek-but-not-pretentious decor. But, for now, it's Tony Bennett in the sound system. Not a bad thing, just potentially misleading.

As to the positives, let's start with the very fact that a Thai restaurant is now part of the downtown mix. Sure, you can find Thai cuisine down the trail in Fountain Square at Siam Square, or at Thai Café in Broad Ripple, but what self-respecting urban downtown doesn't have at least one outlet for Pad Thai? (And, no, Noodles & Company doesn't count.)

For lunch, you have two basic options, then lots of variations within that. The choices: the $9.99 buffet or ordering off the menu where, conveniently, a long list of lunch specials each set you back $9.99.

Go the buffet route and you'll find the steam tables filled with an array of Thai basics, including Pad See Ew (a stir fried noodle dish with broccoli and chicken), Red Curry Tofu, Beef Oyster and peppery Tom Yum soup with chicken. The salad bar portion includes Thai Honey Mustard as a dressing choice. And dessert offerings include fresh fruit and Fried Banana with Honey Roasted Coconut. On our visit, the kitchen kept up with the hungry crowd, replenishing the buffet regularly and keeping the area presentable. My companion and I left pleased with everything we tried—including the Coconut Juice and milky Thai Ice Tea.

On a return visit, this time solo, I resisted the temptation to return to the buffet (which, I was told, can change at the whim of the kitchen). Instead, I ordered the Thai Spice Basil aka Pad Gra Prow. The main event was a platter that included a sizable helping of pounded chicken pieces (seafood, tofu, or meat are the other options) stir fried with green beans, onions, bell pepper and basil leaves. A mountain of white rice, a cup of salad, and a finger-size spring roll were included.

I only wish the kitchen wasn't so quick on the draw, delivering the platter before I had gotten halfway through the cup of Tom Yum soup that was also included.

Even if Bangkok weren't the only Thai game in downtown, it would be worth adding to the lunch rotation. And, jazz or no jazz, it's music to my tastebuds.•

—Lou Harry

__________

Third in a month-long series of new-in-2013 restaurants that we hadn't previously reviewed.