The federal government's lawsuit against ITT Educational Services Inc. shot the company with its own gun.
Mystery shoppers, who were hired by the Carmel-based operator of for-profit colleges, generated the bulk of the material cited by the Consumer Financial Protection Bureau's complaint, filed Feb. 26 in federal court in Indianapolis.

Modany
The lawsuit extensively quotes the shoppers' reports, which include claims they were promised salaries of "six figures" upon graduation, and told that financial aid would provide them "free money" and that ITT is accredited "just like all other schools."
All those statements are false or misleading.
ITT's mystery shoppers, who posed as students applying to ITT, also reported that ITT's financial aid staff rushed them through the process of applying for federal student loans, even in some cases forging their electronic signatures.
These alleged "high pressure" tactics helped ITT keep money flowing from the government loan programs that account for 96 percent of its nearly $1.3 billion in annual revenue, according to the lawsuit. They also contributed to defaults in two private loan programs that have already cost ITT $127 million—and could cost more.
"We believe this company misled students by overstating their job prospects and likely salaries upon graduation," Richard Cordray, director of the Consumer Financial Protection Bureau, said during a Feb. 26 press conference unveiling the agency's lawsuit. "Then it pushed them into high-cost private loans that were likely to end in default."
ITT, which operates 149 campuses, mostly under the name ITT Tech, fired back that the agency misinterpreted and misused the mystery shopper reports.
"The 'mystery shopper' program gives ITT Tech the information to retrain or even terminate employees as appropriate. The [federal] complaint presents excerpts from the 'mystery shopper' program without any context, giving isolated anecdotes that are examples of the conduct the program is designed to root out and eliminate," ITT officials wrote in a Feb. 27 press release, which also claimed the agency's lawsuit is without merit.
It's not clear which mystery shopper company conducted the reports. A spokesman for the consumer protection bureau declined to disclose that information. So did an ITT spokeswoman.
Dangling big salaries
The federal lawsuit uses the mystery shopper reports to paint a picture of ITT Educational duping students to take out high-interest private loans to cover the cost of ITT's high-cost degrees.
Most ITT students enroll in associate degree programs, at an average cost of $44,000. By contrast, an associate's degree at Ivy Tech Community College, which is subsidized by the state of Indiana, averages $32,000.
ITT staff claimed its prices were still a good deal because its graduates earn good money.
"One mystery shopper hired by ITT reported that an ITT recruiter told her that graduates of ITT's Programs Management program 'usually make six figures,'" the federal lawsuit states. "Another mystery shopper wrote that a Financial Aid Coordinator told her 'about salaries at 90 thousand a year.'"
But the reality is that ITT's graduates make an average of $32,000 in their first few years after earning their degrees.
According to the lawsuit, ITT rushes prospective students through the financial aid process—which signs them up for federal loans they must repay, with or without a degree, and which cannot be written off, even if the student files bankruptcy.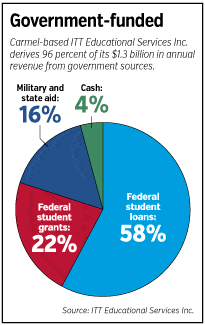 Several shoppers said ITT staff controlled the online sign-up process, clicking the electronic signature approval when students merely acknowledged that the information entered on their behalf was accurate.
"The whole meeting went so fast (the [Financial Aid Coordinator] talked very quickly) that it was hard to understand what was going on," wrote one mystery shopper.
During the financial aid process, mystery shoppers said, the significance of taking out these loans was minimized if not hidden from prospective students.
One mystery shopper said she was pressured by an ITT representative to start classes the very day she was enrolling.
"I told her I needed to know how my financial aid turned out before I committed, so she said if I came to classes and then finances did not work out I would not have to pay for anything," the shopper relayed, according to the lawsuit.
Mystery shoppers also reported that ITT staff told them ITT's accreditation was no different from that of other colleges, which would allow credits earned at ITT to transfer to other schools.
But ITT's campuses are accredited nationally. Most not-for-profit colleges are accredited regionally. That difference means that credits earned at ITT rarely transfer to other schools.
Plugging funding gap
ITT's costs run higher than what students could receive in federal loans and grants. Until 2008, ITT had a contract with Virginia-based SLM Corp.—better known as Sallie Mae—to extend private loans to students who could not cover ITT's full costs.
But in 2008, SLM stopped making those loans. So ITT created a program called "temporary credit" that effectively deferred for nine months the amounts students owed above what they received from the government.
But the federal lawsuit claims ITT was less than forthcoming about this "temporary credit," which totaled $100 million to $150 million each year from 2009 to 2011.
"An ITT mystery shopper reported that Financial Aid staff told her that any costs above those covered by federal aid 'would be covered under a new temporary credit and that I would owe no money out of pocket,'" the lawsuit states. "Another reported that the ITT staff told her that any costs beyond those covered by grants and federal loans 'would be picked up by ITT.'"
After the nine months, which coincided with the end of their first school year, students owed the entire amount of their temporary credit in one lump sum. Since ITT students earn an average $17,000 before enrolling, almost none had the resources to pay off their balances in one sum.
The lawsuit argues that ITT knowingly exploited this situation to push students into private loans made by credit unions. ITT staff, according to the lawsuit, could be quite forceful about this, including pulling students out of a class or withholding course materials until they agreed to accept the private loans.
"Financial Aid staff gave them no choice other than to take the ITT Private Loans or be expelled from ITT," the lawsuit states.
The private loans helped ITT keep enrollment high and government funds flowing from 2009 to 2011. But because ITT guaranteed repayment to the credit unions if losses exceeded a certain threshold, the loans have come back to burn the company.
The company set aside $60.3 million in January to cover expected losses from the loans—and that's even though ITT is making payments on behalf of some of its former students in order to prevent them from going into default.
Those disclosures sent ITT's stock price tumbling more than 38 percent from the 52-week high it reached on Jan. 21. The shares recovered a bit in February, but then the announcement of the federal lawsuit sent the price down nearly 15 percent again. The shares closed March 5 at $30.33 apiece.
The federal lawsuit claims that, as early as 2011, ITT projected a default rate on its private loans of 64 percent. The claims contradict what ITT CEO Kevin Modany said in a January 2013 interview with IBJ, when he claimed ITT modeled a worst-case scenario for the private loans that included a 50-percent default rate.
But ITT had to know the defaults would be high, according to the lawsuit. Forty-six percent of the borrowers had credit scores below 600—which is considered poor. ITT's private loans also included origination fees of 10 percent and interest rates of 16.25 percent, according to the lawsuit.
That is "like financing your college education on your credit card," said Cordray, the director of the Consumer Financial Protection Bureau. "These expensive loans were often destined to default, and ITT knew that."•
Please enable JavaScript to view this content.