Commercials that run during breaks in local television newscasts pitch everything from Camrys to heat pumps to hot tubs.
During the actual newscast, however, references to advertisers long have been considered verboten. There's typically a sharp delineation between the money-making side of newscasts and "high-minded" journalism side.
But increasingly, logos of advertisers are creeping onto the screen during the body of newscasts. For example, many of WXIN-TV Fox59's newscasts now include small logos for advertisers such as Toyota or heating/cooling/electrical firm Mr. Quick.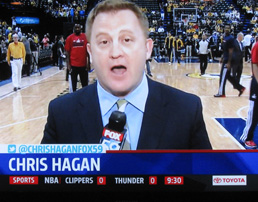 The graphics in Fox59's sports segments have included sponsor logos, such as Toyota's at bottom right. (Fox59 screenshot by IBJ staff)
Often these logos are embedded in "tickers" that run across the bottom of the screen. WRTV-TV Channel 6, for example, embeds logos at the bottom of the screen as part of a ticker that shows school closings and delays during inclement weather.
Other stations, such as WTHR-TV Channel 13, tend to run advertiser logos during sportscasts. One of its recent "Operation Football" segments had logos for Donato's Pizza and car dealer Tom Wood.
Some news directors wince at such advertising strategies. But, at the same time, they're aware of the need for additional revenue. Viewership by younger audiences is on the decline with the rise of Internet-based sources of news and pseudo-news/entertainment/political satire shows such as "The Daily Show with Jon Stewart."
Perhaps the bigger question is whether these logos produce appreciable results for advertisers. Some local ad agencies said their clients don't walk in asking for a logo on a newscast, but that it can be part of a bigger ad package that a station sells.
In and of themselves, such logos may not be particularly effective.
"We're so used to watching television shows with things in the corner of the screen," such as network logos and teasers, said Mike Beltrame, a partner of Beltrame Leffler Brand Communications.
Might these logos have a subliminal effect on viewers to patronize the sponsor later? Maybe, he said. At the least, juxtaposing a logo during a newscast could convey an advertiser as a leader in its realm, one that's "current and relevant."
Beltrame said he suspects such a logo could drive consumer behavior if the timing was just right. For example, a viewer who notices, say, a McDonald's logo during a morning newscast might be inclined to stop at the fast food joint on the way to work to buy a cup of coffee.
Bruce Bryant, a principal of Promotus Advertising, agrees. It's like the person about to ship a parcel who goes online to look up information and comes across a FedEx ad or logo. It becomes more relevant, because the consumer is engaged in the shipping process when they view it. It's top of mind. 
One the other hand, how does a static logo that appears when one is not in the frame of mind to use or want such a product drive action? "I'm watching the news. I'm looking at a building that's caught fire," Bryant said.
But put a Nike logo on the bottom of the screen during a sports show? "I have no problem with that," Bryant said.
One downside of television as the medium for such a logo is that, unlike digital ads, the viewer can't click on it to pull up more information.
An upside to the logos is that, unlike a 30-second commercial, it's likely to linger for several minutes. "It's not like a commercial that plays and goes away," said Bryant.
Beltrame said increasing brand recognition is good, as long as you're not promoting a negative association.
And there's where the advertising relationship with TV news could get a little awkward.
In January 2013, the Indiana Attorney General sued Mr. Quick, "claiming the company overcharged and misled their customers," Fox 59 reported at the time.
A year later, Mr Quick had resolved the issues with the state. But one wonders whether those who heard the Fox59 report in 2013—and then saw a Mr. Quick logo on a more recent newscast—have a negative association with the company when they see its logo on the station's newscasts? Or a question about the standards of newscast itself?
A spokesman for WXIN declined to discuss the strategy. Other stations did not respond to requests for comment, except for WRTV.
Guyanne Taylor, WRTV's director of sales, said the logos that run on the ticker of the station's newscasts are not sold as a stand-alone product but as part of a broader advertising package.
For example, WRTV sells broadcast commercials paired with ads on its website. Its array of ad offerings also includes a "billboard," appearing at the head of a newscast segment alerting viewers that the weather forecast is sponsored by such-and-such company.
Stations in some other television markets have been criticized for further lowering the wall between ad content and their newscasts.
For example, WNBC-TV Channel 4 in New York City ran a Verizon logo over the shoulder of a sports anchor at the beginning of a sportscast branded "Sportsdesk by Verizon FiOS," New York Daily News media critic Richard Huff reported in 2010.
Meanwhile, the city's top-rated ABC affiliate displayed a logo of cable company Optimum for five seconds "and without comment from anyone on the anchor desk. It is almost a subliminal message and could easily be taken as a mistake," Huff said.
WRTV's Taylor said the E.W. Scripps-owned station is sensitive to maintaining a wall between advertisements and the actual newscasts.
For example, although the station may run an 8-second lead-in to the newscast that announces the sponsorship of a weather forecast, "the voice is not by our talent or by our anchors," Taylor said.
Please enable JavaScript to view this content.