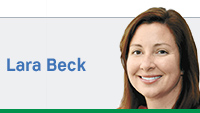 One of my favorite parts of serving former first lady Maggie Kernan involved county Jefferson-Jackson Day dinners. Call me crazy, but I enjoyed countless evenings at JJ dinners, whether it was fried chicken in Parke County or a standing-room-only crowd in Starke County.

Political dinners are at the heart and soul of our political parties. They are an opportunity for candidates and elected officials to personally connect with party faithful. County JJs—regardless of how rural or how urban the community—bring together friends, neighbors, family members and colleagues to exchange ideas and rally around the cause.

Every year, party workers, supporters, elected officials and citizens come to Indianapolis for the Democratic Party's JJ Dinner. It's basically a big family reunion. I always sympathize with the person who issues the call to order, since it's nearly impossible to be heard over the din.

Our JJ dinner was flawlessly executed by Chairman John Zody and his team. Former Hoosier and current U.S. Sen. Maria Cantwell gave thoughtful remarks about the lunacy of Washington, D.C., and how our Sen. Joe Donnelly is a part of the solution, not the problem. Congressman Andre Carson reminded us of why we need to fight the Tea Party's extremist policies they feel entitled to force upon us.

We heard from statewide and legislative officials, who have long carried the banner for universal pre-K and Medicaid expansion. Our candidates for statewide office, all of whom are more than qualified, shared their visions for the future.

More than 1,100 people crowded into the room at the convention center. That's right—in a midterm election year, when Republicans hold the Governor's Office and supermajorities in the House and Senate.

I sense a pendulum shift in the air. The crowd at the JJ represented old and young, LGBT and straight, African-American and Latino, people with disabilities and teachers, organized labor and women. (Calls for equal pay were some of the loudest applause lines of the night.)

The energy in the room was powerful and it was strong. The following day at the state convention, Democrats proudly approved a platform plank calling for marriage equality among all Hoosiers. Democrats left the Big Dem Weekend, as it was dubbed, united and energized. That's exactly what you want heading into an election.

Contrast our weekend with the very public family feud the Republicans were waging as they headed into their convention. Was their fight over education or jobs? Of course not. Their fight was over writing discrimination over gay marriage into their party platform.

Indiana is at the bottom of nearly every national statistic—from obesity to a lack of pre-K—and these misguided folks are discriminating against the LGBT community. Their lack of clarity simply boggles the mind.

Their other feud centered on the three-way race for state treasurer, where the choices were a mayor with a questionable economic development deal, a financial adviser who has been the subject of a very public lawsuit, and a staff member to Richard Mourdock. Take your pick.

In elections, you need to capitalize on every advantage, particularly in the midterms. Bruising intra-party fights, as ugly and as public as they are, can be devastating to even the strongest operations. Who can forget the Lugar-Mourdock primary battle? Apparently, gay marriage trumps party unity for some.

If the conventions are any indication, the momentum is shifting to the united and organized Democrats this year.•

__________

Beck served on the staffs of former Mayor Bart Peterson and former first lady Maggie Kernan. An Irvington resident, Beck owns the strategic communications firm Beck Communications. Send comments to ibjedit@ibj.com.