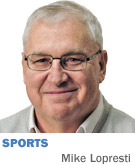 At Chatham Tap pub, the patrons believe the USA soccer team will win. I know this, because they keep repeating that chant loudly enough to rattle the half-empty bottles of ale.

It is a Monday afternoon and the place on Massachusetts Avenue is packed. But then, the World Cup is to the Chatham Tap what New Year's Eve is to Times Square. Nearly every table was full at noon, six hours before the USA-Ghana game, but just in time for Germany vs. Portugal.

There are patrons wearing stars and stripes shoes, stars and stripes suspenders, a stars and stripes vest. A haberdashery of patriotism. At the bar in his usual seat is a retiree from Manchester, England, and a pub regular when the soccer games are on. Except, don't call it soccer. Not to him, anyway.

"It's football," Don Berry corrected. "What Americans call football is throwball."

Most were planted here for the duration, because there is no saving seats on big match days at Chatham Tap. None of those shrieking vuvuzela horns, either, by house rules. I was looking for a spot to take the temperature of World Cup fever in Indianapolis. When a table of people high-fived one another over their cheese fries after a German goal, I figured I was in the right place.

By 4:30 p.m., no more customers were allowed in, lest the fire marshal give Chatham Tap a red card.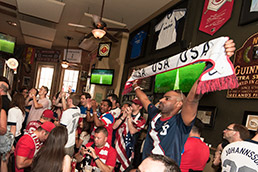 Chatham Tap taps into our growing passion for soccer. (IBJ Photo/ Eric Learned)
"It's going to be one of our biggest days of the year," owner Daniel Jones was saying. Not to mention one of the loudest.

"I BELIEVE THAT WE WILL WIN! I BELIEVE THAT WE WILL WIN!" By the end of the day, I would hear that chant in my sleep.

Jones and his partners opened Chatham Tap in 2007, with the idea of centering it on soccer.

"I wasn't sure if it would work at all," he said. "I just thought, well, at the very least I'd have a place where I can watch the matches on the big screen. Maybe there would be 10 other people in the city that will, too."

By 2010, customers were lined up to get in at 7 a.m. for the World Cup, with its morning start times from South Africa. And this day, it'll be a goal-watching gold mine.

"Soccer lends itself to watching with other people," Jones said. "You want to be around other people who are cheering for the same thing you are."

So, notes from a day at Chatham Tap:

• Germany is pounding Portugal, and everyone seems happy, understanding that it might work for the USA and against Portugal, if it comes down to goal differential in their group. A mass "oooohh" arises when Portugal's Pepe gets a red card. Watching the screen, I am reminded that being a soccer referee might be the loneliest job in sports, as the poor official is surrounded by a ring of angry Portuguese.

• Jones is handing out wristbands. Since he is sure he will have to close the doors soon, all customers

wear them so they can get back in if they go outside. He is telling people how the pub was crowded even for the Colombia-Greece game.

"We had 25 Colombians in here," he said. "I didn't even know there were that many in Indianapolis."

• The first "USA! USA!" chant pops up at 2:22 p.m., 3-1/2 hours before the Yanks play.

• Waiting for the Iran-Nigeria match, the talk turns to Ghana, which has eliminated the Americans the past two World Cups. When it comes to playoff trouble, Ghana is the Miami Heat and the USA is the Pacers. A guy walks by the table and mentions, "I've been looking for a Ghana fan. It's like a scavenger hunt."

• New song breaks out. "When the Yanks Come Marching In."

• Eager for the USA game, a woman at a table hollers, "Is it 6 o'clock yet?" Nope. Only 3.

• On the screen, a Nigerian player is holding his head as if he had been hit with a night stick. Replays show he was actually struck in the back. The World Cup always produces several Academy Award nominees.

• I catch a few words with Berry, who grew up in England but moved to Indianapolis 20 years ago. He'll be here for maybe 75 percent of the World Cup games, and is usually also here for any English league games as well, where he said the real trash talking starts among the customers. He wouldn't think of being anywhere else this day.

"I could go home and watch," he said, "but you don't do that."

• It's 4:30, and Jones has decreed no more customers. Meanwhile, the chant goes on: "I BELIEVE THAT WE WILL WIN!"

• The sight of the Ghana players on TV draws boos. How often does Ghana get booed about anything?

• It's not every day you hear an entire pub standing and singing the national anthem before a game.

• Everybody stays up, which is about the only way you can see the seven screens. Standing room only at Chatham Tap has turned into standing only.

• It takes only 30 seconds for the USA to score its fastest goal in World Cup history. Chatham Tap explodes. I could have appreciated the splendor of the moment more had a guy jumping up and down not spilled his beer on me.

• Jermaine Jones of the USA gets roughed up a bit. Several patrons lift their hands and wave imaginary yellow cards, but the referee doesn't agree.

• Halftime, USA leads 1-0, and the waiter needs a box to clear all the empty beer bottles from the tables.

• The second half begins with ragged play. Five thousand miles away, the Indy masses are growing restless and warily quiet. A pub-wise gasp at a couple of Ghana near-misses.

• In the 82nd minute, a nifty Ghana goal to make it 1-1. Silence in the pub, except for several words that can't be printed. Three of the four people at the next table bury their faces in their hands. I believe that we will draw. I believe that we will draw.

• The Americans get a corner kick, and John Brooks bounces a header into the net. Suddenly, Chatham Tap is one pulsating universe of high fives and hugs and roars. USA goal. And once more:

"I BELIEVE THAT WE WILL WIN!"

• The 2-1 lead holds to the end of regulation, but there are five additional minutes of stoppage time. "Way too much," someone mutters. How soccer stoppage time is accumulated remains one of sport's great mysteries, known only to God and the referee.

• Ghana is on the attack and many of Chatham Tap's customers hold up one finger. No, not that finger. The index finger. One minute left.

• It's over, and the pub is suddenly a forest of upraised arms with a thunderclap cheer, from many people who are in their ninth Chatham Tap hour. Another chant: "Three points for the boys." Which is what the USA just earned in the group standings.

• I leave, past the growing line at the rest room and weary staff and full cash registers, and onto Mass Ave, where the crowd has spilled out to savor victory on the sidewalk, and make plans for the Portugal match on the weekend. Don't tell anyone here that soccer is not a big, big deal in Indianapolis.•

__________

Lopresti is a lifelong resident of Richmond and a graduate of Ball State University. He was a columnist for USA Today and Gannett newspapers for 31 years; he covered 34 Final Fours, 30 Super Bowls, 32 World Series and 16 Olympics. His column appears weekly. He can be reached at mlopresti@ibj.com.