I'll confess that when it comes to barbecue, I'm not picky.

Oh, I'll reject a rib that's too fatty or one drowned in overly salty sauce. But that doesn't happen often, because terrible barbecue joints usually don't survive. And truly exceptional, I'd-drive-for-hours-to-taste-those-baby-backs operations are vanishingly rare. Most other establishments fit in the great, gray middle. And that's just fine with me.

Of course, this isn't the sort of talk hardcore foodies want to hear from a dining columnist. But I don't think I'm alone in this sentiment. And I think it will explain why I'm not damning with faint praise when I say my meal at Nora's newest restaurant, The North End Barbecue & Moonshine (1250 E. 86th St., 614-7427), was just fine.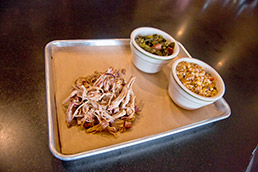 Plates? Who needs them? Meat is simply served at the North End. (IBJ Photo/ Aaron P. Bernstein)
It started with Hand Battered Onion Rings ($7), consisting of thin discs of breaded, deep-fried onion lightly (extremely lightly) drizzled in the house-made remoulade. A good start, but my two guests and I wouldn't have chomped through them so quickly if we'd known we could have gotten more of the delicious topping sauce on the side. All we had to do was ask.

The main event, of course, was the meat. The mounds and mounds of meat. The Carolina Pulled Pork ($10) was, like our other entrees, scooped onto brown paper and delivered to the table on a large metal baking sheet, accompanied by sides in bowls. Ours was tender and smoky but a tad dry, which is of course where the sauces come in. Here you get a choice of four house-made varieties, all delivered to your table in squirt bottles with their names Sharpied on the outside. They range from a family-friendly, tomato-and-molasses-based Kansas City variety to a vinegar-intensive Carolina style to a spicy Texas version. Our group opted to go rogue, concocting a spicy/sweet hybrid by mixing the peppery Texas red with the sweet KC sauce.

The Memphis Baby Back ribs ($19.95 for a half rack) came to the table hot and tender and suitably meaty. We had no complaints about the cuts, which is high praise indeed from friends who pretty much always complain about ribs—too tough, too fatty, not fatty enough—you get the picture. North End's were right down the pipe, preparation-wise.

Plainly named, The Sandwich ($14) rounded out our lunch list. Piled high with brisket and crowned with sliced, smoked sausage, it proved both delightfully tender and toothsome. The sausage hovered right on the border of Too Salty Land, but other than that, no complaints. It came with one side, so we opted for the hand-cut fries, which were defined by a smattering of chopped jalapeno on top rather than the much-ballyhooed bone marrow butter in which they were doused.

Other sides included the Hoppin' John, a peas-and-rice combo popular in the South, which proved both distinct and delicious. However, we expected more from the Skillet Cornbread, which wasn't crispy around the edges. Where's the defining crunch that comes from pouring the batter into a searing-hot skillet?

But that's a minor quibble. I'd happily eat here again if I happened to be in the neighborhood—although not if I had to drive past two other equally satisfying places to reach it.

Then again, those other establishments probably don't support local farms. And they likely serve beef, pork, chicken and turkey raised on antibiotics, hormones or GMO feed. So even if the taste isn't dramatically superior, at least the pedigree is.

And those other places aren't likely to have private dining rooms for meetings and parties. Or an intoxicating (literally) range of beverages, including the Spicy Texas Mule ($6) and the Moonshine Punch ($6). Yes, North End Barbecue & Moonshine really does serve its very own moonshine.•

—Lou Harry