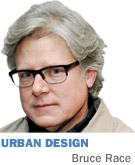 There has been a steady stream of patter from legislators leaning on Indiana's universities to be more productive. They have said, repeatedly, that Indiana needs a workforce with higher educational attainment, especially people with highly coveted Science Technology Engineering Math, or STEM, degrees.
The problem, however, isn't with the production of these knowledge workers; Indiana's universities are pumping out the graduates. Getting them to stay is the challenge.
The numbers don't lie. We are in the top quarter of states in educational attainment when you look at the number of people age 18 to 24 with a bachelor's degree. The stat that gets pushed back on universities is that we are 44th when you look at people age 25 to 44.
Here is a closer look:
• Indiana is one of the most productive states in terms of bachelor's and STEM bachelor's degrees for 18- to 24-year-olds.
• In the Midwest, Indiana and Wisconsin are the regional leaders in bachelor's degrees for 18-24 years per 1,000-population, but …
• Indiana has the lowest (just below Ohio) number of bachelor's and post-secondary degrees, per capita, per 1,000-population for 25- to 44-year-olds.
• Indiana outperforms the Southeast in total bachelor's degrees and is competitive in STEM bachelor's degrees for the 18-24 age group.
• Indiana has a higher number of bachelor's degrees, per capita, for 18- to 24-year-olds than any Western state and is competitive in terms of STEM bachelor's degrees. However, led by Washington, the Western states significantly outperform Indiana in terms of bachelor's and post-secondary degrees, per capita, for people age 25-44.
It is pretty clear that our state has a retention problem, not a production problem, when it comes to an educated workforce. The data shows we have more bachelor's degrees, and in some cases more STEM degrees, than states we associate with technology-driven regional economies.
But our graduates are leaving Indiana. We need to be smarter about retaining college grads by creating the types of places they want to live. Our planning and design goal should be to evolve into a state with communities that are attractive to high-performance knowledge workers.
The design of our cities can be an important economic development asset. Our cities are the stage for the types of interactions that attract and sustain talent by providing networks for intellectual and economic exchange. You can view the design of cities as the hardware and the programming and activation of cities as their software. Ultimately, you want to attract, retain and nurture the next generation of leaders who create, fund, manage and activate the city.
As it turns out, the workers we want believe it is more important to like where you live than to like where you work.
The great cities that we like to visit have gravitational pull for our recent graduates; they are the types of places that provide a rich social experience. They are cities that have the type of social equity and diversity desired by knowledge workers. These cities are leveraging their natural amenities and have built urban places to support a high quality of life.
Last month, I advocated for Plan 2020 to add "Design Indy" to the overall planning framework. Design Indy should be viewed as more than just some frills added to a land-use plan. It should be at the center of our economic strategy. The plan should be expressing our commitment to creating the types of places we, and future knowledge workers, want to live.
Plan 2020 needs to identify and preserve places we value and those that define our common cultural experiences, enhance places we want to keep, and create new places. We want the types of places that build on our communities' strengths, honor our memories, and create new memories.
To be competitive, we need all Indianapolis neighborhoods, not just downtown, to have great places. There is more than one type of creative-class worker and neighborhood. The millennial worker wants to live, work and play all within walking distance. This means we need to bundle up housing and neighborhood amenities with our business districts.
This type of emphasis on place-making needs to extend to our entire state. Indiana's generation of millennial and college graduates is the most mobile part of the workforce. These are the workers who choose where they want to live.
Indiana's output of college graduates outpaces most states with metro areas where innovation is a primary economic driver.
These cities are not elitist progressive outposts. They can be found in blue and red states. Talent goes to these cities and stays because they have places that contribute to a rich urban experience supporting a diversity of lifestyle options. Their vitality depends on it. So does ours.•
__________
Bruce Race, FAIA, FAICP, PhD is an award-winning architect and urban planner, owner of RaceStudio and recipient of the Indiana Sagamore Planning Award. He lives in a historic Indianapolis neighborhood and teaches urban design at Ball State University's Downtown Indianapolis Center. His column appears monthly. He can be reached at br@racestudio.com.
Please enable JavaScript to view this content.