Marion County is an untapped market for digital billboards despite years of lobbying by sign companies, and it's not because of political opposition to the large, lighted signs.
What's holding back changes to the city code is industry feuding over the form of regulations that could determine their future market share.
Several Indianapolis city-county councilors are willing to lift the ban on digital billboards because they don't find them objectionable and because the industry is willing to reduce the total number of billboards in the city. Billboard companies have also argued that digital technology allows them to run public-service announcements that would benefit law enforcement and tourism.

Councilor Joe Simpson wants the billboard companies to work out their differences.
Mayor Greg Ballard has hinted at a desire for public discussion of the issue, but council members are waiting for industry players to settle their differences.
"Three relatives can't get along," Democrat Joe Simpson said. "It is not our job to get in the middle of this."
The major local players—Clear Channel Outdoor, Lamar Advertising and CBS Outdoor—are at odds over how to revise the city ordinance because each company is concerned about preserving or improving its market position, councilors said.
As the market leader, Clear Channel is holding out for regulations that would preserve its share while Lamar and CBS Outdoor want the city to provide them a way to catch up. The companies have been jockeying behind the scenes for two years, lobbying both Democrats and Republicans on the council, Ballard's office, and the Department of Metropolitan Development.
Lamar and CBS Outdoor pushed the issue into public view in August, when Democrat Mary Moriarty Adams introduced a proposal drafted by the companies' lobbyist, Bose Public Affairs Group.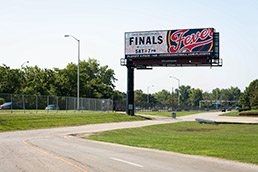 The Indiana State Fairgrounds can host a digital billboard because it's on state property. Outdoor advertising firms want to lift a ban on digital billboards elsewhere in the city. (IBJ photo/Eric Learned)
The proposal came as a surprise to Simpson and Republican Aaron Freeman, who'd been working with Clear Channel. Simpson said he immediately spoke with Adams, who agreed to have it tabled in committee. The proposal, No. 250, is assigned to the Rules and Public Policy Committee.
Adams didn't respond to multiple messages.
"I don't see this going anywhere … until everybody gets in a room and figures out, what does the plan look like?" Freeman said.
Marion County effectively shuts out digital billboards through zoning ordinances that ban "flashing, intermittent or moving light" and "animation" on advertising signs. There are exceptions, including a digital billboard at the Indiana State Fairgrounds on Fall Creek Parkway, which was allowed because it's on state property.
Digital billboards are common along Indiana interstates, and the industry wants more of them because they can hold multiple advertising messages. The digital format is lucrative enough that the industry commonly agrees to remove a number of traditional billboards for each one that's converted to digital, so that there's a net reduction in billboard space within the city.
"We've seen the swap deal being offered a lot," said Max Ashburn, spokesman for Washington, D.C.-based Scenic America. "Most cities want to take down billboards."
Industry underdogs put the brakes on digital billboards in Los Angeles, which now has an industry group trying to come up with a way to make digital palatable to the public, Ashburn said.
Initially, Clear Channel and Lamar worked out a deal with Los Angeles city officials that would have allowed them to convert hundreds of their existing billboards to digital, Ashburn said. About 100 billboards were converted before smaller companies sued. The digital boards have been dark since a judge's ruling in 2011, he said.
The billboard companies support a net reduction of advertising space in Indianapolis, but Simpson and Freeman said Clear Channel opposes caps on digital billboards, which would diminish its opportunities in that arena.
The proposal introduced by Adams would cap the number of billboards each company could convert to digital in a year, as well as the total number of conversions.
In the first year, no company could convert more than six sign faces, and the city would permit no more than 20 total conversions, according to the language drafted by Bose. The cap would be set at 18 in the second year and six in the third year. At the end of a 36-month period, the council could review the ordinance and cancel the conversion provisions.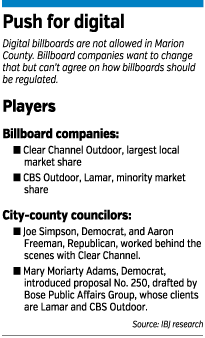 Bose lobbyist Trent Hahn declined to be interviewed but offered a statement on behalf of his clients. The proposal "allows for a slow introduction of this technology into Marion County," he said. "All billboard companies would be treated equally."
Clear Channel is working toward a change that "balances the interests of the community and our industry and meets the goals and objectives of the neighborhood groups and members of the City-County Council which our company's representatives have met with over the past two-plus years," Indianapolis branch President Brett Beshore said in an email.
Billboard-related zoning cases have generated fierce neighborhood opposition, but the idea of lifting the ban on digital is yet to be aired in a public forum.
Ballard's administration appears to favor moving a proposal forward.
"There are many people, including councilors, who want to see this issue discussed publicly," spokesman Marc Lotter said in an email. "The mayor will review any proposal that reaches his desk."
Under the proposal Adams introduced, the council would ask the Metropolitan Development Commission, a nine-member appointed board, to initiate changes to the zoning code allowing for digital billboards.
The preamble to the proposal extols the virtues of digital billboards, saying light-emitting diode (LED) technology has evolved and represents the "type of new technology other world-class cities have allowed," and that digital advertising can be used by law enforcement to alert the public about missing children or wanted criminals and to promote tourism and welcome groups.
In addition to the caps, the proposal suggests language that would require the removal of traditional billboards in historic districts and 500-foot setbacks from schools and residential areas.
Scenic America opposes billboards in general and digital billboards especially because of their brightness. A 500-foot setback, Ashburn said, is "nothing when you're talking about a digital billboard."
He said he photographed from six miles away one digital billboard that stands at the foot of the San Francisco-Oakland Bay Bridge.
"It sticks out like the North Star," Ashburn said. "They become the brightest objects in the streetscape."
Republican Councilor Ginny Cain said she doesn't object to digital billboards, which she thinks look more "professional," and she supports allowing them in appropriate areas. She said she's been talking with Clear Channel lobbyist John Kisiel about requiring a plan agreement for each digital sign, so neighborhoods could have input on details such as the type of messaging and whether the billboard would be lighted at night.
Cain said she'd also like to change the ordinance so there could be no more billboards of any kind in the C-3 commercial zone. Her district includes the Geist neighborhood that won its battle against a 40-foot-tall billboard at East 79th Street and Fall Creek Road. A city zoning board revoked the sign permit, and now the billboard's owner, Geft Outdoor LLC, is suing the city.
"There's a lot of anti-billboard sentiment," Cain said. "It's all about location and purpose to me."•
Please enable JavaScript to view this content.