Ryan Reed is no ordinary race car driver. That's why his primary sponsor, Eli Lilly and Co., veered into NASCAR in 2013. But Lilly marketers could never have imagined what was coming Feb. 21 at Daytona International Speedway.
Reed stunned racing gurus by winning his first NASCAR race on stock-car racing's most hallowed grounds.
He did it with a wireless device attached to his stomach feeding a constant stream of data to a dashboard-mounted glucose monitor.
While he's racing at breakneck speeds, Reed is watching more than his speed, RPMs and oil pressure.
And his engine tuner, Craig Herrmann, is trained to stab Reed in the leg with a syringe full of insulin if necessary during or after a race.
Reed has Type 1 diabetes. Four years ago—at the ripe old age of 17—he was told by a doctor he'd never race again.
But the stubborn son of former NASCAR racer Mark Reed got a second opinion—and a green light to go racing as long as he took proper precautions.
Reed and his dad then reached out to the American Diabetes Association, which reached out to Lilly executives, who smartly made the talented driver their poster boy in October 2013. The annual investment, about $10 million in all, is a drop in the bucket for Lilly, but could be critical to boosting the company's market share in a field it once dominated.
Reed's victory in the season-opening NASCAR Xfinity Series race, just one step below NASCAR's top-rung Sprint Cup Series, was only the start of his impressive Daytona performance. His post-race television interview came next.
He climbed out of the car, showered with confetti and Gatorade, as a microphone was thrust in his face.
"Four years ago, I was diagnosed with Type 1 diabetes, was told I would never drive a racecar again, and now I'm standing in Victory Lane at Daytona with Roush Fenway [Racing]," Reed said. "Oh my god, we won Daytona!"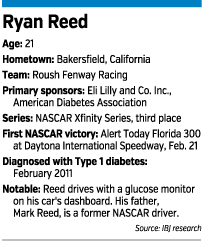 He said his victory should serve as an example.
"This is for … every kid who gets diagnosed with diabetes, or anything that says you can't do something," Reed said through a broad smile. "Just go out there and overcome it and do it and win. Do the best you can. This is unreal. It hasn't even soaked in yet."
After it soaked in a little, Reed remembered to mention sponsors Lilly and the ADA.
Lilly officials standing nearby beamed—as did officials for the ADA and Lilly's motorsports marketing firm, Zionsville-based Just Marketing International.
And why not? When a company buys a racing sponsorship, it doesn't count on this kind of candid endorsement.
"It was amazing that, in the heat of the moment, that he was so spot-on with his messaging," said Steve Wosahla, ADA's managing director of corporate alliances. "That's more than you could expect from a seasoned [marketing] professional."
Jon Flack, global chief marketing officer for Just Marketing International, has been around a lot of seasoned professionals—racing and marketing. JMI represents NASCAR star Jeff Gordon and has worked with drivers in numerous series worldwide.
"Ryan's story of overcoming the odds is incredible on its own," Flack said. "But the way Ryan handles himself and carries the flag for diabetes awareness, I'm telling you, that's special. Very special."
Lilly looking smart
The victory—and Reed's post-race aplomb—makes Lilly's marketing honchos look pretty smart. Though the partnership might now seem like a no-brainer, Wosahla said Lilly wasn't the only maker of diabetes medications the ADA contacted about sponsoring Reed, at the time a relatively unknown driver.
"We did talk to other drugmakers," Wosahla said. "But Lilly saw the vision of the Drive to Stop Diabetes program and the impact a relationship with Ryan could have."
At the time Lilly became Reed's sponsor, the driver wasn't even taking Lilly drugs. And Lilly wasn't looking to get into racing. The company had had only one stint in racing–open-wheel racing at that, more than a decade ago.
"But when we looked at the value of NASCAR and Ryan's situation," said Mike Mason, vice president of Lilly Diabetes, "how well he speaks and the strength of Roush Racing, it made a lot of sense."
The partnership thus far, especially Reed's Daytona victory, has given the drugmaker "tremendous exposure," he said.
The day of that race, LillyDiabetes.com saw more page views than any day in February, company officials said, and twice the page views the website had either of the previous two Saturdays. Post-race, the @LillyDiabetes Twitter handle had a 618-percent increase in mentions over the same period a week earlier.
If you go to a NASCAR Xfinity Series race, it's hard to miss Lilly's presence. The drugmaker has a huge red-and-white Lilly Diabetes logo on the hood of Reed's car and hauler, with Lilly splashed prominently on Reed's and his crew's uniforms and on pit boards.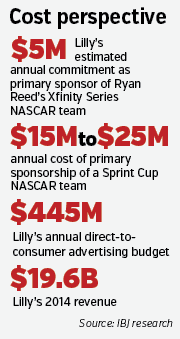 On March 4, Reed and his Roush team rolled into Indianapolis to thank Lilly executives personally and to further espouse the need to ratchet-up diabetes awareness.
Race for market share
The exposure comes at a critical time for Lilly.
Diabetes affects more than 370 million people worldwide, and 187 million of them don't even know they have the disease, according to the International Diabetes Federation.
The world market for diabetes drugs exceeds $25 billion, according to independent research firm Visionagain. By 2019, that market, excluding insulin, should grow to more than $55 billion.
While Mason stressed that the primary objective of the Reed sponsorship "is to raise disease awareness and make sure those who need it get proper [diabetes] care," it also raises awareness that Lilly sells drugs that treat the disease.
He added that, as the drugmaker's relationship with Reed matures, the sponsorship might eventually promote some of Lilly's specific diabetes drugs.
Diabetes medication is a highly competitive market, one Lilly dominated for decades. More recently, rivals Sanofi, Novo Nordisk and Merck & Co. have challenged and in some cases surpassed Lilly.
Graduating to Cup Series?
Sponsoring Reed's team is a relatively small investment for Lilly. Though it's partnering with the ADA, ADA officials said Lilly is footing the bill—which sources close to the deal pegged at $5 million annually.
Lilly will spend as much to activate and promote its sponsorship—through activities at NASCAR tracks before and during races and hospital visits featuring Reed in NASCAR markets—as it spends on the deal itself, said sources familiar with the deal. That would bring Lilly's annual spend to $10 million.

Mason
While nothing to sneeze at, that amount pales next to the $445 million Nielsen Media Research estimates Lilly spends a year on direct-to-consumer marketing.
Spending on the Reed sponsorship could increase dramatically. ADA's Wosahla is hopeful Lilly will follow Reed as he advances to NASCAR's Sprint Cup Series. A primary sponsorship there would likely cost $25 million a year.
Last July, Lilly showed its commitment to NASCAR by becoming title sponsor for the Xfinity Series race at the Indianapolis Motor Speedway, now called the Lilly Diabetes 250.
As far as following Reed to the Cup Series, Lilly's Mason said there's interest, but he wouldn't comment further.
"We're evaluating every possibility," he said. "We certainly want Ryan to fulfill his dream of driving at NASCAR's highest level."
Larry DeGaris, director of academic sports marketing programs at the University of Indianapolis, said Lilly would be shortsighted to walk away from a deal with Reed now.
"This is a rare opportunity for a brand to integrate itself into the fabric of a sport," said DeGaris, who has done comprehensive studies on NASCAR sponsorships. "It's an unusual situation where a driver uses a sponsor's product as a life-saving medication. That story is only going to get bigger as Ryan Reed's success grows."•
 
Please enable JavaScript to view this content.