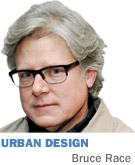 Third of a three-part series about building Indianapolis for the next century.
In 1970, Unigov merged most of Marion County's government units into a heralded national model for regional planning. Since then, the region has grown from about 1.1 million people to 2.4 million. Much of that growth has occurred outside Marion County and is therefore beyond Unigov's reach. The county is now surrounded by a ring of 18 growing suburban cities with populations of 10,000 to 100,000 and 25 smaller communities. With all this growth, two of every three central Indiana residents live in urbanized areas.
Projections are that another half-a-million people will live in our region by 2040. That would be like adding six new towns the size of Fishers. This growth is likely to happen in both existing towns and cities and in new communities. Where that growth occurs and how it is managed will set the table for the region's economic success and livability.
The entire region can learn from the inclusive and informed process of the 2020 Plan for Indianapolis being developed now. However, it will take time and leadership capital to make those lessons stick.
A region of possibilities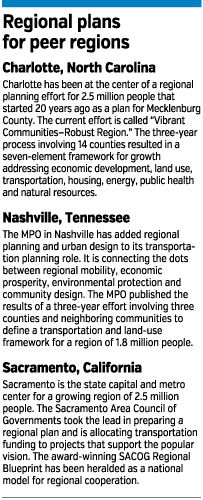 The 2020 agenda wants us to be opportunistic and strategic about how we invest in Indianapolis to create a more economically resilient city. It recommends putting our obsolete urban industrial areas back to work, nurturing our anchor institutions, and identifying entrepreneurship districts. These investments, which must be layered to achieve a collective impact, should be extended to the region.
The region needs a large-scale plan that builds on our unique assets and that organizes the investments of federal, state and local governments and philanthropic organizations. We need to identify common-ground policies and projects that can be layered and provide a collective impact at a regional scale, just like the 2020 plan seeks.
Our regional economy is complex and dynamic. We have a constellation of assets that differentiate our economy from others. These are place-based and are part of a larger metropolitan address. They can be designed and experienced. They can be exceptional.
Common needs
The Plan 2020 agenda urges us to view Indianapolis in this context of an evolving and expanding region with a variety of lifestyle choices. The agenda emphasizes making Indy neighborhoods "complete communities" that meet the residents' daily needs. This is to make Indy more competitive and provide numerous pathways for people to achieve upward economic mobility. Nationally, regions that have complete communities outperform regions of similar population in terms of knowledge-based jobs.
To have strong, resilient communities requires a collectively supported vision of existing cities. The region's Metropolitan Planning Organization has done a good job leading us through our first regional dialogue about transit and the future. We now need to expand that discussion to explore how we can become a region of complete communities, whether you live in Indy, Carmel, Avon or Trafalgar.
Vision and investment
The most competitive U.S. metros have regional plans. They are positioning themselves to attract capital, businesses and people. Cities and regions need strong institutions with the ability to plan for the future, legislate and enforce regulations, and finance regional investments.
Indianapolis has to look outward and collaborate with other cities and counties to make a regional commitment to excellence. Our regional leadership is crucial. It is not about making deals one project at a time, but sponsoring a dialogue with our regional partners.
Recommendations
The region is at a critical juncture. We have an opportunity to lay the groundwork to grow together into an exceptional region or apart as isolated subdivisions and shopping centers.
A regional plan should identify:
• Quality of life priorities for the region;
• Infrastructure that supports economic expansion; and
• Central places and a pattern of land uses that result in a region of complete communities.
Organize and fund a regional dialogue about the future by expanding the capacity of the MPO, which should identify desired outcomes and best approaches to engaging in regional dialogue. The MPO should provide case studies that examine how similar regions have pulled together to increase their competitiveness and livability. It should also identify milestones and deliverables for a regional discussion and encourage regional leaders to commit to that plan.
Our peer regions are collaborating. Nashville has the Middle Tennessee Transit Vision. The mayor of the small city of West Sacramento coaxed the Sacramento regional planning effort, and Charlotte, N.C., was shepherded by excellent MPO staff and political leadership.
The future of our region should not be left to five major national homebuilders and those speculating on farmland. Central Indiana has the potential to evolve into an exceptional region of complete communities. Now, who will lead us?•
__________
Bruce Race, FAIA, FAICP, PhD, is an award-winning architect and urban planner, owner of RaceStudio, and recipient of the Indiana Sagamore Planning Award. He teaches urban design at Ball State University's Downtown Indianapolis Center. His column appears monthly. He can be reached at br@racestudio.com.
Please enable JavaScript to view this content.